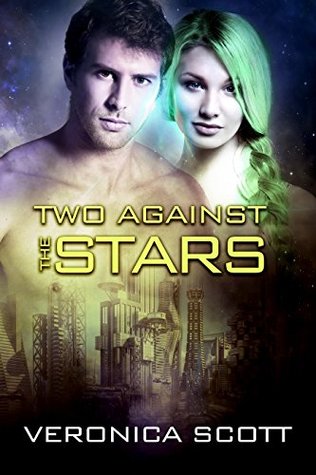 Two Against the Stars
by
Veronica Scott
Series:
The Sectors #11
on July 25, 2017
Genres:
Romance
,
Science Fiction
Pages:
134
Format:
eBook
Source:
Purchased
Goodreads
Amazon
, 
Barnes & Noble
, 
Apple




Empathic priestess Carialle has escaped the evil Amarotu Combine, but she's hardly out of danger. Not when she risks everything to rescue a drugged man from a crooked veterans' clinic. By lulling the clinic staff to sleep, she reveals her powers. And once again, criminals are after her and her rescuer.

Marcus Valerian, a wounded Special Forces veteran, never expected to have his life threatened by the clinic that's supposed to help ex-soldiers like him. But when he wakes from a drugged state to find a lovely woman urging him to run--he does. In his family's remote fishing cabin, he suffers the agony of withdrawal, soothed only by her powers.
The last series installment introduced a new conflict for The Sectors in the form of a criminal organization and a new alien people with psychic abilities coveted by the criminals.  It was suspenseful and exciting so I was glad Two Against the Stars presented a new alien psychic on the run from the Amarotu Combine and a new fierce Special Forces hero to partner her.
Two Against the Stars is the eleventh book in the series with loose ties to Star Cruise Stowaway #8.1 and Danger in the Stars #10, but it will work just fine as a standalone.
Carialle was taken from her home world and sold as a slave to the Combine.  She thinks she'll be stuck as their psychic instrument for good until a surprise situation leads to her chance at escape.  Knowing the gang will try to get her back and maybe the police won't help, she tries to hide out and start over on the Sectors' planet as a night janitor at a care clinic.  Then she sees that something underhanded is going on at the clinic and she chooses to rescue a military guy supposed to be in treatment for PTSD, but now in danger.  Between the pair of them, they must stay out of the wrong peoples' hands and get to the proper authorities.  Meanwhile, they forge a connection while on the run.
I really liked Carialle, the way she is finally free and struggles to get involved, when she knows it could land her back with her captors, but she still does the right thing by Marcus.  And, wow the villains in this one, especially Trang, are incredibly evil with what they are doing to the military veterans.  Marcus was also very engaging.  He has no trouble treating Carialle as a partner and I love the way this big, gruff soldier falls for her and opens up to her with his vulnerabilities caused by PTSD.  He was great the way he saw the lack of communication starting to happen and he sorted that out quickly too.
I knew they would eventually have to face the enemies closing in and it got pretty exciting when it all went down.  I liked the way this one wrapped up and what the future would bring for this pair.  As usual, I am eager to pick up the next installment and see what new sci-fi adventure awaits in The Sectors.
Related Posts