The Sunday Post is a weekly meme hosted by Kimberly  @ Caffeinated Reviewer. It's a chance to share news~ A post to recap the past week, and showcase books and things we have received.
---
Don't forget to look at my giveaways on the right sidebar.  
Sunday, the temperature has dropped almost 15 degrees since yesterday. The high will be around 47F / 8C and it's definitely freezing at night.  Luckily it will warm back up again more to average the rest of the week.  I got an early start to blog visiting and writing reviews today.  Lulu came to tell me she needed attention or it is time to go out (it was) or time to eat (not yet).
Monday, it's warmed up a bit and will continue into the 50s-60s this week. My daughter still hadn't gone to sleep for Sunday night at 10am.  I tried the grill with the other tank and it didn't work.  I took Lulu for a walk a bit earlier.  Then the power went out. The same utility jerks who broke the water last week.  Luckily, we have a gas stove so I could pan fry some meat and steam some veggies.  Also, we got to try out the little LED lanterns I bought in October to replace the older camping lanterns we had.  They work great.  It was dark and cold, so we just went to bed early.
Tuesday, I didn't sleep well even though the power came on later last night.  I feel discombobulated.  Lulu and I walked a shorter hilly route in the opposite direction from where the utility guys have torn up all the sidewalk.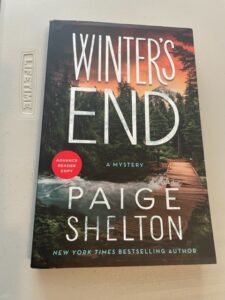 Wednesday,  I was able to get going on the usual stuff.  I wrote some reviews.  I took my daughter to the chiro and I went to Aldi's for just a couple items.  Then we walked Lulu.  I got book mail from a Goodreads giveaway.
Thursday, I did some of the usual computer things.  The weather was cloudy but around 60F /16C and it was time to battle the leaves in the back yard.  I did also cut the peonies to the ground since it froze this past week, and trim all the edges by the fence and blocks which really should have happened a month ago.  I used the leaf eater and managed about 2/3 of the yard, also uncovering lots of dog poop.  I picked up the poop and mowed all of the yard I did the leaf eating.  The chewed up leaves went into compost bins. I took a second shower and finalized the blog posts for the next two days before starting on dinner. We had our soup, rolls, creamed corn, green bean casserole and apple pie.  My daughter isn't really a fan of turkey so I used leftover rotisserie chicken in the soup.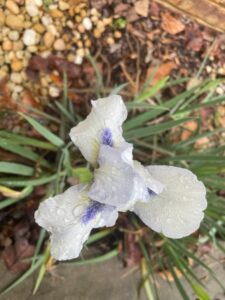 Friday,  it was supposed to be rainy but cleared up by mid day.  I still thought it was too wet to finish leaves until tomorrow.  I took a photo of the standard dwarf bearded iris blooming.  The snow peas and broccoli are doing well.  I worked on lots of posts and setups for the blog.  Lulu and I walked the longest route.
Saturday,  I could hear my daughter banging around in the kitchen from 4-6 am, then she went to bed and Lulu started barking .  I let her out, she very reluctantly went back in her crate,  and then I went back to sleep for a couple hours..  I did a bunch of post setups for the 2023 Library Love posts with challenges and giveaways.   I went out into the yard though to finish the leaf cleanup and mowing before it rains again.  Lulu supervised.  Then I was a mess so I showered. There was a bit more computer work to finish before dinner. Lulu is sitting up just like her picture above saying it's time for dinner.
---

Stacking the Shelves is hosted by Marlene at  Reading Reality.  These are the exciting ARCs I received this week (If you click on the cover, it will take you to the Goodreads entry):
 My special thanks to Valentine PR and Elizabeth Hunter,    William Morrow/ Harper Voyager,   Montlake,  Brilliance Audio,   and St. Martin's Press.                   
(If you click on the cover, it will take you to the Goodreads entry)
I bought this set of 4 mysteries partially with a no rush rewards credit.  Then I got another Miss Marple on sale at Chirp (same price at Audible too) $6.  I guess I'm on a historical mystery spree this weekend.

Now the really scary one. This is all the Kindle and Audible freebies I grabbed this past week. You can see why I need to do Thrifty Thursday to be sure I read a few at least one each month.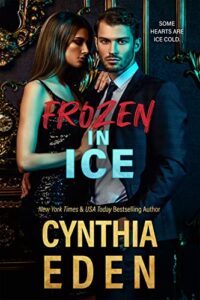 I really meant to cut back on freebies BUT  they are free so I guess that won't be happening.

I'm not including things like reviews posted or upcoming as they are always in the right sidebar. And, my challenge status is also there.
Anne
Latest posts by Anne - Books of My Heart
(see all)