Review copy was received from NetGalley, Publisher. This does not affect my opinion of the book or the content of my review.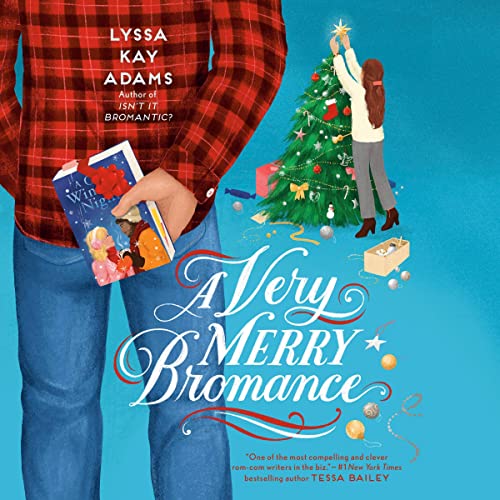 A Very Merry Bromance
by
Lyssa Kay Adams
Narrator:
Andrew Eiden
Series:
Bromance Book Club #5
Published by
Berkley
,
Penguin Audio
on November 1, 2022
Genres:
Contemporary Romance
Pages:
368
Length:
9 hours, 41 minutes
Format:
Audiobook
,
eARC
Source:
NetGalley, Publisher
Goodreads
Amazon
, 
Audible
, 
Audiobook
, 
Barnes & Noble
, 
Apple





Country music's golden boy Colton Wheeler felt the most perfect harmony when he was with Gretchen Winthrop. But for her, it was a love him and leave him situation. A year later, Colton is struggling to push his music forward in a new direction. If it weren't about to be the most magical time of year and the support of the Bromance Book Club, he'd be wallowing in self-pity.

It's hard for immigration attorney Gretchen not to feel a little Scrooge-ish about the excess of Christmas when her clients are scrambling to afford their rent. So when her estranged, wealthy family reaches out with an offer that will allow her to better serve the community, she's unable to say no. She just needs to convince Colton to be the new face of her family's whiskey brand. No big deal…

Colton agrees to consider Gretchen's offer in exchange for three dates before Christmas. With the help of the Bromance Book Club, Colton throws himself into the task of proving to her there's a spark between them. But Gretchen and Colton will both need to overcome the ghosts of Christmas past to build a future together.
The Bromance Book Club series has worked its way into the must read category.  I really enjoy getting the depth on a new couple in each book but getting to see all the guys in the club and sometimes their ladies.  The humor is the real deal. I was a little worried about a country music star being a main character but I shouldn't have.  Many of the guys in the series have money and power. I don't like the imbalance if the woman is struggling.
Colton Wheeler is a very famous country music star.  He's got a great family and spends time with them.  He hasn't released a new album in 2 years and now is under pressure from his label.  He's also set on Gretchen who is part of his wider circle of friends.
Gretchen Winthrop is from an old money family but she doesn't have the power. She doesn't enjoy the politics and show her family does. She has her own law firm practicing immigration law now, after being a public defender. Her focus is to help others.  She's been avoiding Colton since their initial encounter because of her toxic family.
I can't say Gretchen was totally wrong about her toxic family.  Luckily, Colton and her friends are up to the challenge and aren't going to let her be bullied by them. It was heart-warming to see both Colton and Gretchen learn things as they fell for each other.   The toxic was over the top, more than the celebrity issues.  The "grand gesture" was perfect for them and I cried.
Narration:
Andrew Eiden has been with the whole series but this is the first book I have listening instead of just reading.  I really thought the voices were well performed with male and female voices appropriate for gender.  There were distinct voices for the characters and the emotional tones added to the performance.  I listened at my usual 1.5x speed.
Listen to a clip:  HERE
---
Sophia's Review:
A Country Music Charmer has been ghosted by the woman who caught his fancy for over a year.  Time for the Bromance Book Club to take up their holiday romance pick and get busy working on this holiday lover vs. Grinch romance conflict.  Another heartwarming and humorous installment to a series that is Christmas lights out fantastic.
A Very Merry Bromance is book five in this series of standalone romances centered around a men's romance book club.
Colton Wheeler is a Country Western song star who started out in a poor, loving family and his golden voice and country boy looks and charm had him hitting it big.  Well, until recently…
But, as dreary as this Christmas season is starting out to be, he's learned to put a smile on it and just keep going.  The smile isn't fooling his book pals and the club has whipped out their holiday romances to help a bro in need when back into his life walks Gretchen Winthrop with a business deal.  Colton can work with that and show Gretchen Christmas, ahem, love, isn't as bleak and painful as she thinks.
Gretchen is one of THE Winthrops, but she's the barely mentioned or acknowledged one who doesn't work for the family's wealthy whiskey business and spends her days as an immigration lawyer working through heartrending situations and defending people in crisis.  Now, her brother has pressured her with promises of being on the company foundation board if she can land Colton Wheeler to be the face of the company.  Yep, the guy she ditched and ghosted and who is her total opposite and a bad idea.
I have to confess I didn't warm to Gretchen right away like I did Colton, but I've learned to be patient because Lyssa Adams likes to reveal layers to her characters that aren't always obvious up front.  Gretchen is no exception.  Sure she runs out on a chance at a relationship with a nice guy, keeps apart from her family, and yep, she's rather a Grinch about Christmas, but it makes sense as her past with her family comes out and she is scared of being emotionally vulnerable with Colton.  Her uncle is the only relation worth calling family.  Fortunately, she does have her friends from the men in book club and, by extension, their gals and families- as does Colton.
I loved it when Colton was able to take her out- the snappy dialogue was great- and, in their ongoing time together, they have holiday fun with the others.  Warm vibes start to grow as they reconnect and hang out.  Oh yes, they follow the formula of having that heart-wrenching conflict that the bros all know must happen before the romance hero makes his big play for the woman he loves.
Oh, and the Silver Sneakers group was a hoot (along with Cheese guy).  These old gals show the young guy athletes that aerobics can kick butt and take names.
There was a blend of holiday feel good, growing opposites attract romance, found family and camaraderie, but the contemporary social elements ground it all with some gritty reality, too.  Each couple are different from the ones before, fight their own demons and come from a variety of situations.  All in all, this is a series that has captivated me from the beginning and I don't hesitate to recommend it to contemporary romance or RomCom lovers.




---
Giveaway:
Enter to win a new print paperback of A Very Merry Bromance by Lyssa Kay Adams.  US only
Rating Breakdown
Plot
Writing
Characters
Narration (Audio)
Overall:
Latest posts by Anne - Books of My Heart
(see all)
Reading this book contributed to these challenges:
Related Posts