The Sunday Post is a weekly meme hosted by Kimberly  @ Caffeinated Reviewer. It's a chance to share news~ A post to recap the past week, and showcase books and things we have received.
---
Don't forget to look at my giveaways on the right sidebar.   Hammered giveaway ends tonight!
Sunday, I woke early even though I was up late.  I put new vegetables with the leftover pot roast to have for lunch. I did my normal blog visiting. A neighbor came over to pick up all the cardboard boxes I had which had piled up which I didn't need. Then we had the Hammered Read-along chat.  Afterward, I went out in the yard to pull more weeds and prep for the mulch.  I also cut down low-hanging branches.    For dinner, we had the first picked chard this summer.    Happy birthday, Robin!
Monday,  I didn't get up as early as usual.  I took my favorite pair of shoes for repair, then did pickups at Sam's Club and Walmart.  The shoe repair shop is close and there prices are great.  I got gas for the first time this year to prep for our little getaway.  Sam's Club finally allowed ordering rotisserie chicken at curbside pickup and then they forgot to bring it to me.  Luckily I realized it before I left.   I made an extra trip to a far off Harris Teeter to get a flavor of Tillamook on sale and they had it! Walmart tried to give me a 3lb ground beef and I said it wasn't mine, but my stuff was right.  I got everything put away and then helped my daughter with phone calls to her OBGYN, primary care provider and the computer warranty company.  She has to learn how to do these herself.  Then I went out to pull weeds and lay landscape fabric before they came with the mulch.  It's more money than I wanted to spend but it looks great.  Then dinner, I had found blueberries on sale so I made a blueberry crisp for dessert and a batch of food for Lulu.
Tuesday,  I got up and we walked and it felt hot.  I did some computer stuff and then took Lulu to her annual appt for shots at the vet.
Wednesday,   the usual walking was much nicer with a slight north breeze.  Then I picked up my repaired shoes and a bunch of RX for my daughter. I called to find out if the restaurant we planned to go for lunch on my birthday would have the dessert I love – the chocolate lava cakes (also their only gluten free dessert other than plain ice cream) and boo – they don't and don't know if they will get any.  I reorganized the seats in the car and put in Lulu's special seat cover and bed. Then I organized my daughter's meds for the trip.   I have a shelf up along one wall in my bedroom at about 9 feet high. I have no idea why it is there other than to collect huge amounts of dust.  I got up on the 8 foot ladder and cleaned the whole thing.   Then my ex and I got the huge mirror in the bathroom off the wall so it can be cut since the new cabinets are taller. Next I went back to computer stuff getting all the posts set up for the rest of the week. Before bedtime I packed.
Thursday,  I did a mad rush to pack medications, food, drinks and clothes.  We went on our walking and then left on our short trip to Williamsburg, VA.  We got to our hotel and it's ok. I was worried but it's fine.  We went to a Mexican restaurant and had seafood tacos and chicken enchiladas and margaritas.     Happy birthday Melanie!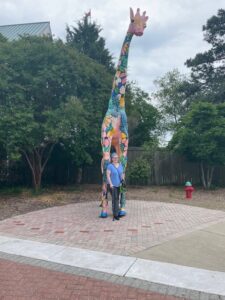 Friday, we ate breakfast in the room.  Lowe's called about my chair delivery they were supposed to do April 28th, now scheduled for Sunday. We (including Lulu)  walked around the Botanical Garden, then the Antique Mall.  I dropped my daughter and her dad at the Ripley's Believe It or Not and Lulu went with me to General Store . I got a couple of B1G1 Tshirts.  Then Lulu and I went back to the room so I could do some computer stuff and relax.  Then I fed Lulu and left her to pick them up to go eat at our favorite place here. Antonio's  we had a pizza as an appetizer and then salads and pasta for the meals.
Saturday, we got going as fast as we could. We ate breakfast at a pancake house.  Then we went down to Norfolk to the Virginia Zoo. The Zoo is under construction so it was at a lower price.  We had never been to this zoo so I was happy to go.    Afterwards, we had a late lunch at Baker's Crust.   The one in Williamsburg didn't have the gluten-free lava cakes but this location did.  So I figured out the night before we left we could go to the zoo and then eat here.  Also they have outdoor seating so Lulu was welcome to join us.  I really enjoy their food.  We were a bit worried about rain in the afternoon or driving home but the weather was great for our whole trip.
---

Stacking the Shelves is hosted by  Reading Reality.  These are the exciting ARCs I received this week (If you click on the cover, it will take you to the Goodreads entry):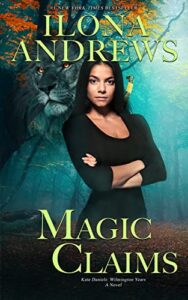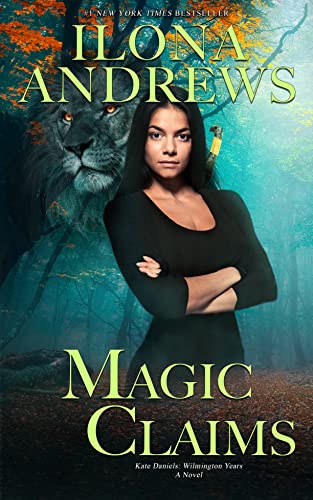 YEEEESSSSSSS!  I have been refreshing Netgalley, like all the time this week, waiting for this one.  But I got sent a widget – all my love to NYLA.  I pre-ordered it in February also.                           
(If you click on the cover, it will take you to the Goodreads entry)
Nothing.

Now the really scary one. This is all the Kindle and Audible freebies I grabbed this past week. You can see why I need to do Thrifty Thursday to be sure I read a few at least one each month.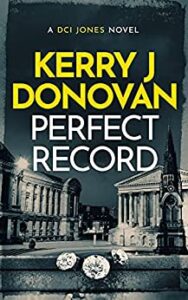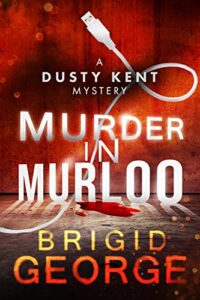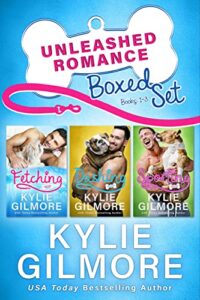 I really meant to cut back on freebies BUT  they are free so I guess that won't be happening.

I'm not including things like reviews posted or upcoming as they are always in the right sidebar. And, my challenge status is also there.
Anne
Latest posts by Anne - Books of My Heart
(see all)