The Sunday Post is a weekly meme hosted by Kimberly  @ Caffeinated Reviewer. It's a chance to share news~ A post to recap the past week, and showcase books and things we have received.
---
Don't forget to look at my giveaways on the right sidebar.
Sunday,  started with a call from Lowes at 9am they were delivering my patio chairs.  What happened to the 12-4pm window?   Anyway, they are here.  I got out stuff to fresh squeeze orange juice and make some cinnamon knots for a quick sort of brunch later.  I emptied the bathroom of stuff so we could work on getting the countertop off today.   I was so tired last night it was great to sleep in my own bed.
Monday,  another busy day.   I did my usual computer tasks.  I did an errand run to get a few grocery items, take the fabric to get new cushions for the swing, and pick up my daughter's Rx.  We were able to get the countertop off the cabinets.  We took out the old cabinets and put in the new cabinets.  We had to shut off the water and cap the pipes.  That went well except for one of the caps leaked but luckily we got it fixed. In the middle, I was waiting to do the moving and started a chat with Microsoft to see if they could help me not go to Windows 11 without reformatting my hard drive.  The guy seemed really knowledgeable and edited registry entries.  I'm not sure it worked because I had to go help with the cabinets.  BUT it did fix my iphone problem!  It works now on the repaired computer.  So I still have to check out the Win 11 thing but it's an improvement.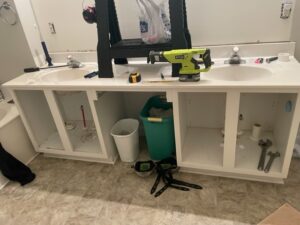 Old cabinets (shorter)                                                                 New taller cabinets with old countertop and mirror shortened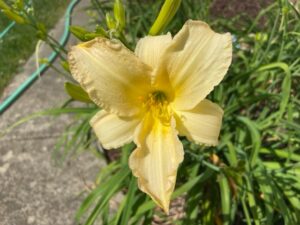 Tuesday, we did our walking.  Then I went to pickup some jewelry findings from the community gifting.  My daughter had an appt with her psychiatrist.  I looked into some other doctors to handle some other specialty tests she needs.  Then the glass guy came and cut off the bottom of the mirror since the new cabinets are 36″ instead of 31″ high.  Also the new cabinets have drawers which I need drawers. The old cabinets were falling apart.  I still have use of the shower and toilet.  I just have to wash my hands and brush my teeth with the bathtub faucet.  I fell asleep just after 10pm.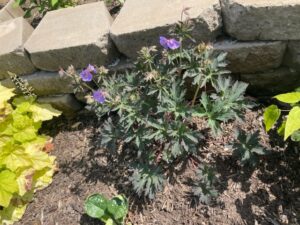 Wednesday,  the wind is back from the north, much nicer than the hot one yesterday.  We called Kraft maid because a couple of things are wrong. They say the replacements will be here in 7-10 days. Another daylily bloomed and some of the SDB iris are still blooming.  My new cransebill  I got last year is blooming.  The hydrangea has started also.  The lettuce is starting to bolt.  Noooooo!   The broccoli is finished.  I need to trim the sage and rosemary more. We went to the chiro and to drop off my daughter's  computer to ship for repair, then I picked up a few items at Aldi.  Then I updated my COYER linky and Game board.  I stayed up very late to finish a freebie up and write my review for Thursday.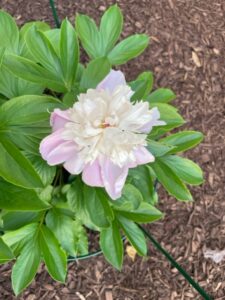 Thursday,  I managed to get a good night's sleep, sleeping late this morning.   The weather is delightful and we enjoyed our walk.  Then I helped my daughter make medical calls and paperwork.  Next I went out to mow and trim the yard.  I wasn't sure how much I would do but the weather was so great I did it all.  I helped to move the countertop a couple times today, including putting it in place for the final time on top of the new cabinets. The warranty company got my daughter's computer.  They already emailed they are unable to fix it so they will give us the full purchase price to buy a new one.  Although we spent almost that much on a new SSD drive a couple years ago.  So we got just shy of four years for free out of it, but they got the SSD drive. That warranty may have been worth it.  We put the countertop on the new cabinets for real and won't be moving it off again.
Friday,  still scrambling to keep up with my review schedule. It was rainy all day.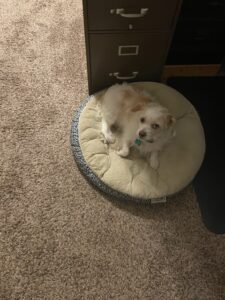 My ex went to Lowe's to start shopping.  I have a 10% off coupon they sent for my birthday.  We are getting the stuff for the new raised garden bed, along with other things for the cabinet install.  My ex went first to get most of the stuff and then I went to find a few items and then do the big checkout.  I think he was there 7 hours and I was there 2 hours.  We forgot to get handles for the new bathroom cabinets though. I made soup and homemade French bread for dinner. At least I could finish my book while dinner was cooking and then write my review after dinner.
Saturday, there's lots to do today as usual.  We were going to rent a van to pick up the lumber from Lowe's but can't get it until tomorrow.  So today I can plan and write reviews, do menu plans.  I'm trying to figure out the ways I want to use the cattle panels in the garden.  We need to pick them up when we have the van. I spent a lot of time reviewing videos and sites on how to use cattle panels.  I also tried to figure out what to put on the menu plan.  I did fit in a quick walk with Lulu since the weather was good.  Tomorrow will be some rain in the morning.  The afternoon is the Hammered chat and then we are off to get my panels.     Twitter just keeps getting worse.  My apps to auto share posts to Twitter are shutting down this week.  If I need to manually share, it will be later in the day, if I remember.
---

Stacking the Shelves is hosted by  Reading Reality.  These are the exciting ARCs I received this week (If you click on the cover, it will take you to the Goodreads entry):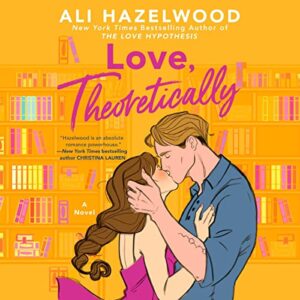 Thanks so much to Elizabeth Hunter for the first in a new series, Kensington Books,  Penguin Audio, 
(If you click on the cover, it will take you to the Goodreads entry)
NONE.

Now the really scary one. This is all the Kindle and Audible freebies I grabbed this past week. You can see why I need to do Thrifty Thursday to be sure I read a few at least one each month.
I really meant to cut back on freebies BUT  they are free so I guess that won't be happening.

I'm not including things like reviews posted or upcoming as they are always in the right sidebar. And, my challenge status is also there.
Anne
Latest posts by Anne - Books of My Heart
(see all)