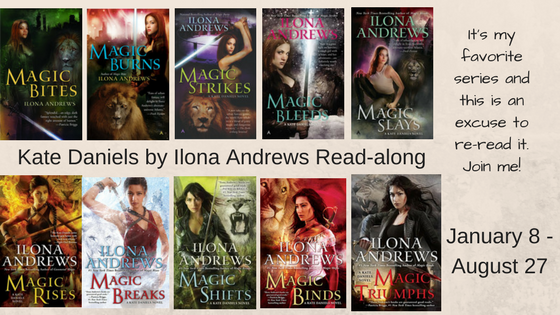 Before we begin, just a reminder this post and its comments may include spoilers for the previous books in Ilona Andrew's Kate Daniels series.  This read-along is for those who have read the books previously and also for those who are new to the series, so please no spoilers for books beyond the one featured.
Book 4: Magic Bleeds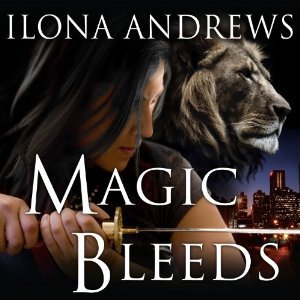 Magic Bleeds
by
Ilona Andrews
Narrator:
Renée Raudman
Series:
Kate Daniels #4
Published by
Ace
Genres:
Urban Fantasy
Length:
13 hours, 6 minutes
Format:
Audiobook
,
eBook
Source:
Purchased
Goodreads
Amazon
, 
Audible
, 
Audiobook
, 
Barnes & Noble






Kate Daniels works for the Order of Knights of Merciful Aid, officially, as a liaison with the mercenary guild. Unofficially, she cleans up the paranormal problems no one else wants to handle—especially if they involve Atlanta's shapeshifting community.

When she's called in to investigate a fight at the Steel Horse, a bar on the border between the territories of the shapeshifters and the necromancers, Kate quickly discovers there's a new player in town. One who's been around for thousands of years—and rode to war at the side of Kate's father.

This foe may be too much even for Kate and Curran, the Beast Lord, to handle. Because this time Kate will be taking on family…
Why is Magic Bleeds my favorite book of the series?  Three words: Shapeshifter Mating Rituals. This is the book that the slow burn of the prior books starts to really play off in big ways and Kate decides once and for all what is hers and what she is willing to do for it.  But of coarse, because this is Kate, it isn't all roses and dinners for courting. She isn't that girl and wouldn't really know what to do if there wasn't a little blood and destruction involved.
One of the things that makes Kate Daniels my favorite Urban Fantasy series of all time is not only the characters (they are really awesome) but the different story arcs and world building.  The Andrews really research lore that isn't often found in Urban Fantasy and turn it on its head to give us something spectacularly new. The 'villain' for example in this is everything I love in a villain.  Smart, three dimensional, scary, deadly and best of all Kate grows to understand them. But they also have some lore behind them to really give them weight and a huge backstory, because the details matter.
My favorite new character is Grendel, I think Kate really needed a furry companion and the puke on command eater of garbage fits that bill completely.  But this is a series, so it is very hard for me to pick a favorite character. Aunt B makes the top of the list but Andrea, Jim, Saiman and others get some great scenes throughout the book which make it really hard to decide on a favorite.  This is my 5th reread and I find something new to love in the book and series every single time.
Kate and Curran have a believable relationship.  They have grown together over time and it is really easy to believe in their love story.  I've rooted for them since Magic Bites and this is totally a pay off book for me in so many ways.  There is the fun of the courting, but there are also the deeper emotions Kate has never felt before, so it can get a little messy from time to time.  This book lets us into see a softer, more vulnerable side of Kate and I love it.
Narration:
I've read and listened to this series a grundle (yes that is a technical term) and Renee Raudman is the voice of this series.  She has narrated most of the Andrews works but I think of her as Kate and while I like most of her performance, it took awhile to accept her version of Curran. To be fair, I'd read five books before starting to listen to the series the first time and Curran sounded so different in my head up to that point.  Her performance of all the characters is very well done and she does add my overall enjoyment of the series capturing Kate's dry humor very well.
Who said:
"I've protected people of power and people of wealth. Many, many people. I've judged you worthy. Don't disappoint me."
Schedule and wrap up:   
We are doing one book every month, posting on Mondays. We should have a review for most of the books with the team here at Books of My Heart plus some of our blogging friends.
May 7:   Magic Slays
Jun 4:    Magic Rises
Jul 2:     Magic Breaks
Jul 30:   Magic Shifts
Aug 27:   Magic Binds
Aug 28:   Magic Triumphs (release day!)
---
Miss a post?
Jan 15:  Magic Bites
Feb 12:  Magic Burns
Mar 12:  Magic Strikes
---
winner of last book's giveaway of Magic Gifts is:       Amanda F.
This Book's Giveaway: 
Read-along Giveaway: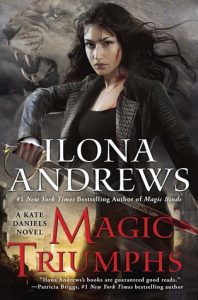 Rating Breakdown
Plot
Writing
Characters
Narration (Audio)
Overall:
Related Posts