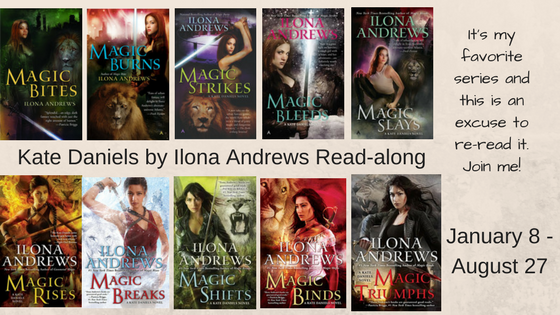 Before we begin, just a reminder this post and its comments may include spoilers for previous books in Ilona Andrew's Kate Daniels series.  This read-along is for those who have read the books previously and also for those who are new to the series, so please no spoilers for books beyond the one featured in the discussion this month.
Book 3: Magic Strikes
Magic Strikes
by
Ilona Andrews
Narrator:
Renée Raudman
Series:
Kate Daniels #3
Published by
Ace
on August 6, 2009
Genres:
Urban Fantasy
Length:
10 hours, 49 minutes
Format:
Audiobook
Source:
Library
Goodreads
Amazon
, 
Audible
, 
Audiobook
, 
Barnes & Noble






Drafted to work for the Order of Knights of Merciful Aid, mercenary Kate Daniels has more paranormal problems these days than she knows what to do with. And in Atlanta, where magic comes and goes like the tide, that's saying a lot.

But when Kate's werewolf friend Derek is discovered nearly dead, she must confront her greatest challenge yet. As her investigation leads her to the Midnight Games—an invitation-only, no-holds-barred, ultimate preternatural fighting tournament—she and Curran, the Lord of the Beasts, uncover a dark plot that may forever alter the face of Atlanta's shapeshifting community…
Wow.  Can one be overwhelmed by the awesomeness of a book on a re-read?  Absolutely.  Magic Strikes is the third book in the Kate Daniels series by Ilona Andrews.  Hats off *flourish and bow* to the creators of one the best urban fantasy series.  Ever.  But let's break down the awesome.
Action and Mystery – As we've come to expect from this series,there is a mystery to be solved, and it is not one that is easy to discern;it keeps you guessing.  Add some excellent MMA-type, cage fighting and this ramps up the heart pounding action.
Characters – I love them all, of course.  Kate's developing relationships are center stage in Magic Strikes and run the full spectrum of human interaction; Peer/Friend (Derek, Andrea, Jim), Parental (Julie, Doolittle), Romantic (Curran). As she gets to know these people, and lets them into her world, the reader is along for the ride and one becomes as invested in them as much as Kate has.  I especially enjoyed watching Kate try to figure out the elusive courtship rituals of a werelion.  It is great to see the playful side of Curran (well, playful IS relative…)
World building and mythology – I think it goes without saying that the post-shift world is clever and well explained.  However, for the third time, Andrews has drawn upon mythological elements from yet another culture to create a supernatural threat that is completely ruthless and frighteningly believable.  I appreciate that the authors don't simply make up monsters and blame it all on the Fae.
As this is a re-read review, I'm guessing  you already know and love the Kate Daniels series.  I don't have to convince you to give Magic Strikes a try.  I enjoyed meeting the characters again, watching how they come into Kate's life and mess up all the walls she's built for herself.
Listen to a clip here:
Who said:
"Also, when he opened the door to leave, Curran told him very casually that if Jim wanted to pick fights with his future mate, he was welcome to do so, but he should keep in mind that Curran wouldn't come and rescue him when you beat his ass. You should've seen Jim's face."
Schedule and wrap up:   
We are doing one book every four weeks, posting on Mondays. We should have a review for most of the books with the team here at Books of My Heart plus some of our blogging friends.
Apr 9:   Magic Bleeds
May 7:   Magic Slays
Jun 4:    Magic Rises
Jul 2:     Magic Breaks
Jul 30:   Magic Shifts
Aug 27:   Magic Binds
Aug 28:  Magic Triumphs (release day!)
---
Miss a post?
Jan 15:  Magic Bites
Feb 12:  Magic Burns
---
The winner of last book's giveaway is:       Jillian T.
This Book's Giveaway: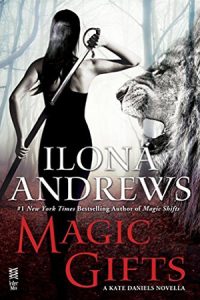 Read-along Giveaway: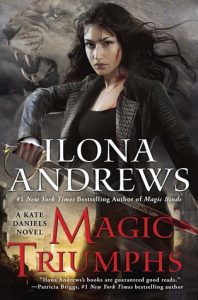 Rating Breakdown
Plot
Writing
Characters
Narration (Audio)
Overall:
Related Posts