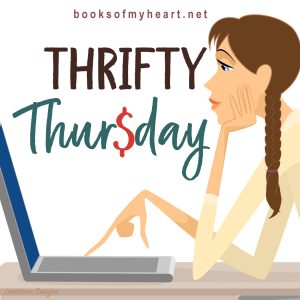 The purpose of Thrifty Thursday is to read a book which was free (at some point).
Audio freebie through a newsletter on April 5, 2019  (currently $27.99 on Audible and $14.99 on Chirp as of writing this post)
Kindle freebie on December 20, 2013  (currently $3.99 on Amazon and Barnes & Noble as of writing this post)
Overall rating 4.06 with 4,275 ratings and 457 reviews
Concrete Evidence
by
Rachel Grant
Narrator:
Greg Tremblay
,
Nicol Zanzarella
Series:
Evidence #1
on August, 18, 2021
Genres:
Romantic Suspense
Length:
12 hours, 27 minutes
Format:
Audiobook
Source:
Author
Goodreads
Amazon
, 
Audible
, 
Libro.fm
, 
Barnes & Noble
, 
Apple





She wants revenge. He wants her.

Blackballed from underwater archaeology after accusations of artifact trafficking, Erica Kesling has a new job and a new life on the other side of the country and is working to clear her name. She's closing in on her goal when she's distracted by a sexy, charismatic intern who makes her want something other than revenge. But Lee Scott is no intern. He's looking for the lead conspirator in an international artifact smuggling scheme, and Erica is his prime suspect. He'll do whatever it takes to win her trust and get her to reveal her secrets, even seduce her.
I've enjoyed a different series from this author and since I had Concrete Evidence as a freebie decided to try it. I have to say I like both series and the scientific aspects and some interesting locations and occupations.  Oddly, this was the second book in a row I read with a theoretical physicist.
Erica is an underwater archeaologist who has had some rough breaks.  She has completed her masters degree but discovered her mother has taken all her money and ruined her credit. In an attempt to earn some money to cover all the debts, she takes a job which ends up being with a guy stealing artifacts.  She tries to get them away from them but they torture her to get her to say where they are.
Now Erica is working for a company on the east coast, after being blackballed on the west coast, after working for the unscrupulous treasure hunter.  She's determined to expose him and get back the artifacts for Mexico where they belong.
She is trying to get the project for a casino since she thinks they have the artifacts.  At the same time, she gets assigned an intern.  Lee Scott is not an intern but a step-brother to the CEO there to find out about artifacts being smuggled in from Iraq.  He sees Erica as a potential suspect. Lee and the CEO, want to make sure his father is clear of any scandal as he is announcing his run for president.
Lee and Erica are very attracted and eventually succumb to their desires and catch real feelings for each other.  Yet, they are lying to each other to try to find and catch the culprits.  Things are very dangerous for Erica, as the bad guys try to kill her to shut down her looking into things.  Lee however, has the skills to get even closer to the them, but Erica ends up in the severe danger.
I found this story exciting, emotional,  and sexy.  It was a bit infuriating that Erica was so talented and yet had no money or power to protect herself.  She did work hard to be able to defend herself and Lee helped to ease her financial problems and tried to protect her.  The conclusion was exciting and a bit twisty. I'll definitely be continuing this Evidence series.
Narration:   
I have listened to both of these narrators before.  I felt very comfortable with their performances.  Zanzarella voiced all the chapters in Erica's point of view; Tremblay narrated the ones in Lee's point of view.  There were more from Erica's perspective.  I enjoyed the emotion brought forth from their work.  I listened at my usual 1.5x speed.




Listen to a clip:  HERE
---
Audio freebie through a newsletter on January 28, 2023  (currently $17.35 on Audible as of writing this post)
Kindle freebie on April 3, 2022  (currently $4.99 on Amazon and Barnes & Noble as of writing this post) [There is an ebook Hot Heroes, which has the first books in 4 series by this author, including this book, for free]
Overall rating 4.34 with 1,340 ratings and 206 reviews
Black List
by
Lynn Raye Harris
Narrator:
Joe Arden
,
Emma Wilder
Series:
Black's Bandits #1
Published by
Self-Published
on November 4, 2020
Genres:
Romantic Suspense
Length:
8 hours, 9 minutes
Format:
Audiobook
Source:
Author
Goodreads
Amazon
, 
Audible
, 
Barnes & Noble
, 
Apple





Jace Kaiser is a man without a country, without connection. His only loyalty is to the group who saved him, and the man who leads them.
Until her...

The assignment should have been easy: capture a deadly assassin and take her to HQ. But flawed intel leads to disaster, and Jace abducts a beautiful art appraiser instead. Intrigued by her courage, he's drawn to her in ways he can't explain. Dr. Madeline Cole stood up to him, fought for her identity, and never backed down. She's the kind of woman he could fall for if it wasn't so dangerous, for her.

Then Maddy is targeted for elimination because she's the sole person who can identify the mysterious female assassin, and the only thing standing between her and certain death is the sexy mercenary who swears he'll die before he lets anything happen to her. As the passion between them ignites, it seems clear that keeping Maddy safe has become the most important assignment of Jace's life.
3.5 hearts
Black List is another romantic suspense title with spy and foreign assassin themes. Maddy is an art appraiser whose father worked often in Russia. She was close to him and learned Russian in school.  We start with her in Russia doing some work.
Jace is an operative with Black's team.  He lived in the US until his family was sent back to Russia with his parents cast as spies.  He was in the Russian military when the rest of his family was killed.  Ian Black saved him and he's worked for him.
Jace is there to capture a female assassin. I had my suspicions about the assassin and I was right!  Maddy is initially a suspect but when she isn't, she is in danger from the actual assassin.  We get a fast, hot relationship with Jace and Maddy. There is a pretty good background on them and some of their current friends / team members.
I had fun and excitement with this couple.  It doesn't feel too realistic but we really don't learn much about what Black's team actually does.  Most of our time is with building the romance and protecting Maddy.  I will probably read more in the Black's Bandits series as I have the next one Black Tie as an ebook freebie. They are entertaining and I want to learn more about the kind of work they do.
Narration:   
I have listened to both of these narrators previously.  I've listened to Emma Wilder on several books. I wasn't sure if I had heard Joe Arden, but he narrated one of my favorites when I looked him up.  Wilder narrated the chapters from Maddy or Calypso point of views. She did especially well with infusing emotion into her characters.  Arden voiced the chapters from Jace's  point of view.    I listened at my usual 1.5x speed.




Listen to a clip:  HERE
---
These are only Kindle freebies I get, or ones through author newsletters which anyone can sign up and get for free. I don't include things like Kindle Unlimited or Prime Free Reading (I do have it). Both Tantor and Audible have occasional free audios (to anyone) and I do include those.  Since I one-click on 1-2 freebies a day or probably at least 5 a week, I came up with this feature to make sure I start reading them.
FYI – My Thrifty Thursday post with my reviews and the linkups and giveaway will normally post on the 3rd Thursday of the month. Sometimes though, due to blog tours, mood reading, and other personal problems, it will be moved around. There WILL be one each month on some Thursday.  You can post your reviews any Thursday though on your own site.  The linkup will be open until the next month's post is published. You can easily find all the Thrifty Thursday posts under the Features tab on my top menu.
(Reminder – If I get more than 10 linkups in a month, I will randomly pick one to select a prize from a list I send them which may include gift cards or giveaway books I have. (Open International))
---
Add your review link here: 
Mister Linky's Magical Widgets — Thumb-Linky widget will appear right here!
This preview will disappear when the widget is displayed on your site.
If this widget does not appear,
click here
to display it.
Giveaway:
The prize will be an Amazon Gift card of $25 or $25 worth of Books on Book Depository.  Open International.  Runs January 1, 2023 to January 7, 2024.
You can sign up for the 2023 Thrifty Thursday Challenge HERE
Latest posts by Anne - Books of My Heart
(see all)
Reading this book contributed to these challenges:
Related Posts