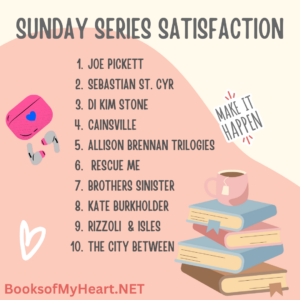 I needed to figure out a way to start reading series where I am not current or the series is finished but haven't read them yet.  So it's a way to commit myself to read my backlist, particularly series.  Of course, I chose a series to begin which I didn't put in my graphic. lol
Today,  I am  reviewing a few of the audiobooks from the DC Smith series by Peter Grainger.  I have read the series which follows in this world, Kings Lake Investigation.  In Kings Lake series,  DC Smith is retired and Chris Waters is our main point of view on the cases.  So now I wanted to go back and read the foundation series.. I own several of these audiobooks which I bought at Audible sales.  The ebooks are in KindleUnlimited currently.  I am receiving the newest one as an audio ARC, which I will review later.
Luck and Judgement
by
Peter Grainger
Narrator:
Gildart Jackson
Series:
DC Smith #3
Published by
Tantor Audio
on November 8, 2016
Genres:
Mystery
Length:
11 hours, 57 minutes
Format:
Audiobook
Source:
Purchased
Goodreads
Amazon
, 
Audible
, 
Audiobook




When a worker goes missing from a North Sea gas platform, there seem to be just two possible explanations – it was a tragic accident or a suicide. It does not take Smith and his detectives long, however, to discover that James Bell led a double life back onshore in Kings Lake, a life complicated enough to make him at least one dangerous enemy.

Before the case can be unravelled, Smith must get a new team working together; Waters and Murray are still there but one of Wilson's men is transferred to him, and the female detective constable from Longmarsh poses some unexpected problems for her new sergeant. Together they begin to investigate the links between the companies and the people that bring ashore the oil and gas, and they also find themselves caught up in the seamier side of life that exists beneath Lake's everyday comings and goings. Jo Evison begins to delve more deeply into the story of the Andretti murders, and Smith himself has to face the fact that he might no longer be considered fit for duty.
Luck and Judgement has DC Smith putting together a new team.  Serena is transferred in from another station.  He spends considerable time coordinating and training his team. DC continues to mentor Chris Waters while watching out for him.  He worries though about his upcoming physical with the knee pain he has been having.
A worker appears to have gone missing off an oil rig.  James Bell isn't a particularly great guy.  He isn't great with his wife and daughter, and appears to be cheating.  He also seems mixed up in some sketchy shenanigans.  There are plenty of other shady characters to investigate on the oil business side and on the personal hustle side.
As usual,  I enjoyed the mix of personal and professional.  DC Smith is very clever and puts together things others don't see.  It's a combination of smart strategy, evidence gathering and people skills.
---
Persons of Interest
by
Peter Grainger
Narrator:
Gildart Jackson
Series:
DC Smith #4
Published by
Tantor Audio
on June 14, 2017
Genres:
Mystery
Length:
10 hours, 30 minutes
Format:
Audiobook
Source:
Library
Goodreads
Amazon
, 
Audible
, 
Audiobook





In the peace and tranquility of the woods at Pinehills on a Saturday afternoon, a mobile phone begins to ring. The phone belongs to DC Smith and it isn't unusual that the call is from Kings Lake Central police station; what is unusual is the fact that he seems to be the subject of an investigation rather than taking part in one. What can the links be between a prisoner's violent death in another county, the disappearance of two teenagers and the highest profile case in Kings Lake for many years? As Smith and his team begin to untangle the threads, one thing becomes clear – they are dealing with some of the most dangerous people that they have yet encountered.
There were so many things to love about Persons of Interest.  I enjoyed the many layers of stories, some concluded and some ongoing in the series.  DC Smith continues talking to Jo, the retired detective who is planning to write a book on one of his cases.  He finds himself a "person of interest" in the case of a murder of a low level drug dealer in prison.   Cara Freeman, heading up the task force which is now focusing on drugs, still wants him for her ongoing major crime task force.
Two teenagers related to drug dealers go missing and that is the last straw for DC.  He goes to work to find them even though the task force doesn't want to upset their big bust.  He learns many of the local players in drugs have retired or been pushed out of the business.
There are also the ongoing personnel things in the force.  One of his team out on maternity leave, another out with an injury. He continues to develop Chris Waters while protecting him a bit. Serena continues to blend into the team.  There is suspicion that one of the force is dirty.   Cara Freeman continues to fight for a task force and building her team.
I loved all of it.  There was some precious humor which made it all the better for me.
---
In This Bright Future
by
Peter Grainger
Narrator:
Gildart Jackson
Series:
DC Smith #5
Published by
Tantor Audio
on July 4, 2017
Genres:
Mystery
Length:
9 hours, 18 minutes
Format:
Audiobook
Source:
Library
Goodreads
Amazon
, 
Audible
, 
Audiobook





Two weeks of rest and recuperation – that's what the doctor ordered. Detective Sergeant DC Smith could listen to some music, make some of his own and maybe even catch up on his reading; he is almost looking forward to it. And then there is a knock on the door. It's only his next-door neighbour but it is the beginning of a sequence of events that will bring him face to face with some of the darkest episodes and the most dangerous people from his own past.
In This Bright Future is a view into the time DC Smith was in Intelligence when he was in the Army. It's not done with flashbacks; rather it is a look at the results of the actions taken 30 years later.  He has always felt badly about leaving without notice because he really cared for a woman. He also liked her family.
The woman's son has come to find him, right after his knee surgery, because his mother and family want to know if he knows what happened to her brother, his uncle.  DC didn't realize anything happened to the uncle as he has kept away from it all.  So now he goes back and investigates, in spite of the dangers to himself.  There have actually been assassins sent to kill him a few times.
The whole investigation shows the religious fervor which labels people as better or worse,  is still happening. The attitudes are horrifyingly still there under the surface. They are all too happy to cheat or murder if they can get away with it.
I loved the depth of feelings and insight into Smith's past.  His character has a certain moral integrity.  He left when they planned to bomb a school of young children, exposing their plan.  He did things he didn't like. It was part of being embedded for intelligence, but he had his lines in the sand.   He went back to right a few wrongs and convey his true feelings for those he hadn't seen in years.
---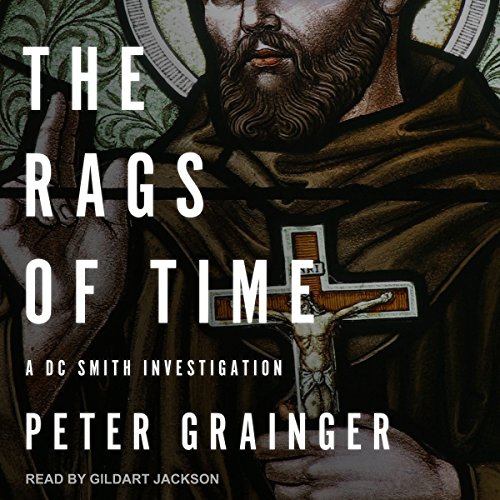 The Rags of Time
by
Peter Grainger
Narrator:
Gildart Jackson
Series:
DC Smith #6
Published by
Tantor Audio
on October 17, 2017
Genres:
Mystery
Length:
9 hours, 29 minutes
Format:
Audiobook
Source:
Audible Escape - Plus
Goodreads
Amazon
, 
Audible
, 
Audiobook




Mark Randall lay dead in a field near Lowacre long before Smith had done what he had to do in Belfast. By the time he went back to work, the investigation was well underway. "It's not my case" he says more than once, and he really doesn't need it to be; he has enough to think about as it is. But going around the Norfolk countryside dotting the i's and crossing the t's, speaking to the local farmers and the Brothers of St Francis from Abbeyfields, Smith begins to suspect that the investigation might be heading in entirely the wrong direction. Arrests are made, charges are brought and Christopher Waters asks Smith if he has ever seen the wrong man convicted in a murder case. The answer is yes, and the next question is, what can be done to prevent it happening again?
I love to continue this DC Smith series every chance I can manage.  The Rags of Time is one I don't own yet, but it was available in Audible Plus.  The ebook version is in Kindle Unlimited.
At King's Lake station, things are in limbo.  It's expected Allison Reeve will be promoted. DI Allen is trying to get Smith to retire or go on the task force so he can get him off his budget.  Wilson wants to be promoted and dislikes Smith who has been a DCI.
Since Smith was off having his knee surgery, a new murder has happened just before he is returning. Wilson has taken the lead, trying to show his prowess to Reeve.   He has utilized Smith's team since he was out.  Smith returns and interviews some witnesses and gathers some information.
Then the murder weapon is found with a fingerprint. Based on that Wilson, and reluctantly Reeve, arrest a suspect.  Smith tells them he thinks there is more to know and of course, he goes out and gets it.  He understands people and why the crime was committed.
Personally,  Smith is talking to Jo again and meeting some of her family.  Her father has just died.  He is considering if he should retire as he is tired of solving the cases although the others want to take the easy suspect instead of following through all the investigation.  Smith is not favored for it; it's more like the question him as to why he kept investigating or gathering more evidence.
---
Narration:
Gildart Jackson is a favorite narrator.  I seem to be able to enjoy him in multiple series without getting him stuck in my head as just one character. I was able to listen comfortably at my usual 1.5x speed.





Listen to a clip HERE
Latest posts by Anne - Books of My Heart
(see all)
Related Posts