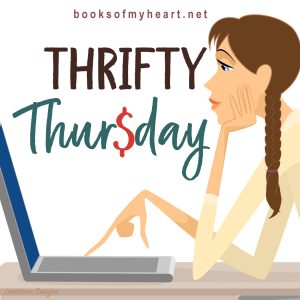 The purpose of Thrifty Thursday is to read a book which was free (at some point).
Kindle freebie on November 3, 2021  (currently $5.99 and in Kindle Unlimited as of writing this post)
Overall rating 4.14 with 1,397 ratings and 311 reviews
Fixin to Die
by
Tonya Kappes
Series:
Kenni Lowry #1
Published by
Self-Published
on October 14, 2021
Genres:
Cozy Mystery
Pages:
248
Format:
eARC
Source:
Purchased
Goodreads
Amazon
, 
Audible
, 
Libro.fm




Kenni Lowry likes to think the zero crime rate in Cottonwood, Kentucky, is due to her being sheriff, but she quickly discovers the ghost of her grandfather, the town's previous sheriff, has been scaring off any would-be criminals since she was elected.

When the town's most beloved doctor is found murdered on the very same day as a jewelry store robbery, and a mysterious symbol ties the crime scenes together, Kenni must satisfy her hankerin' for justice by nabbing the culprits.

With the help of her poppa, a lone deputy, and an annoyingly cute state reserve officer, Kenni must solve both cases and prove to the whole town, and herself, that she's worth her salt before time runs out.
In this cozy mystery, a young woman, Kenni, has taken over as sheriff for her grandfather.  She was close to him and picked up on his sayings and methods a bit.  But a murder is bigger crime than she has faced before as Sheriff.   She is able to call in a reserve officer who is a good support. He is easy as a partner and also easy on the eyes.  Kenni is a bit attracted to him.
Some of my issues with cozy were in Fixin to Die.  There were characters and events I found to be too quirky to be realistic.  Some though were just typical of a small town environment.  I liked Kenni and she was pretty smart in her investigation.  She missed a few obvious things and took the TSTL method of talking to possible suspects without backup.   She also sees her Poppa's ghost who helps her mull over the evidence.
I enjoyed getting to know the town and main characters.  The case was handled pretty well and I am interested to see how things go for Kenni going forward.  There are eight books in the Kenni Lowry series.
---
Kindle freebie on April 13, 2022  (currently $0.99 and in Kindle Unlimited as of writing this post)
Overall rating 4.33 with 281 ratings and 32 reviews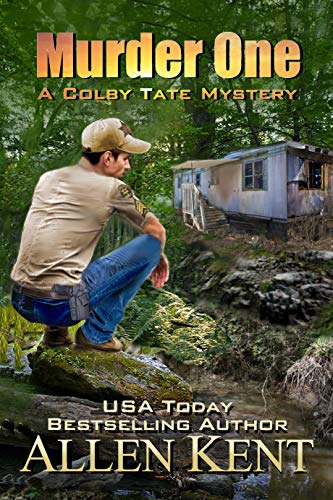 Murder One
by
Allen Kent
Series:
Colby Tate Mysteries #1
on November 22, 2019
Genres:
Mystery
Pages:
225
Format:
eBook
Source:
Purchased
Goodreads
Amazon





Rookie sheriff Colby Tate's first murder case draws the ex-Marine interpreter into the murky world of property disputes, family jealousy, hidden treasure, and an old woman smothered in her favorite easy chair. Two thieving neighbors hungry to gain control of her land. A home service provider named as her sole heir. A mysterious source of income that ties her to the Mexican cartels. Join Sheriff Colby Tate as he unravels his first case of Murder One: who killed Nettie Suskey?
Something about this book grabbed me from when I first saw it and I have kept wanting to read it.  Murder One was as fun as I hoped.  We have a small town with some quirky characters.  The sheriff may be a rookie but he grew up here and knows the people and the politics and the players.   We get to know his team and some of their personalities.
The murder of an elderly woman is his first murder case.  He teams up with a state investigator.  They do the work of tracking down who she knew and might want to harm her, and how she supported herself. There are plenty of interesting aspects and possibilities.  The likely motive seems to always be greed for her land, her timber or the treasure she has hidden.   Tate looks at everyone – her caregiver, her estranged brother, her greedy neighbors, and where she sold her land and valuables.  Too many people are stubborn about giving their whereabouts making it harder to rule people out as suspects.
We get some of Tate's personal background from when he was a Marine interpreter. He had a fiancé who was killed over there and hasn't really gotten back into dating.  He is attracted to the state investigator though.  His chief deputy feels slighted by having to take over the regular office stuff while he investigates the murder with her.  So there are emotional threads as well as the police procedural. There are 5 books in the Colby Tate series.
---
Kindle freebie on May 25, 2022  (currently $3.99 and in Kindle Unlimited as of writing this post)
Overall rating 4.48 with 157 ratings and 24 reviews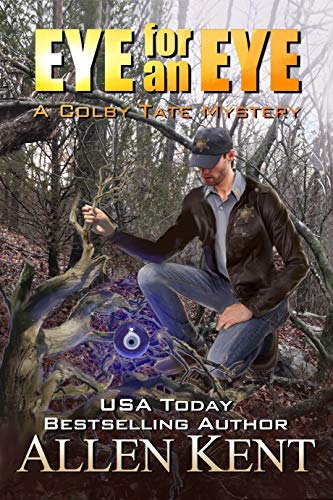 An Eye for an Eye
by
Allen Kent
Series:
Colby Tate Mysteries #2
on March 28, 2020
Genres:
Mystery
Pages:
209
Format:
eBook
Source:
Purchased
Goodreads
Amazon





When an explosion at a public water project rocks tranquil Crayton, Missouri, Sheriff Colby Tate and his unlikely band of deputies are drawn into the murky world of global vendetta killing. As they scramble to protect three immigrant families to their rural Ozark community, a mysterious amulet found at the site of the blast hints at connections to Tate's past and to a romance and military history he is struggling to leave behind.
I like the characters in this series and was happy to continue.  I also appreciate the combination of police cases and personal lives.  However, this one was a bit too heavy on the romance story line for me.  I like romance and read romance; it was just too much time spent there instead of the investigation plots.
Tate, the sheriff, is just getting back to considering a romantic relationship after the death of his fiancé in the war. He has been interested in the state investigator, Mara, starting in the last book, and he's strictly avoided a relationship with his deputy, Grace, because he is her boss, plus she's in a steady relationship.  He reevaluates all of that here.
There are two cases, possibly connected.  There was an explosion at the dam being constructed, and a dead body found which had apparently been buried in the dam construction.  The body leads back to Syria. Tate is key investigating some of these things because he knows the tribal conflicts from the war and also the language.  He has a connection as he has been interpreting at the school for students with parents who don't speak English.
There is help from an intelligence group because of the foreign connections.  The state also helps with it and the explosion because of the project and possible terrorist implications.  The state / federal help is also needed to track where the specialized C-4 kit was sourced.  They found where it was stolen and worked to find who was stealing them.  Tate works more on the local end with information gathering and protection of Syrian residents.
It's a nice, slightly complicated plot.  Tate manages to help resolve some conflict for the long-term which isn't easy and requires a lot of cooperation from all parties.  I will be interested to see how the series continues.
---
Kindle freebie on December 2, 2022  (currently $3.99 and in Kindle Unlimited as of writing this post)
Overall rating 3.99 with 2,960 ratings and 203 reviews
Stripped Bare
by
Shannon Baker
Series:
Kate Fox #1
Published by
Severn House
on December 8, 2020
Genres:
Mystery
Pages:
252
Format:
eBook
Source:
Purchased
Goodreads
Amazon
, 
Audible




Kate Fox is living the dream. She's married to Grand County Sheriff Ted Conner, the heir to her beloved Nebraska Sandhills cattle ranch, where they live with Kate's orphaned teenage niece, Carly. With the support of the well-connected Fox Clan, which includes Kate's eight boisterous and interfering siblings, Ted's reelection as Grand County Sheriff is virtually assured. That leaves Kate to the solitude and satisfaction of Frog Creek, her own slice of heaven.

One night Kate answers a shattering phone call from Roxy at the Bar J. Carly's granddad Eldon, owner of the ranch, is dead and Ted has been shot and may never walk again. Kate vows to find the killer. She soon discovers Ted responded so quickly to the scene because he was already at the Bar J . . . in Roxy's bed. And to add to her woes, Carly has gone missing.

Kate finds out that Eldon was considering selling his ranch to an obscenely rich environmentalist. Some in town hate the idea of an outsider buying up land, others are desperate to sell . . . and some might kill to get their way. As she becomes the victim of several "accidents," Kate knows she must find the killer before it's too late. . . .
I was excited to start this story with a strong woman and police procedural type story.  I didn't quite get that.  Kate is certainly hard-working, kind, and smart enough.  That's why the things she did made no sense to me.
There's a murder and her husband, the sheriff, has been shot.  Kate finds out he has been having an affair with his childhood sweetheart who is a widow.   Then she basically takes over his sheriff work without backup or support or training, just driving all over the huge countryside, talking to people who might be killers. She does everything with little food or sleep.
The murdered man's grand-daughter, Carly, lives with her and is missing. She drives 3 hours each way to talk to her, where she thinks she is staying, only to find out she's not there.  It's a stupid use of her time. She just seems to blunder around and some things are resolved too easily.
Another police officer is tasked with actually investigating but Kate just goes all over talking to people, even when there are attempts on her life.  She isn't armed with any weapons.  She's more of a pacifist.  She leaves her cattle to her brother's care.  She does end up solving the crime.
I was interested as I read, even though I got bored with some of the characters, like Carly and Roxy, who are sort of one-dimensional.  Even Ted the husband isn't well-developed, and I can't say I really like his easy way of cheating and taking the easy way on everything.  I might read another in the Kate Fox series to see if things get more realistic in the next one but otherwise it's too unreal for me.
---
These are only Kindle freebies I get, or ones through author newsletters which anyone can sign up and get for free. I don't include things like Kindle Unlimited or Prime Free Reading (I do have it). Both Tantor and Audible have occasional free audios (to anyone) and I do include those.  Since I one-click on 1-2 freebies a day or probably at least 5 a week, I came up with this feature to make sure I start reading them.
FYI – My Thrifty Thursday post with my reviews and the linkups and giveaway will normally post on the 3rd Thursday of the month. Sometimes though, due to blog tours, mood reading, and other personal problems, it will be moved around. There WILL be one each month on some Thursday.  You can post your reviews any Thursday though on your own site.  The linkup will be open until the next month's post is published. You can easily find all the Thrifty Thursday posts under the Features tab on my top menu.
(Reminder – If I get more than 10 linkups in a month, I will randomly pick one to select a prize from a list I send them which may include gift cards or giveaway books I have. (Open International))
---
Add your review link here: 
Mister Linky's Magical Widgets — Thumb-Linky widget will appear right here!
This preview will disappear when the widget is displayed on your site.
If this widget does not appear,
click here
to display it.
Giveaway:
The prize will be an Amazon Gift card of $25 or $25 worth of Books on Book Depository.  Open International.  Runs January 1, 2023 to January 7, 2024.
You can sign up for the 2023 Thrifty Thursday Challenge HERE
Latest posts by Anne - Books of My Heart
(see all)
Related Posts