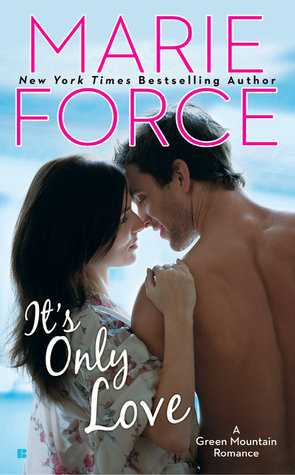 It's Only Love
by
Marie Force
Series:
Green Mountain #5
Published by
Berkley
on November 3, 2015
Genres:
Contemporary Romance
Format:
eARC
Source:
Publisher
Goodreads





Ella Abbott has long been secretly in love with Gavin Guthrie. A few recent encounters have only added to her infatuation, especially the kiss they shared at her sister's wedding. It doesn't matter to Ella that Gavin is in a bad place. He says there's no hope for a future with him, that he has nothing to offer her. But all Ella cares about is the love she feels.

It's been seven long years since Gavin lost his brother. He'd kept himself under control and moving forward until his brother's beloved dog died and his brother's widow re-married. Since then, he's been drinking, fighting, and even getting arrested. It seems the only time his demons leave him alone is when Ella is around.

Gavin knows it wouldn't be fair to drag Ella into his darkness, but when she inserts herself into his life, what choice does he have but to allow her to soothe his aching heart?
I really enjoy this series with its big family, romance and small town setting.  The couple in this book have known each other most of their lives.  Ella has always loved Gavin.  He is older and has been less than available to her.  
Both of them have their own stubborn views and that's what stands in the way of their being a couple.  It would be kind of ridiculous but we all need to have our beliefs and values.  Even if they are WRONG. Really that is not my gripe, it is when they try to tell themselves how to feel.  A person can't change how they feel, only their actions and reactions can be controlled. At one point, Ella tries to tell herself she won't love Gavin.  Yeah, right.
There's a bit of funny.  There are the previous book characters I already know and love showing up.  There are two upcoming prospective couples with some little plots here.  Also, Ella and Gavin have sex early and they have sex often.  There is some silly mushiness too.
So other than the stupid views, which change rather dramatically at some points, It's Only Love is a good, comfort read. It's easy and fun to read. Thanksgiving happens during the story and there's some great food, too.
Books in the series:
GIVEAWAY
Latest posts by Anne - Books of My Heart
(see all)
Related Posts