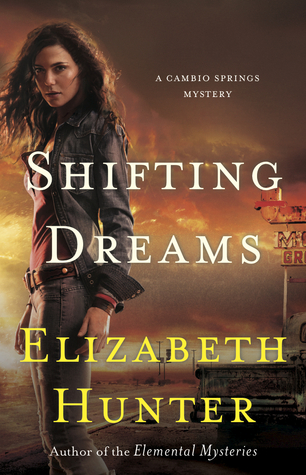 Shifting Dreams
by
Elizabeth Hunter
Series:
Cambio Springs #1
Published by
Self-Published
on March 5, 2013
Genres:
Paranormal Romance
Pages:
260
Format:
eBook
Source:
Purchased
Goodreads
Amazon
, 
Audible
, 
Audiobook
, 
Barnes & Noble





Somedays, Jena Crowe just can't get a break. Work at her diner never ends, her two boys are bundles of energy, and she's pretty sure her oldest is about to shift into something furry or feathery. Added to that, changes seem to be coming to the tiny town of Cambio Springs—big changes that not everyone in the isolated town of shapeshifters is thrilled about.

Caleb Gilbert was looking for change, and the quiet desert town seemed just the ticket for a more peaceful life. He never counted on violence finding him, nor could he have predicted just how crazy his new life would become.

When murder rocks their small community, Caleb and Jena will have to work together. And when the new Chief of Police isn't put off by any of her usual defenses, Jena may be faced with the most frightening change of all: lowering the defenses around her carefully guarded heart.
ICYMI is a post from my early days of blogging at Yummy Men & KickAss Chicks.   You can see the original review here.   I have no idea why this Cambio Springs series is not a favorite; I think it is my favorite of all her series.  The review of the next book,  Desert Bound will be in two weeks.
---
This is the second series by my friend, Elizabeth Hunter. I have loved everything I have ever read of her work, starting with her fanfiction. I am catching up now on her published works. Shifting Dreams was published in March 2013, just over a year ago. I'm writing this review now, for two reasons. First, because I just read it, and second, is because it is part of the anthology Our Own Brand of Heroine. This is an anthology with EIGHT novels from paranormal romance authors to support a good cause. It is on sale for $3.99 for ONLY this month of April. (Read my news post about it earlier in the month here.)
This review was hard for me to write, even though the book is amazing. This is because I am more of a reader than a writer and when a book is so good I have a tendency to feel inadequate to express its awesomeness and more likely to stand with my mouth open. But I'm trying here.
This book is the first in a series, and it's kind of like some of these small town romance series. This series is paranormal romance with a new couple's romance in each book. There is also a murder mystery in this book.
So let's talk about the characters. I know it's good when I care about the characters. The town in the book, Cambio Springs and its quirky inhabitants, are characters. The town was founded by seven families and the head of each family has one of the seven seats on the town council. The town is an out-of-the-way town, out in the desert. There is a bit of Native American lore / supernatural woven into the tale.
Jena Crowe is a widow with two young boys. Her family runs the Blackbird diner, but she is trained as a chef and very talented. She is strong and feisty, comfortable in her life with her family and friends. She has been busy and has sort of fallen into a routine since her husband died a few years ago.
Caleb Gilbert is the new police chief. He has some Native American ancestry. He was a decorated detective in Albuquerque, NM but decided to move to a small town for a change of pace after an incident with a relative. His family was never really supportive of his career working with the dead in homicide cases. With the town losing population, there are some plans to bring in new business and for that a neutral, well-trained police chief is needed. Caleb is smart, sexy, has integrity, patience, confidence and a great sense of humor. He is so yummy. *sigh*
There is so much to love about this story. The meet – cute between Caleb and Jena and their romance, Caleb's relationship with Jena's sons, the relationships and personalities in the small town, the building of this world, and a murder mystery, are all reasons I couldn't put this book down. The slow build of the romance with its sexual tension was perfectly done. I did get a little frustrated with Jena's putting off Caleb which made his patience all the more admirable. Oh yes, and the humor makes everything better.
If you like small town romance series, and supernatural stories, you definitely should try this well-written series combining these styles. Plus, the anthology of EIGHT highly rated books is cheaper this month, than just buying Shifting Dreams by itself. The second book (Alex and Ted!!!) will be out later this year.
"She pinched his ear again.
'Ow!'
'Wake up, you idiot!' Then she seemed to notice the very evident tent in his pajama pants. 'And get that situation under control.'
'Want to help me out with it?' He slapped a hand over her mouth before she could curse at him. 'Sorry. Sleeping. No filter.' She bit his finger. 'Ow! Stop hitting and biting me. Unless… you're into that. I mean, it's not usually my thing, but I could—'
'You need to stop talking right now, before I kick you in the nuts and never speak to you again.'
He raised two hands to rub his face. 'Man, you're mean when I just wake up.'"
Latest posts by Anne - Books of My Heart
(see all)
Related Posts