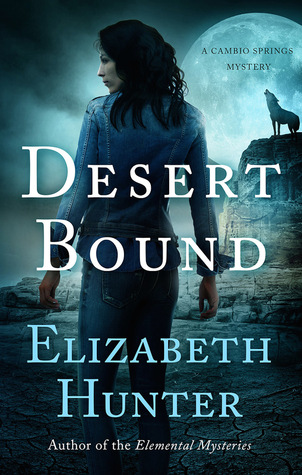 Desert Bound
by
Elizabeth Hunter
Series:
Cambio Springs #2
Published by
Self-Published
on October 14, 2014
Genres:
Paranormal Romance
Pages:
280
Format:
eBook
Source:
Author
Goodreads
Amazon
, 
Audible
, 
Audiobook
, 
Barnes & Noble





Can you turn the clock back on your first love? Would you even want to try?

Alex McCann and Teodora "Ted" Vasquez left Cambio Springs together. Ted came back. Alex didn't.

Now, years later, the future alpha of the McCann wolves has returned with plans to bring new life to the dying desert community. Plans that could change everything for the isolated enclave of shapeshifters in the California desert. Some love the plan. Others hate it.

As the town's doctor and one of the strongest daughters in the cat clan, Ted has her own concerns about exposing her community to outsiders. The two former lovers are at each other's throats. And everyone is watching to see what happens.

But when murder once again strikes Cambio Springs, can they overcome their past to help the community they both call home? And can the love they shared once burn again when so many stand against it?
ICYMI is a post from my early days of blogging at Yummy Men & KickAss Chicks.   You can see the original review here.   I have no idea why this Cambio Springs series is not a favorite; I think it is my favorite of all her series.
---
I knew I would love Desert Bound by Elizabeth Hunter before I started reading it. First, it's by Elizabeth Hunter and she writes amazing characters that demand feelings, all kinds of feelings. I knew these two characters Alex and Ted, because their story started in the previous book. The Cambio Springs series is paranormal romance with each book featuring the romance of a new couple. This is the second book in the series.
Secondly, Elizabeth's stories do the romance so well. She did teases about this couple on her website which turned into a novella – Five Mornings. I loved that and fell in love with this couple. It told some of their history over time. I enjoy books, like this one, where the romance is just as important as the rest of the story. It is entangled with the rest of the story. And there is so much to the rest of the story.
This is awesome, like real life, where multiple things are happening, and it isn't just one focused story. There's information about the couple from the first book, Caleb and Jena. There are a variety of things happening to the families in town. The elders all have adult children who are now grown, marrying and starting to have their own children. There is murder. There is also a couple who splits up. Some books are like one-dimensional and only have the romance and maybe one other thing. This book is rich, a cornucopia of real life stuff.
Ted is the town doctor. She is strong, smart, caring and hard-working but she doesn't want to be a town leader. She is busy with caring for their health. Ted has always loved Alex. They lived together in college but then she came home to Cambio Springs and he stayed in California. That broke her heart and now she doesn't believe he is home to stay.
Alex knew he had to let Ted go, to do her residency. And also to earn the money he needed to stabilize his career and the town's future, he needed to stay in California. But now he's moved home and is determined to be with Ted. He always knew he would come home to her but their families are against it.
The death of one of their peer group gets Alex and Ted working together. Ted is also the local coroner and she tries to keep the peace between the alpha hotheads. Caleb is the local sheriff and her best friend's husband. Alex is her guy and a leader in the community. Working together means they are spending time together which can only go one way. YES!
The romance is only one aspect of this story. There is so much more. But since Alex and Ted have grown up together, lived together before, the relationship is more developed. They don't have the chase, or as much of the humorous banter that happened with Caleb and Jena. This is a relationship already in full force, not the beginning. They know each other very well.
The story takes place over 6-8 weeks and has all kinds of fun, fascinating and heart-warming events. I loved the town, the families and the developing relationships of this couple and other people. If you like hot, smart, alpha men and feisty, smart women, where romance is a natural part of life, you will love Desert Bound and the rest of this amazing series. I do!
Ted said, "I'll try to find Sean and Harper."
She got out of the truck and hiked toward the lonely pay phone at the corner.
She stopped and turned, scanning the parking lot for any familiar faces.
"Sean?" she hissed. "Harper?"
Voices came from behind her. "Here, Ted."
She turned to see Harper in a black sedan wearing blue mechanic's coveralls.
"Where's Sean? And whose car is this?"
"It's either Vito or Guido. Not too sure."
"Vito?"
Harper got out, holding out the keys to Ted as she shrugged. "Frank's guys. Someone came and picked them up. Left the car here for me and Sean."
"Where's Sean?"
She nodded toward the parking lot. "He shifted to get closer. Went around the back."
Ted took a deep breath. "Let's hope none of the SWAT team are phobic about snakes."
Latest posts by Anne - Books of My Heart
(see all)
Related Posts