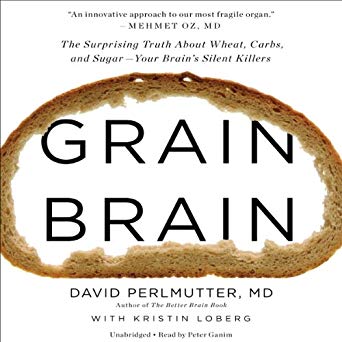 Grain Brain
by
David Perlmutter
Narrator:
Peter Ganim
Published by
Hachette Audio
on September 9, 2013
Genres:
Non Fiction
Length:
9 hours, 18 minutes
Format:
Audiobook
Source:
Library
Goodreads
Amazon
, 
Audible
, 
Audiobook
, 
Barnes & Noble




The devastating truth about the effects of wheat, sugar, and carbs on the brain, with a 30-day plan to achieve optimum health.Renowned neurologist David Perlmutter, MD, blows the lid off a topic that's been buried in medical literature for far too long: carbs are destroying your brain. And not just unhealthy carbs, but even healthy ones like whole grains can cause dementia, ADHD, anxiety, chronic headaches, depression, and much more. Dr. Perlmutter explains what happens when the brain encounters common ingredients in your daily bread and fruit bowls, why your brain thrives on fat and cholesterol, and how you can spur the growth of new brain cells at any age. He offers an in-depth look at how we can take control of our "smart genes" through specific dietary choices and lifestyle habits, demonstrating how to remedy our most feared maladies without drugs. With a revolutionary 30-day plan, GRAIN BRAIN teaches us how we can reprogram our genetic destiny for the better.
Grain Brain is another one of those Audible Daily Deal book which I got from the library.  I got it because we are still in our first year of gluten-free and it is a doctor's research, cases and opinions – I thought.  It is but this book is much more than just about gluten-free.
I am going to spoil the basic results now, so stop if you don't want to know, but this is facts, not fiction.  Perlmutter is a neurologist with a degree in nutrition also.  His father was a physician who now has Alzheimer's.  There is popular criticism for the book, of course, but I think it has some interesting conclusions with research studies to back them.
The primary concept is that gluten is connected to many more diseases than just celiacs.  The studies over many years he cites show those with a gluten-free diet not as likely to get diabetes, Alzheimers. There are children and adults who were diagnosed with ADHD, Autism, Tourettes, learning disabilities, migraines and muscle/joint pains who also were normal after 1-3 months of gluten-free diets in his practice. He points out blood tests and results that would indicate the sensitivities.
Another key concept is that the brain and other parts of the body are inflamed by gluten (and other processed foods).  Brains require fat to grow new cells and to function in a healthy matter.  So the diet restrictions beyond gluten-free are to reduce carbs and sugar, more than fat.  This is more traditional to historical diets .
Fruits or sweets were very rare, only maybe at Christmas or a special party like a birthday or wedding.  Now we can get fruit from everywhere all the time, but most is very high in carbohydrates. The carbs only leave us hungry and craving more carbs and sugar. The fat is actually satisfying and curbs hunger.
He concludes  (based on the studies of those eating them as opposed to those who don't over decades) that gluten and processed foods, sugar, are all more linked to these diseases than people think.  Many of us and certainly big pharma, just want to take a pill and not go through any effort of a reasonable diet. We are already gluten-free but I can see the benefit of reducing sugar, regardless of whether I believe everything in the book. My daughter has many of the symptoms and has been helped by gluten-free so we will also do more now to reduce sugar and other carbohydrates.
Narration:
This was straightforward without accents or dialogue as it is a non-fiction book, more of a reference. I liked the clear vocal and found it pleasant and easy listening.
Listen to a clip:

@DavidPerlmutter ‏
Latest posts by Anne - Books of My Heart
(see all)
Reading this book contributed to these challenges:
2019 Audiobooks
2019 Library-Love
BTB 2019
COYER WINTER
Related Posts