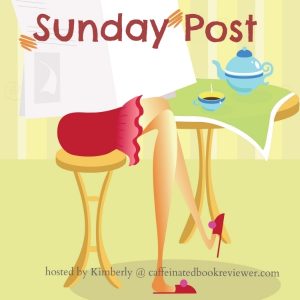 The Sunday Post is a weekly meme hosted by Kimberly  @ Caffeinated Reviewer. It's a chance to share news~ A post to recap the past week on your blog and showcase books and things we have received.
Stacking The Shelves
is also a weekly meme hosted by 
Tynga's Reviews
and Marlene from
Reading Reality.
It's all about sharing the books you are adding to your shelves, may it be physical or virtual. This means you can include books you buy in physical store or online, books you borrow from friends or the library, review books, gifts and of course ebooks!

Don't forget to look at my giveaways on the right sidebar.
So I'm finally moved into the house and back from Book Bonanza.  I'm thrilled to be working on unpacking and getting organized. It was another busy week and I loved doing all the things.  It started with leaving Book Bonanza. I only bought one print book from Elizabeth Hunter. I got 5 free print books. I also signed up for the new digital Bookworm box which is 2 books a month for $10 with a letter from an author. Then it was driving 2 days from Texas back to North Carolina while enjoying audio books.
Here are some shots from Book Bonanza!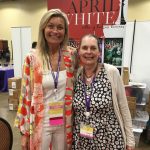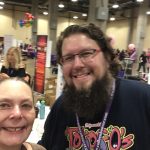 Carly Phillips, Amy Bartol, April White, Eric Asher and Avery Flynn.   I wanted to meet Jill Shalvis but she canceled.  I had a ticket for Penny Reid but gave it away to someone who had never met her before. I had.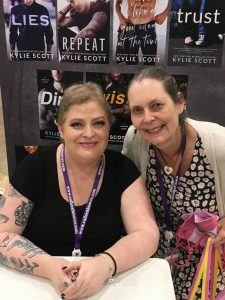 Kennedy Ryan                                                  Kylie Scott                                               Corinne Michaels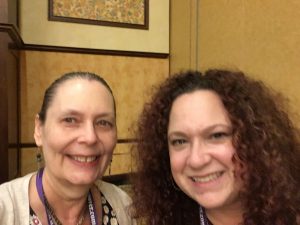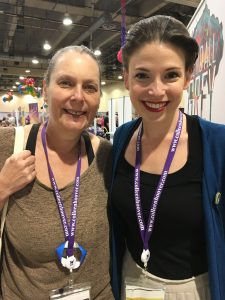 A primary reason for this con – Elizabeth Hunter!   And the narrators – Andi Arndt and Julia Whelan.
And my wonderful blogger and reader friends: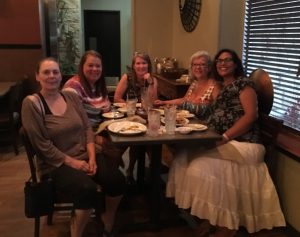 Top Left: Brandee, Kristen, Felicia, Lexxie, Me                    Last night dinner out: Me, Denise, Brandee, Lexxie, Berls
Lower Left: Denise, Kimberly, Berls
The night on the road I spent hours searching for computers for my daughter.  I had to redo a bunch of my research the day after I got home and we finally found one.  We ordered it and it arrived Friday. She is busy setting it up today (Saturday).  She has 3 old hard drives to copy things from to the new computer. She keeps asking me if I know her passwords. WTF?!?!  Well I did know the Netflix password and her school one, but really.
Tuesday, she had two doc appts.  We ate out lunch between them and I ran errands during the second one.  Wednesday we started out early with me having a bone density test and she had a liver ultrasound. We ran a couple errands on the way home but we were both so tired we didn't make it to quilting. I did finish my bathroom sort for now. There's nothing under the cabinets yet, everything is in my closet for now.
---
So the cabinets in my bathroom have this white something, thinner than contact paper and not as sticky, which are stained and falling off.  I bought some lovely new contact paper for them. BUT I have no idea how to put it in there. If it was just a plain shelf that wouldn't be too bad.  But there are 4 pipes or so coming through the bottom of the only shelf under the cabinet.
Help?  I tried looking on Youtube for videos but they only seem to cover a plain, flat shelf.
Any suggestions for me?
---
Thursday, she had her specialist test at UNC which went well but we won't know the results for 2 weeks.  Overall, with her not having OBGYN problems and taking steps so she won't be constipated, she is feeling significantly better.  She has stopped taking the stool softners twice a day and only needs the Miralax once a day.
Friday, she started school and is taking two classes for the first time.  She has a Spanish class with the same teacher as last year which is great. The other class is Health and Wellness, an elective.  It is only 10 minutes from our home, even with 3 minutes at the left turn light.  I went home and got so much accomplished while she was there.  Lulu and I picked her up and she felt good enough to go on errands. We went to the Farmer's Market, and a couple others.  I love the fresh foods. I got corn, tomatoes, green beans, blueberries and cantaloupe.  I also got a shrub rose.  Neither young nor old could resist Lulu, many stopping to pet her.
Lulu – the Pied Piper of the Farmer's Market
Lulu "Gotta lick 'em all!"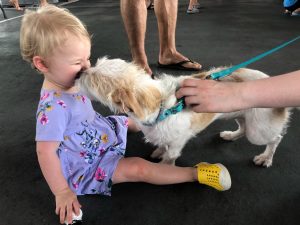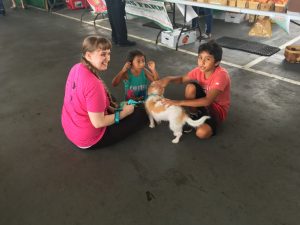 The little girl came back FOUR times and giggled her head off while Lulu licked her face. Her mom sent us the photo.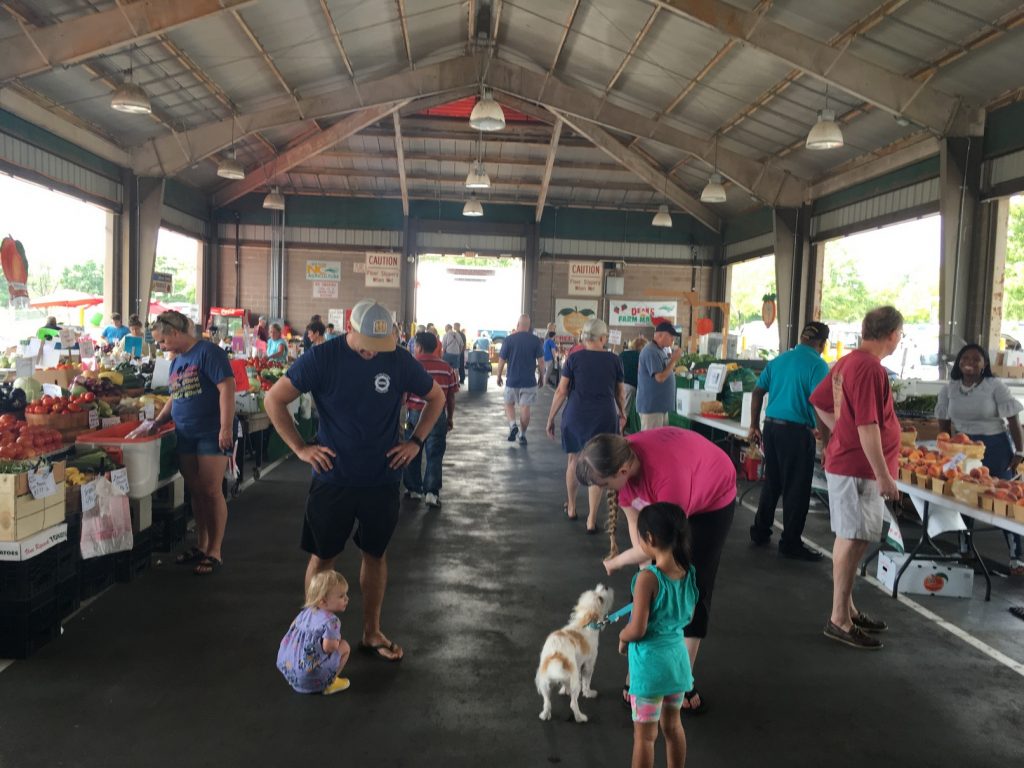 Today (Saturday) I worked on the blog, emails, laundry, and some garden planning. I'm getting very excited about doing some planting in the yard.  I need to figure out the trimmer soon and it's probably time to mow again.   A guy I contacted who does wood restoration came by to give me an estimate. I have some wonderful pieces that need a little fixing.  He gave me a reasonable quote and is doing the work this Thursday!!! I'm so thrilled it will be finished.  Two of the pieces are bookcases which then I will be able to fill with the boxes of books waiting to go in them.
Every day I love my new kitchen and new appliances – the fridge, the washer / dryer. The fridge has ice/water in the door and is bigger than the cheap one at the rental. The washer has no agitator.  The dryer has the lint collector inside the dryer.  I also love having a gas stove with a microwave above it.  I love having a fenced in yard. I am ecstatic to be unpacking and putting things away, getting rid of what we don't need.
I am FINALLY catching up on the blog and emails. Hopefully, this week will be more normal and I'll get some work on the back emails. I had 350 emails in my book account!  I'm under 250 now but a ways to go yet.  So I hope to be getting around to blogs and catching up on my reviews and reading over the next few weeks.
If anyone would like to guest on September 8th , October 11th or November 9th for a Friends on Friday, please let me know. (I could change up a bit to a different Friday if needed)

Stacking the Shelves is hosted by Tynga's Reviews and Reading Reality.  These are the exciting ARCs I received this week (If you click on the cover, it will take you to the Goodreads entry):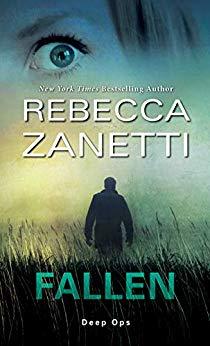 Thank you to Kensington Books!
(If you click on the cover, it will take you to the Goodreads entry)
I got these 2 audiobooks at Chirp for $0.99.  I get an email daily and I found out what they display in the email is different every day, about 200. The deals generally last 30 days.  The Nora Roberts one I bought on the last day, however.

Now the really scary one. This is all the Kindle and Audible freebies I grabbed this past week. You can see why I need to do Thrifty Thursday to be sure I read a few at least one each month.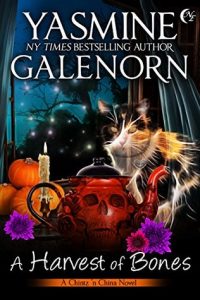 I really meant to cut back on freebies BUT  they are free so I guess that won't be happening.

I'm not including things like reviews posted or upcoming as they are always in the right sidebar. And, my challenge status is also there.
If you like this and want to see me do the Sunday post, as often as I can manage, leave me a comment and let me know.
Anne
Latest posts by Anne - Books of My Heart
(see all)