The Thief

by Megan Whalen Turner
Narrator: Steve West
Series: Queen's Thief #1
Published by HarperAudio on May 16, 2017
Genres: Young Adult, Fantasy
Length: 7 hours, 41 minutes
Format: Audiobook
Source: Library
Goodreads
Amazon,  Audible,  Audiobook,  Barnes & Noble,  iTunes







The king's scholar, the magus, believes he knows the site of an ancient treasure. To attain it for his king, he needs a skillful thief, and he selects Gen from the king's prison. The magus is interested only in the thief's abilities.

What Gen is interested in is anyone's guess. Their journey toward the treasure is both dangerous and difficult, lightened only imperceptibly by the tales they tell of the old gods and goddesses.
I admit, I picked up The Thief, the first book in The Queen's Thief series by Megan Whalen Turner, because Steve West was the narrator.  Insert blushing emoji.  Although this series has been around for a long time and is a perennial favorite with middle school librarians, I went in totally blind to this story and its many accolades.  While this is definitely geared for juvenile readers, the story is loaded with complex elements that will keep readers of all ages interested.  I want to tell you exactly why I loved it so much (aside from Steve West's voice), but to do so might actually ruin your experience.  So, I apologize if I sound a little vague in the specifics.
The Thief has exactly what I want from a fantasy novel; excellent world building, a quest, and memorable characters.  Gen is the star of this story.  We meet him at what might be the low point in his career as a thief, currently rotting away in prison.  Despite having to eat crow after boasting about his abilities, he's still cocky and arrogant, narrating the story with a youthful irreverence.  Seeing the action played out through Gen's eyes makes it easy to empathize with him, especially in the face of prejudice and ill-treatment.  Although he doesn't accept his situation with much grace or dignity, a fact that makes him difficult to like for a good portion of the book, I developed a respect for Gen and couldn't help but root for him.  The author does a great job of revealing truths about the characters and the political landscape without being too obvious.
Listen to a clip: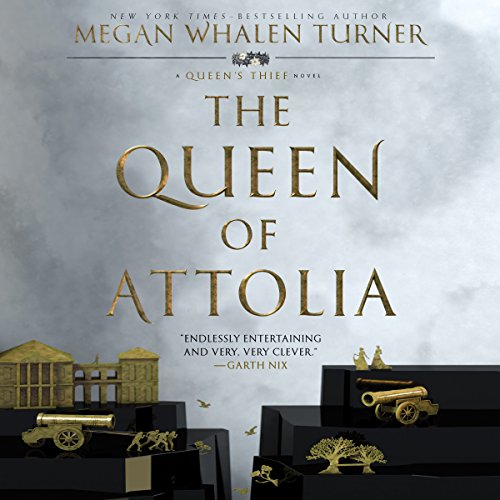 The Queen of Attolia

by Megan Whalen Turner
Narrator: Steve West
Series: Queen's Thief #2
Published by HarperAudio on May 16, 2017
Genres: Young Adult, Fantasy
Length: 9 hours, 33 minutes
Format: Audiobook
Source: Library
Goodreads
Amazon,  Audible,  Audiobook,  Barnes & Noble,  iTunes







Revenge
When Eugenides, the Thief of Eddis, stole Hamiathes's Gift, the Queen of Attolia lost more than a mythical relic. She lost face. Everyone knew that Eugenides had outwitted and escaped her. To restore her reputation and reassert her power, the Queen of Attolia will go to any length and accept any help that is offered...she will risk her country to execute the perfect revenge.

...but
Eugenides can steal anything. And he taunts the Queen of Attolia, moving through her strongholds seemingly at will. So Attolia waits, secure in the knowledge that the Thief will slip, that he will haunt her palace one too many times.

...at what price?
When Eugenides finds his small mountain country at war with Attolia, he must steal a man, he must steal a queen, he must steal peace. But his greatest triumph, and his greatest loss, comes in capturing something that the Queen of Attolia thought she had sacrificed long ago...
Having found the twists of The Thief exciting, I deliberately chose not to read the blurbs or reviews about The Queen of Attolia, the second book in the The Queen's Thief series.  I was eager to get back into this world and to find out what shenanigans Eugenides would be up to next.  The start of The Queen of Attolia is a bit bewildering, with a shocking lead-in that had me reeling along with the Gen.  I spent a significant portion of the book coming to terms with the Gen's predicament, even as Gen's history and relationship with the Queen Eddis is further revealed.  There is a little more drama and definitely more angst than the previous installment and we see growth in Gen's character through his travails.  Although Gen is still the primary character, there is a reason the story is titled The Queen of Attolia.  A significant amount of page time is dedicated to understanding the Queen of Attolia's history and many contradictions.  It makes me wonder, to whom "the queen" in the series title is actually referring?
This installment dives more deeply into the political machinations and intrigue between the countries of Attolia, Eddis, and Sounis.  Though conflict between the countries is essential to the story, it isn't bogged down by excessive battle scenes.  The reader spends a great deal of time trying to decode the motivations of the wide array of secondary characters.  The plot twist is a little more subtle than before and I wish that there had been additional evidence to substantiate the end results (OK, sorry that is also so very vague, but I really don't want to ruin it.)  Of course, everything seems so clear in retrospect, rather like how Sherlock Holmes summarizes events in a way that seems so obvious.
Listen to a clip: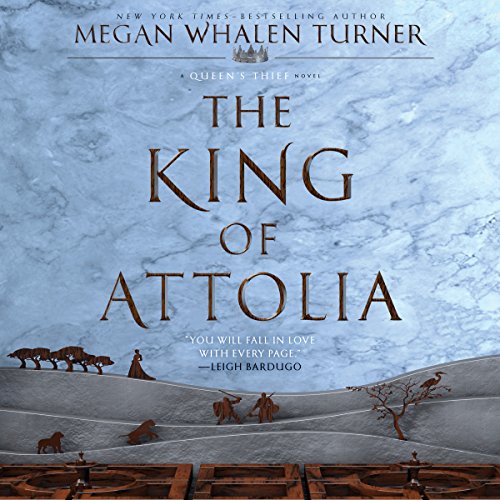 The King of Attolia

by Megan Whalen Turner
Narrator: Steve West
Series: Queen's Thief #3
Published by HarperAudio on May 16, 2017
Genres: Young Adult, Fantasy
Length: 10 hours, 23 minutes
Format: Audiobook
Source: Library
Goodreads
Amazon,  Audible,  Audiobook,  Barnes & Noble,  iTunes







Eugenides, no stranger to desperate circumstances, has gotten himself into difficulties he can't get out of. Used to being treated with a certain measure of wariness, if not respect, he suffers the pranks, insults, and intrigue of the Attolian court with dwindling patience. As usual, nothing is as it appears when he rescues a hot-headed young soldier in the Palace Guard.
In The King of Attolia, Eugenides is still the star of the show, only the perspective has switched.  The story is told from the point of view of Costis, a simple palace guard, whose disdain for Eugenides, the bumbling "goat-foot" (a slur for mountain-dwelling people of Eddis) is fierce and obvious.  It is hard to like Costis, given his narrow-minded perception of the world and his dislike for Eugenides (Seriously, how can anyone dislike Gen??).  However, his fervent love for  his country and his queen and his sense of honor is admirable and eventually wins over the reader, much like Eugenides earns the loyalty of Costis himself.  The court intrigue and drama is high in this installment as forces internal and external threaten Attolia's rule, and it is more important than ever that Eddis and Attolia stick together to maintain their sovereignty.
Although I expected some degree of twists, knowing by now that with Ms. Turner nothing is quite how it seems, it was still exciting and interesting how the details were revealed.  This story is less about the transformation of a single character, and more about relationships; the king and queen, Costis and Eugenides, Eddis and Attolia.  Even though I found it more predictable, The King of Attolia is my favorite installment of the series so far.
Listen to a clip: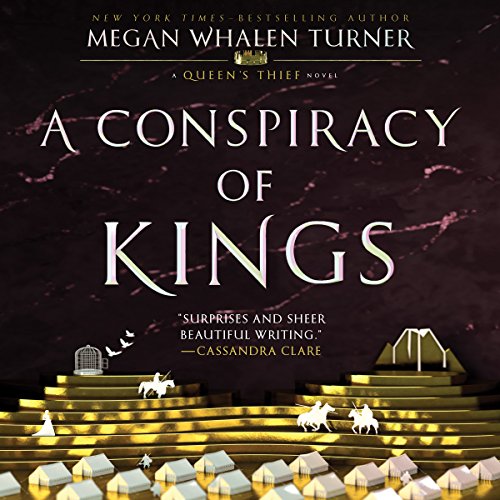 A Conspiracy of Kings

by Megan Whalen Turner
Narrator: Steve West
Series: Queen's Thief #4
Published by HarperAudio on May 16, 2017
Genres: Fantasy, Young Adult
Length: 8 hours, 26 minutes
Format: Audiobook
Source: Library
Goodreads
Amazon,  Audible,  Audiobook,  Barnes & Noble,  iTunes







Heart-stopping action, intrigue, danger, revenge, and romance, with a hint of a supernatural force as great as the gods—here is the epic story of an unlikely prince and his quest to save his kingdom. The fourth book in Megan Whalen Turner's award-winning series about Eugenides, the Thief of Eddis.

Sophos, heir to Sounis, doesn't look like much of a prince. At least, according to those in power. At least, to those who do not know him or the size of his heart and the depth of his courage, loyalty, and love. But Helen, Queen of Eddis, knows him, and so does Gen, the queen's Thief, who is now King of Attolia. Gen and the queen believe that Sophos is dead. But they also believe in hope, especially since a body was never found. So when Sophos is discovered in Attolia, the obvious question becomes: where has he been all this time?

Megan Whalen Turner's books about Eugenides, the Thief of Eddis, have been called "triumphantly clever," "tantalizing," "suspenseful," and "wholly satisfying." Readers new to the series will be ensnared. Fans will be in heaven.
The Conspiracy of Kings moves away from the trials of Attolia and Eddis to focus on the kingdom of Sounis, currently on the verge of civil war.  I started this story a bit disappointed that it was more about Sophos and less about Eugenides.  I think that is a risk, when an author creates an intriguing and charismatic character like Gen, he remains the star of the show even when he is not on the page.
The story is told from the perspective of Sophos, who we met in the The Thief where he was acerbically dubbed "Useless the Younger" by Eugenides.  While Sophos was able to redeem himself in The Thief, he continues to be perceived as weak and easily controlled by those with authority or power.  While The Conspiracy of Kings has key elements that focus on the greater story arc linking Sounis, Eddis, and Attolia, Sophos' growth as a person and leader is the primary focus of this novel.  Through trial and unexpected acts of bravery, he's able to prove to himself and others that he's more than they expect and stronger than anyone had imagined.  There is a sufficient amount of action, intrigue, adventure, and even romance to keep the reader engaged and on the edge of your seat, although not with the same amount surprise employed in the earlier novels of the series.
Listen to a clip:

Thick as Thieves

by Megan Whalen Turner
Narrator: Steve West
Series: Queen's Thief #5
Published by HarperAudio on May 16, 2017
Genres: Fantasy, Young Adult
Length: 8 hours, 47 minutes
Format: Audiobook
Source: Library
Goodreads
Amazon,  Audible,  Audiobook,  Barnes & Noble,  iTunes







Thick as Thieves is the eagerly anticipated new stand-alone novel set in the world of the Queen's Thief. New York Times best-selling author Megan Whalen Turner's entrancing and award-winning Queen's Thief novels bring to life the world of the epics and feature one of the most charismatic and incorrigible characters of fiction, Eugenides the thief. Megan Whalen Turner's Queen's Thief novels are rich with political machinations and intrigue, battles lost and won, dangerous journeys, divine intervention, power, passion, revenge, and deception. Perfect for fans of Leigh Bardugo, Marie Lu, Patrick Rothfuss, and George R. R. Martin.

Kamet, a secretary and slave to his Mede master, has the ambition and the means to become one of the most powerful people in the Empire. But with a whispered warning the future he envisioned is wrenched away, and he is forced onto a very different path. Set in the world of the Queen's Thief, this epic adventure sees an ordinary hero take on an extraordinary mission.
The fifth installment The Queen's Thief series breaks from the pattern established in the previous books.  Thick as Thieves reads more like a spin-off novel than a continuation of the Attolia, Eddis, and Sounis saga.  The story takes place primarily in Mede, the big bad country that looms like a corporate giant on the verge of destroying or taking over all smaller kingdoms in its path (cough, Roman Empire).  Kamet, a slave, albeit a powerful one, is the unwilling hero and narrator of this installment.  His world changes in the blink of an eye, and he soon finds himself fleeing the authorities in the company of an Attolian soldier (you get to figure out who).  Adventures ensue and the two develop an unlikely friendship, something Kamet has never experienced before.  There are some appearances by our favorite characters and the author deftly ties the story to the series in her signature style.
The complexity of this novel, especially in the character development and motivations is less juvenile than the previous installments.  Kamet does not start out as likable, especially given his disparaging view of Attolians or anyone non-Mede for that matter.  Unlike the lead characters in the previous books, whom I come to adore, I never could actually warm up to him.  His world-view, while adjusted, never really seemed to change, and at the heart of it, I feel he would have been happier in life had he remained a slave in Mede.  While this might be a more honest portrayal of human nature, I'd rather to exchange realistic for rainbows and unicorns.
Although Thick as Thieves contributes to the overall story arc of Attolia, Eddis, and Sophos, there is much left unanswered.  The war brewing between the kingdoms and Mede, while delayed, appears to be inevitable.  Of course, Ms. Turner has proven many times that things don't always turn out the way we expect.  There is a sequel being billed as the conclusion to the saga on the horizon (August 2020), which is not too far away, considering there was an average of over 5 years between publication of books in this series.  I look forward to rereading the entire series when the time comes!
Listen to a clip:

Narration:
I mentioned at the beginning of the review that I selected this series because it was narrated by Steve West.  His performance exceeded my expectations in every way and contributed more to my enjoyment of the series than had I simply read it or listened to the earlier audio versions.  His pacing and diction was perfect, especially given the complexity of names of people and places.  His range of voices and accents was incredible, making each character, and there are a lot of characters in this series, sound unique and identifiable.  From book to book I could easily identify returning characters by the voice, such as Eugenides, Eddis, or the Magus, which is normally quite difficult.  I strongly encourage readers to check out these revised audio versions (2017 Harper Audio).
Rating Breakdown
Plot
Writing
Characters
Dialogue
Narration (Audio)
Overall:
Reviewer
at
Books of My Heart
Reading has always been more than just a hobby, it's been a life-long obsession.  To illustrate my point, one of my kids is named William Bennet (think Fitzwilliam Darcy and Elizabeth Bennet).  Of course, if you are reading my obscure bio-page, you can probably empathize.  I read a broad range of genres, but particularly enjoy kick-butt heroines, complex world-building, first person narration, nerdy references, or  hockey.  I like all of my books to have a romantic element, even just a little bit.
I've developed a preference for audiobooks over the last few years, which allow me to complete chores, run carpool, or work on my many building and craft projects while 'reading.  I prefer reading romance the old-fashioned way, probably because listening to steamy scenes makes me blush!
My all time favorite selections include Diana Gabaldon's Outlander series, Karen Marie Moning's Fever series, and all of Robin Hobb's books set in the Farseer world.  Honorable mentions to Elle Kennedy, Penny Reid, Meljean Brook, Ann Aguirre, Krista and Becca Ritchie, Jim Butcher, Jeaniene Frost, and Kristen Callihan.
Friend me at Goodreads.
Related Posts