Review copy was received from Publisher. This does not affect my opinion of the book or the content of my review.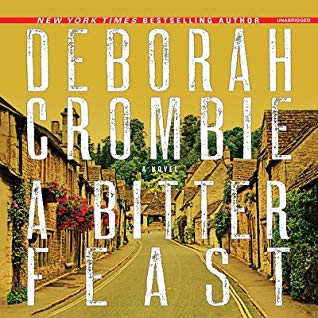 A Bitter Feast
by
Deborah Crombie
Narrator:
Gerard Doyle
Series:
Duncan Kincaid & Gemma James #18
Published by
HarperAudio
on October 8, 2019
Genres:
Mystery
Length:
10 hours, 42 minutes
Format:
Audiobook
Source:
Publisher
Goodreads
Amazon
, 
Audible
, 
Audiobook
, 
Barnes & Noble
, 
Apple





Scotland Yard Detective Superintendent Duncan Kincaid and his wife, Detective Inspector Gemma James, have been invited for a relaxing weekend in the tranquil Cotswolds, one of Britain's most beautiful and historic regions, famous for its rolling hills, sheep-strewn green meadows, golden cottages, and timeless villages that retain the spirit of old England.

Duncan, Gemma, and their children are guests at Beck House, the country estate belonging to the family of Melody Talbot, Gemma's trusted detective sergeant. No ordinary farmers, the Talbots are wealthy and prominent with ties to Britain's most powerful and influential. A centerpiece of this glorious fall getaway is a posh charity luncheon catered by up-and-coming chef Viv Holland. After more than a decade in London, Viv has returned to her native Glouscestershire, making a name for herself with her innovative, mouthwatering use of the local bounty. Attended by several dozen of the area's well-to-do, as well as national food bloggers and restaurant critics, the event could make Viv a star.

But a tragic car accident followed by a series of mysterious deaths could ruin her ascent. Each piece of information that surfaces makes it clear that the killer had a connection with Viv's pub—and perhaps with Beck House itself.

Does the truth lie in the past? Or is it more immediate, woven into the tangled relationships and bitter resentments swirling among the staff at Beck House and at Viv's pub? Or is it even more personal, entwined with secrets hidden by Viv, her business partner Bea Abbot, and Viv's eleven-year-old daughter Grace?

Further revelations rock the Talbots' estate and pull Duncan and Gemma and their colleagues into the investigation. With so much at stake both personally and professionally, especially for Melody Talbot, finding the killer becomes one of the team's most crucial cases.
I've enjoyed every book in the Duncan Kincaid & Gemma James series. I've only recently starting listening to them on audio and that is such a pleasure.  I love mysteries set in England. Even though there are now 18 books, I do believe it is important to read them all and in order.  There is a huge amount of character development in the main characters, their families, friends, and co-workers.
The previous book Garden of Lamentations had each of the main characters involved in a variety of cases. So they did not have much interaction or time with personal developments, with little time with family and friends. A Bitter Feast is just the opposite with lots of time with family and friends as they are on a family weekend at a co-workers' home. Their co-workers are some of their best friends.
The trip starts with Duncan in a car crash where the other cars' participants die. He and Gemma become involved in figuring out who the people are and why they died since something is off about it. As more deaths occur, they work to find the truth. In addition to the facts, they consider the people involved and their feelings, working with compassion.  Duncan and Gemma do such a masterful job  both professionally, and personally pitching in with a charity event.  Kit gets involved with helping at the event and is so responsible and considerate in his work.
I love everything about these stories from the excellent world building, the well developed multitude of characters, the police aspects of gathering information, the close circle of friends and the family growth. There is so much detail on their emotional journeys with worries about Duncan's injuries and Melody's boyfriend troubles.    I look forward to each new one eagerly.
I enjoyed Viv, a new character, who is a chef and single parent, with a difficult past. The food descriptions were fantastic.  The incredible descriptions and characters in this small town they visited were excellent and Crombie really brought these characters to life.
Narration:
Gerard Doyle handles this series well and I have enjoyed him with each listen.  I loved the English accents, although I don't know if they were accurate.  The characters had distinct voices, male, female and the children which felt authentic.  I was able to listen at my normal 1.5x speed.
Listen to a clip:

Rating Breakdown
Plot
Writing
Characters
Narration (Audio)
Overall:
Latest posts by Anne - Books of My Heart
(see all)
Reading this book contributed to these challenges:
2019 Audiobooks
2019 Releases
Related Posts