Review copy was received from Publisher. This does not affect my opinion of the book or the content of my review.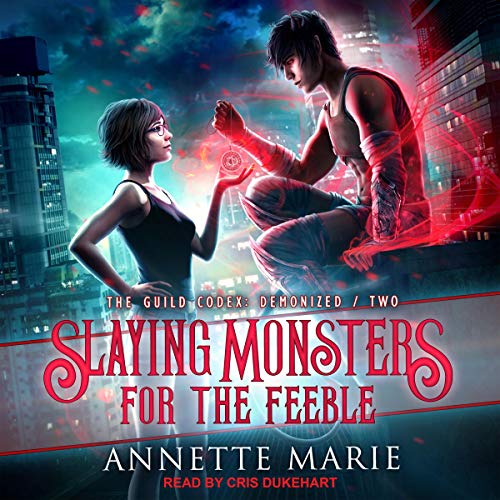 Slaying Monsters for the Feeble
by
Annette Marie
Narrator:
Cris Dukehart
Series:
The Guild Codex Demonized #2
Published by
Tantor Audio
on February 4, 2020
Genres:
Urban Fantasy
Length:
8 hours, 27 minutes
Format:
Audiobook
Source:
Publisher
Goodreads
Amazon
, 
Audible
, 
Audiobook




I'm bound to a demon.

For my entire life, I avoided magic at all costs. Now, I'm responsible for a demon who wields magic more powerful than the toughest mage or sorcerer.

Demons are evil.

That's what my textbooks say. That's what I see. He's ruthless, he's temperamental, he's cold. But he protects me without fail. I wonder if he's hiding a heart behind his hostility.

My demon is a monster.

Whether he's heartless or not, my contract with him is illegal and beyond dangerous. Together, we must find a way to return him to his own world before anyone discovers our secret. If that wasn't bad enough, I've come to realize something else:

My demon isn't the only monster I should be worried about.
Guild Codex Demonized  series is a different aspect of the Guild Codex Spellbound world. I have read the Spellbound series. I would say you can read Demonized without Spellbound first but I wouldn't. I really prefer to read in order, yes,  but there is also background on the world, the guilds and some of the characters which is really helpful if you ever have first book in a series issues. PLUS  the Spellbound books are awesome!
I am so excited to have this next book Slaying Monsters for the Feeble. It takes place about the same time as An Alchemist and an Amaretto takes place in the related series.  Robin really is in a tough spot but she gets to work on trying to find what she needs to help Zylas.  They also need to find Uncle Jack so she can get her grimoire.  As she and Amalia search for him, they run into vampires, too many vampires. Robin ends up helping with the vampire hunt at a great cost.
Amalia is still a bit weird but she has stepped up and worked well with Robin.  I love her sewing.  I hope she can make a business of it.
Pretty much everyone is after Uncle Jack and they end up with bad guys more often than clues or finding Uncle Jack.  Robin and Zylas start working together more and learning more about each other.  Robin is definitely attracted to him. She is also the most compassionate person; I would have punched out Uncle Jack rather than help him.
The action is non-stop and through many near death instances, Robin and Zylas learn more not just about each other, but about each others' species.  Unfortunately,  they learn a lot about vampires. I kept wishing they would tell other guild members about the vampire issues, even though it would be dangerous. Also,  I can't wait to see Robin and Tori team up.   I am hoping it will happen!
The ending was a bit abrupt and I can only hope the situation will pick up soon in the next book from either series. It looks like that is Druid Voices and a Vodka which means maybe Zak!?!?!  I LOVE Zak!  He's my favorite guy. I highly recommend both these addictive series.
Narration:
Cris Dukehart is now my comfort zone for these connected series. She has really added to my enjoyment with her performance.  I love how both these series have female leads, even though their personalities are different.  Her male and female voices seem appropriate.  Dukehart is one of my favorite narrators.  I was able to listen at my usual 1.5x speed.
Listen to a clip: HERE
Rating Breakdown
Narration (Audio)
Overall:
Latest posts by Anne - Books of My Heart
(see all)
Reading this book contributed to these challenges:
Related Posts