Blood Bound
by
Patricia Briggs
Narrator:
Lorelei King
Series:
Mercy Thompson #2
Published by
Penguin Audio
on October 1, 2009
Genres:
Urban Fantasy
Length:
10 hours, 2 minutes
Format:
Audiobook
Source:
Purchased
Goodreads
Amazon
, 
Audible
, 
Audiobook
, 
Barnes & Noble
, 
Apple





Mechanic Mercy Thompson has friends in low places-and in dark ones. And now she owes one of them a favor. Since she can shapeshift at will, she agrees to act as some extra muscle when her vampire friend Stefan goes to deliver a message to another of his kind.

But this new vampire is hardly ordinary-and neither is the demon inside of him.
I was excited when Anne said she wanted to do a read-along on the Mercy Thompson series. I really love this series. I've read most of the books once and then listened probably three times, making this my fourth time listening (for five over all). Patricia Briggs just writes such amazing characters and wonderful plots, that no matter how long the series gets, she keeps out doing herself. Adding Lorelei King as the narrator (and Holter Graham if you're doing the entire Mercyverse, you can get the chronological order of both series together here, which even includes the orders for the short stories in anthologies and graphic novels, though you don't have to read those in order or at all if you don't want to).
"Never trust a mechanic who drives new cars. They're either charging too much money for their work, or they can't keep an old car running – maybe both." ~ Mercy
Anyway, so Blood Bound is the second book in the Mercy series. We are starting to get more of a feel about Mercy and the creatures that live around here. While we were introduced to the vampires in the first book, we get to see a lot more of them. Stefan, Mercy's vampire friend, and lover of Scooby Doo, is calling in his favor, asking Mercy to help him as he checks in on a vampire that shouldn't be in their territory. They both get more than they bargain for with this vamp.
"If I ever become a serial murderer, I'll be very careful to kill people in a pattern that centers around a police station – and not my home or work." ~ Mercy
I really love how Ms. Briggs continues to bring out more of the world with each book. In Moon Called, we learned a lot about werewolves, in Blood Bound, the vamps, then in the next book, Iron Kissed, there is more to learn about the fae. Just more and more worldbuilding as time goes on, so you're never overwhelmed with new information. 
I also love the character building. This series ends up with a large cast of characters with many different personalities. I love how they all intermingle together and how the pack dynamics come into place (and even the dynamics with the vampires and fae too).
I know there are a lot of books in this series (and even more in the Mercyverse), but don't let that prevent you from starting this series. It is so amazing, you'll fly through them. I started the revisit of this series just this year and I haven't wanted to leave. As I'm writing this (on the 16th of January), I'm already into the fourth book in the series (I'm doing the entire Mercyverse (though it wasn't exactly in chronological order, as I was worried I wouldn't get to this one before I had to write my post, so I'm going back to get the Alpha & Omega books now).
Narration:
This was the first series I listened to with Lorelei King. It was also very early into my audiobook listening obsession. I do think I can blame Ms. King for a large part of my audiobook fascination. She does such an amazing job with this series. She brings out the humor and snarkiness of Mercy, but also does really well with the more gruff characters like Adam and Darryl. Add in Warren's lazy drawl and Stefan and Zee's unique voices and it appears there isn't a voice she can't master. This is also a series that has way more men in it than women and she makes it look so easy. King is one of my favorite narrators and really brings any fun story to life.
Listen to a clip:

---
Games:
Who said (enter the answer in the Rafflecopter, don't put in the comments)
"Even after all this time, I keep forgetting that heroes can be found in unlikely places and persons — like mechanics who can turn into coyotes."
There are other options in the rafflecopter for you to enter discussion questions and quotes to share.
Quotes you readers shared from Moon Called:
"Mercy," he mumbled. "What the hell did you do to my French Roast?"
---
Let me know if you would be interested in reviewing River Marked for the Read-Along.
---
Schedule:   
We are doing one book every 4 weeks, posting on Fridays.
Jan 31:   Blood Bound  – Melanie
Feb 28:   Iron Kissed – Carole at Carole's Random Life in Books
Mar 27:   Bone Crossed – KC
Apr 24:   Silver Borne – Berls at Because Reading
May 22:  River Marked
Jun 19:   Frost Burned   –  Jonetta at the Blue Mood Cafe
Jul 17:    Night Broken – Jennifer the Book Nympho (now at That's What I'm Talking About)
Aug 14:   Fire Touched – Robin
Sep 11:    Silence Fallen – Sophia Rose at the Delighted Reader
Oct 9:     Storm Cursed  – Angela at My Guilty Pleasures
Nov 6:    Smoke Bitten   –  Anne
Miss a post?
Jan 3:    Moon Called – Anne
---
Be sure to enter the giveaways!!!
Giveaway: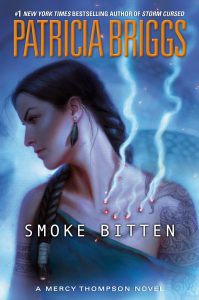 Smoke Bitten Hardcover and a Mercy Thompson enamel pin  (US only) generously provided by AceRoc:

Grand Prize Giveaway:
I am still developing the complete grand prize package which I will update here as we go along in the Read-along. I know it will contain the MP3 audio versions of the books from Brilliance Audio, probably signed as I intend to go see Patricia Briggs at a conference or two this year.  It will also contain swag from those events.  There will be a Mercy Thompson enamel pin from AceRoc.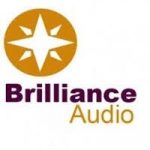 Rating Breakdown
Plot
Writing
Characters
Dialogue
Narration (Audio)
Overall:
Related Posts