Review copy was received from Publisher. This does not affect my opinion of the book or the content of my review.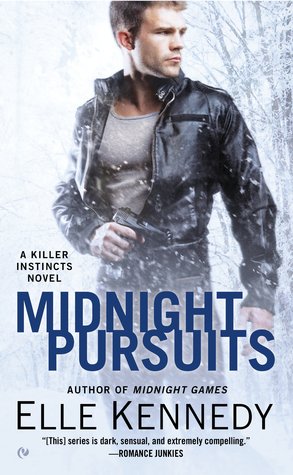 Midnight Pursuits
by
Elle Kennedy
Series:
Killer Instincts #4
on April 1, 2014
Genres:
Romantic Suspense
Pages:
368
Format:
Paperback
Source:
Publisher
Goodreads
Amazon
, 
Audible
, 
Audiobook
, 
Barnes & Noble
, 
Apple




Soldier-for-hire Ethan Hayes is the youngest member of an elite mercenary team. While he may be affectionately nicknamed the rookie, the skills Ethan honed as a Marine make him seriously dangerous. But when a sudden distress call puts him in close quarters with a rival, he finds more than his field skills being put to the test.

Juliet Mason stands out as the master thief in a covert group of assassins and spies. Her latest mission is personal—and it's gone horribly wrong. Juliet may prefer to work alone, but when the rookie comes to her aid in snowy Eastern Europe, she can't deny they make a good team. But even up against a powerful enemy, their most challenging task yet may be fighting the passion between them...
ICYMI is a post from my early days of blogging at Yummy Men & KickAss Chicks.   You can see the original review here.
Yummy Man – Ethan Hayes
Kick Ass Chick – Juliet Mason
---
I want you to know I take my reviewing responsibilities seriously.  I was looking over the options to read and review for April, reading blurbs about the books.  One of my favorite genres is romantic suspense, as this book is.   Midnight Pursuits  by Elle Kennedy was on the April list of reads and it caught my attention.  I had not read any books by this author but had heard great things.  The only issue was that it was the fourth book in the series.  Upon further research I noticed that all of the previous books in this Killer Instincts series had 4 or higher star ratings which made me want to read it more.  But one question remained:  would I be able to read the first three books, and then the fourth in time to do the review?  So I got the first book as quickly as I could.  I figured I would read it then decide if I could read them all.
Turns out that yes, I could.
The series is about a group of ex-military guys in a company of "mercenaries" who primarily do extractions.  This means they do hostage rescue and are definitely the good guys.  This doesn't mean people don't get hurt or die.  People get hurt in every book and they are often those we love.  And people die in every book; it's mostly bad guys though.  Mostly.
The guys are all smart, strong and whoa!  They come from different branches of service so there are those nicknames and traditions to enjoy – squids, jarheads, etc.  There is amazing action, some mystery to figure out, planning to save people, triumphs and sorrows in each book.   The guys have an association with another group of female assassins.  In the first book, they are rescuing one of the ladies who has been taken hostage and tortured.
The characters of both these groups, with amazing skills in fighting, strategy, and technology, continues throughout the series.  It is wonderful to get to know them better throughout the series.  Each book may focus on one couple, but there is excellent character building of all the players and some great setups for possible future books.  There are multiple relationships of various types happening.  The bromances and sisterhood are awesome, too.
The first, third and fourth book all end up with couples forming between the guys and gals.  It's not totally surprising since they spend time together in life-threatening situations.  They have to learn to trust one another.  When you add in chemistry, it gets very HOT.  The sex scenes in these books are scorching and yet … fun.
The books are all VERY enjoyable with lots to love in the characters, the action, the puzzle to figure out, the sex, the emotions they inspire in me, and the various relationships.  And people were right, they are all at least a solid 4 stars.  So why not 5 stars?  I guess it goes back to reality.  Many of the characters have unspeakably horrid pasts.  The guys (and gals) are very successful in their work, so they are all rich.
The key thing, so far, is a character factor.  They guys are all so good-looking; they either are or have been players to some extent.   The least player of them is Ethan from this fourth book.  He actually always tries to get to know the women and build a relationship of some sort in addition to the sexual relationship.  Most of the other alpha male man whore types don't even try.   BUT in each book, it is the guy pushing the woman for the relationship, chasing her, trying to get her to believe it can be a long-term and permanent one.  This is emotionally satisfying and I do love some of the dirty talk also,  and it's fascinating how quickly they are sure they want it.
In many books, the guy may be pursuing but he isn't a long-term guy and may not even realize he is in love until he has lost the gal.   These guys, smart as they are, realize right away what they want and pursue it.  It may take a bit to realize they want it ALL, but they aren't sharing or letting go of the woman from day one.  And everyone else knows it, which leads to some snarky humor!
Overall, I loved Midnight Pursuits, as well as the rest of this series.  I am definitely reading book 5, Midnight Action, when it releases November 4th 2014. It is hinting to be about a couple which has been building up since book one.
If you like this genre be check this series out, both for the stories and for the excellent characters.
Giggle worthy quote –
"She shifted on the mattress, noticing that the blood-stained sheets had been replaced with crisp, clean white ones. And her side wasn't throbbing anymore. How long had she been out?

The second she slid into a sitting position, Ethan's eyes snapped open and homed in on her.

'Good. You're awake.'  His voice was deeper than she remembered. Huskier.

Sexier.

She ignored that inane thought and met his concerned gaze.  'What are you doing here?'

'Saving your ass.' He rose from his chair in one fluid motion and, still holding his gun, strode toward her.

'And why the fuck are you armed?' she added irritably.

He glanced down at his hand as if he hadn't realized the weapon was in it. 'Ah, sorry, I wasn't sure if you'd remember me.'

'What, you thought I'd wake up and kill you?'

'The thought crossed my mind,' he said dryly."
Latest posts by Anne - Books of My Heart
(see all)
Related Posts