Review copy was received from NetGalley. This does not affect my opinion of the book or the content of my review.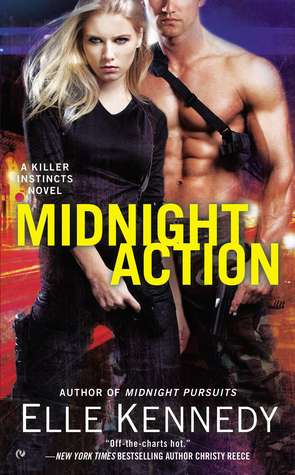 Midnight Action
by
Elle Kennedy
Series:
Killer Instincts #5
on November 4, 2014
Genres:
Romantic Suspense
Pages:
384
Format:
eARC
Source:
NetGalley
Goodreads
Amazon
, 
Audible
, 
Libro.fm
, 
Barnes & Noble
, 
Apple






Ex–army ranger Jim Morgan leads a team of elite mercenaries, but eighteen years ago in Paris, he was part of a black ops unit whose mission was to hunt down a rogue operative. In order to trap the criminal, Jim seduced Noelle, the man's daughter—a ruthless act that cost him the love of his life and turned her into a mortal enemy. Now he can't trust her, but he still desires her. He also needs her help....

Older, wiser, and unwilling to play the fool again, Noelle runs a group of highly skilled assassins. And she's just been offered the hit of the century: Eliminate Jim Morgan. History gives them no reason to trust each other, but with their lives in jeopardy at the hands of a common enemy, the lines between love and hate are soon blurred. Now Noelle and Jim must face the past if they want to have a future—let alone a future together.
ICYMI is a post from my early days of blogging at Yummy Men & KickAss Chicks.   You can see the original review here.
Yummy Man – Jim Morgan
Kick Ass Chick – Noelle Phillips
---
Midnight Action is the fifth book in Elle Kennedy's  Killer Instincts series. I reviewed Midnight Pursuits earlier this year after reading the first three books. This falls into one of my favorite genres – romantic suspense. This book is in character with the series and much of what I said about the previous book is still true.
To recap, the series is about a group of ex-military guys in a company of "mercenaries" who primarily do extractions. This means they do hostage rescue and are definitely the good guys. This doesn't mean people don't get hurt or die. People get hurt in every book and they are often those we love. People die in every book; it's mostly bad guys though.
The guys are all smart, strong and whoa! They come from different branches of service so there are those nicknames and traditions to enjoy – squids, jarheads, etc. There is amazing action, some mystery to figure out, planning to save people, triumphs and sorrows in each book. The guys have an association with another group which is female assassins. In the first book, they are rescuing one of the ladies who has been taken hostage and tortured.
The characters of both these groups, with amazing skills in fighting, strategy, and technology, continues throughout the series. It is wonderful to get to know them better. Each book does focus mainly on one couple, but there is excellent character building of all the players and some great setups for possible future books. There are multiple relationships of various types happening. The bromances and sisterhood are awesome, too.
So what is different in this book? Is it same song, different verse? Sort of. This is the couple we have been waiting to know. Jim is the head of the company and Noelle is head of the chameleons. They both are very closed off and don't share their personal lives or history with their teams. And there IS history. Everyone knows it.
In this book that history is explored. We get some flashbacks of when they met and what went wrong between them. I'm a little mad at both of them for not being more honest with each other but they were very young. And no, it wasn't pretty. Now we are about 15 years later and the past has come back to bite them.
Noelle is hired to assassinate Jim. Well, she doesn't, duh, that's hardly a spoiler. They end up working together to find out who is trying to kill him. As usual, there is lots of action. There are many emotional scenes, angsty emotions and HOT sex.
This couple is different than all the rest. They have known each other almost all their adult lives. Jim and Noelle were brought together under difficult circumstances, fell in love, and before that solidified, things went to hell in a hand-basket. The strong emotions between them continued and they danced the fine line between love and hate for all these years.
After being reserved and so emotional about each other, forever, it is interesting to see the circumstances which have them spending time together. It is refreshing when they share old truths with each other and own their feelings. It is a rough ride. The past is full of problems for them.
The books are all VERY enjoyable with lots to love in the characters, the action, the puzzle to figure out, the sex, the emotions they inspire in me, and the various relationships. They are all at least a solid 4 star. So why not 5 stars? I guess it goes back to reality. Many of the characters have unspeakably horrid pasts. The guys (and gals) are very successful in their work, so they are all rich.
Midnight Action is one that has been built since the beginning and really, it did not disappoint. It was an emotional roller-coaster to watch this couple get over their past and come together. I do recommend the whole series and reading them in order. It just helps with the world building, the emotions and for this one, the anticipation.
Giggle-worthy quote –
"Evening, Jim. Are you going to join us, or just lurk there in the shadows?"
Her mocking voice wafted toward him in the balmy night air. She hadn't even glanced his way, yet she'd known he was up at the railing, and the evidence of her razor-sharp sense was a reminder that he couldn't let his guard down around this woman. Ever. She was a threat. Had been for years, probably always would be.
As he descended the stone steps, he steeled himself for this latest reunion. Each time they crossed paths, he went through the same old routine. Stayed on the alert, masked his emotions, armed himself for the inevitable showdown. He never knew what to expect with Noelle, except for one constant –her unceasing attempts to unnerve him.
If he were being honest, she succeeded more often than not.
Damned if he'd ever admit it to her, though.
"Why are you here?" he muttered when he reached the couple.
Couple. Goddamn it. The thought made him want to ….Fuck, he didn't even know. Throw up? Shoot them down like rabid dogs?
Latest posts by Anne - Books of My Heart
(see all)
Related Posts