Review copy was received from Library. This does not affect my opinion of the book or the content of my review.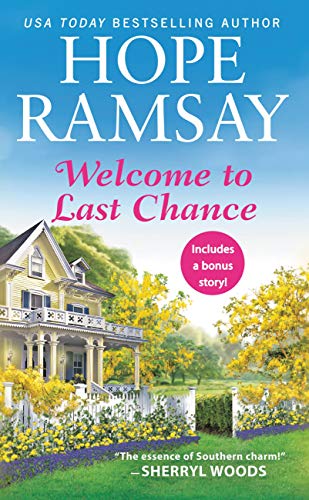 Welcome to Last Chance
by
Hope Ramsey
Series:
Last Chance #1
Published by
Forever
on March 1, 2011
Genres:
Contemporary Romance
Pages:
337
Format:
eBook
Source:
Library
Goodreads
Amazon
, 
Audible
, 
Libro.fm
, 
Barnes & Noble
, 
Apple




This small town has one beauty shop, one bar, one hardware store... and the one man she's been waiting for all her life.

Last Chance, South Carolina. As soon as Wanda Jane Coblentz sees the name of the town, she can't help but buy a one-way bus ticket-even if it means she's left with just five dollars in her pocket. Jane's hoping to leave her troubles behind and make a fresh start. But when she's drawn to a man playing fiddle in his worn black Stetson at the local watering hole, Jane realizes that falling for yet another bad boy may put an end to her plans to reinvent herself...

Clay Rhodes is ready to settle down. He's intrigued by Jane but it seems like she's just passing through. Then to his surprise, Jane makes herself right at home, and the local matchmakers have him nearly convinced that she's the one for him. Until Jane's dark past follows her to Last Chance, and the woman who's brought a ray of sunshine into his small town may just make a run for it - unless Clay can convince her that she's finally found a home.
After finishing the last half of the series, I decided it was well-nigh time I came back for the beginning.  I was excited to see how it all got started in Hope Ramsay's Last Chance world.   It was as quirky and heartwarming as I anticipated.
Welcome to Last Chance opens with 'Mary Smith' getting on a bus in Atlanta for a small town destination she chose on a whim.  With only the clothes on her back and five dollars in her purse, she needs some really good luck after the last bad boy got her into heaps of sorrow and trouble.  Too bad the first face she sees when she steps inside the bar hoping to coax a good ol' boy out of a few bucks for a meal is a devilishly handsome fiddler who looks the epitome of the bad boy cliché.  And, don't they give Last Chance residents something to talk about by morning.
Clay Rhodes has been in a mood for a long time.  He's been on the receiving end of more than one 'she done him wrong' songs and he feels responsible for his best friend's traumatic brain injury so he sticks around Last Chance and his life is in a rut.  Then gorgeous trouble magnet Jane gets under his skin and the local matchmaker predicts his future.  But Jane's past keeps coming up to haunt them both and his exes don't stay where they left him.  And, that was only the beginning.
Poor Jane has had one rough and tough row to hoe.  She made some teenage mistakes and then some big girl mistakes and then she runs into Clay who doesn't exactly have his life together either.  Jane was a woman of steel though she didn't see herself that way and it was Clay who was all over the place.  A few things he said and did had me itching to smack him, but by the book's end he finally has his come to Jesus moment.
The romance was an age-gap one, but the age is the least of their worries with all her bad choices making her look like a criminal on the run and having both cops and robbers on her trail and Clay can't get it settled who and what he wants so he blows hot and cold.  Normally, this sort of thing has me crazy, but there was a light element including the small town character antics, Clay's family and Ray's side story to keep things copacetic.  The end had a big finale that showed the crisis in both an action and relationship scene that was a perfect finish.
Now, I'm ready for the next of Ruby's family to find his romance.  I will definitely be finishing up the earlier ones I missed and recommend this light, slightly dramatic small town romance series to contemporary romance fans.
Related Posts