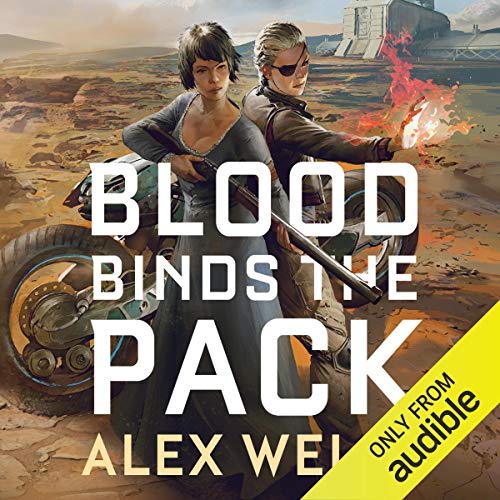 Blood Binds the Pack
by
Alex Wells
Narrator:
Penelope Rawlins
Series:
The Ghost Wolves #2
Published by
Audible
on February 6, 2018
Genres:
Science Fiction
Length:
16 hours and 40 minutes
Format:
Audiobook
Source:
Purchased
Goodreads
Amazon
, 
Audible
, 
Audiobook
, 
Barnes & Noble






Join the fight for the people and power of Tanegawa's World in this exhilarating sequel to Hunger Makes the Wolf.

War is coming to Hob Ravani's world. The company that holds it in monopoly, TransRift Inc, has at last found what they're looking for - the source of the power that enables their Weathermen to rip holes in space and time, allowing the interstellar travel all of human society now takes for granted. And they will mine every last grain of it from Tanegawa's World no matter the cost.

Since Hob Ravani used her witchy powers to pull a massive train job and destroy TransRift Inc's control on this part of the planet, the Ghost Wolves aren't just outlaws, they're the resistance. Mag's miner collective grows restless as TransRift pushes them ever harder to strip the world of its strange, blue mineral. Now Shige Rollins has returned with a new charge - Mr Yellow, the most advanced model of Weatherman, infused with the recovered mineral samples and made into something stranger, stronger, and deadlier than before. And Mr Yellow is very, very hungry.


This is the second, and appears to be the final, book in the Ghost Wolves series. I'm not sure if there were more books planned or if the author only took two books to tell the story of Hob Ravani and Magdala "Mag" Kushtrim. Either way, I enjoyed this story as much as the first book, Hunger Makes the Wolf. And while I would love more time with these characters, this did wrap up the story well.
Hob has become the de facto leader of the Ghost Wolves, a mercenary biker group on Tanegawa's World, a harsh desert planet run by TransRift, a corporation that exploits the people of this planet to mine a special rock (and farm, though we don't see much about the farming part of the planet). She has "witchy" powers that scares many people, even some of her own gang, though they still trust her. She has the ability to control and create fire.
Mag is related to Hob, if not by blood, but through Old Nick, who is Mag's uncle and Hob's adopted father/mentor. She is also witchy. She's able to control people's will with her mind. She currently lives with one of the lead miners and is working to get the miner to have a revolution against TransRift.
I really enjoyed both books in this series, a lot. Alex Wells tells a wonderful story with even better characters. I liked seeing this story unfold from many different POVs throughout both books. There is some romance, some action, some happy times and some very sad times. The characters are also very diverse in personality, race, sexual orientation, humanity (this is science fiction, so there are some that aren't quite human) and more. This diversity really helped to make the story that much more interesting. I really can't recommend this series enough. I enjoyed it so much.
Narration:
This series was the first time I've listened to Penelope Rawlins. I enjoyed her take on the series. The voices she chose for the wide array of characters was spot on. I really loved the voice of Coyote the most. Coyote is one of Hob's wolves. He has a swagger about him and she really brought that out in his voice, also the voice of the Bone Collector. He was a very interesting character and I felt the voice for him was perfect. I would love to listen to her again. I will be looking for more book performed by her.
Listen to a clip: HERE
Rating Breakdown
Plot
Writing
Characters
Dialogue
Narration (Audio)
Overall:
Related Posts