The Sunday Post is a weekly meme hosted by Kimberly  @ Caffeinated Reviewer. It's a chance to share news~ A post to recap the past week, and showcase books and things we have received.
---
Don't forget to look at my giveaways on the right sidebar.
Sunday,  it is raining.  My daughter is up when I get up because she never went to bed.  I am frantically trying to catch up on Feedly,  and Sunday post visiting. I finished those up and went on to getting posts ready for this week. I'm making Lulu another batch of food.
Monday was a whirlwind until it wasn't.  I put out packing paper and boxes for a neighbor.  I did some computer work.  I called for an appt for my daughter. I went online to schedule service for the freezer which is very frosty, although it is cold. It is only 4 months old.  Then I went out to get the Rx for her, pick up a few items at Aldis.  I did some more computer stuff, until her 2 doc appts in the afternoon.  The contractor was supposed to arrive after 3pm and text when on the way.  She showed up at 6pm without texting.  I had also gotten an Instacart from Sam's Club and I had the kitchen counters covered with things for meal prep, tonight's dinner.  I kind of thought they weren't coming when it got that late.  Then basically they looked at everything, put a can of paint on the placements where we were going to eat! then the cabinet guy got out the panel to be installed and found it needed to be cut and he didn't have the tools. The tools he did have were on the kitchen table, of course.  It was already 7 so I said they would have to come back.  So they are coming tomorrow to do the painting and panel. UGH.  I will have to watch to see what I need to clean after they go. Also, they never wear masks so I am wearing a mask at home and opening the windows.
Tuesday, I got up early dreading the day with contractors to finish up in the kitchen. Well the first guy was on time and in and out in an hour.  He didn't do one of the things and would have charged extra if he did.  He did lay his coat across the kitchen table (he couldn't have just hung it on a chair where we don't eat food?) and put a paint can on the the dish draining pad for clean dishes, and handled some clean dishes, now not clean. I worked on things on the computer most of the afternoon while waiting for the panel installer but they never showed, didn't call or text.   I made a favorite soup (chicken vegetable) of my daughter for dinner with a baguette.
Wednesday,  my daughter got up early to go with me to try to get a Christmas tree. We went to the farmer's market and it was no problem.  They had plenty and very reasonably priced.  I stopped at Harris Teeter because we had a couple GF coupons to use before year end plus I used all the green beans in the soup. No word on the panel install.  I took my daughter to her chiro appt and I got the car inspected.  Then I paid for the car and Harley renewals, since both inspections were complete.  After a bit of computer time, my daughter worked on dinner with me and it was nice.
Thursday, I expected a nice day at home, even though it would also be the coldest day this week. It didn't feel as cold because the sun came out and there was little wind.  I did the usual computer stuff, tried to write some reviews.  The freezer repair guy was scheduled for 1-5pm.  They have a neat app that shows what time they project to be here so I knew it would be at least 3.  Then the contractors texted they wanted to come at 4pm which put me on edge.  I can't have them here at the same time because I have to watch where they put tools etc which will have to be re-cleaned and sanitized. Well, of course, they arrived at almost the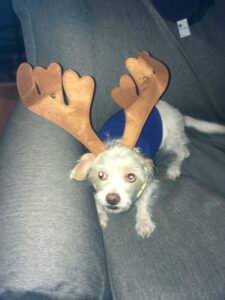 same time.  Luckily the freezer guy was first.  He wore a mask even though it was in the garage and finished quickly.  The contractors waited and actually wore masks for the first time in the 2 months they have worked here.  They didn't even put tools on the table or counter.  I had the windows open. But their nail gun jammed and so they have to come back.  I baked molasses ginger cookies and they are so good. I fell asleep really early without reading. I'm starting both a new book and audiobook which is always a bit more trouble.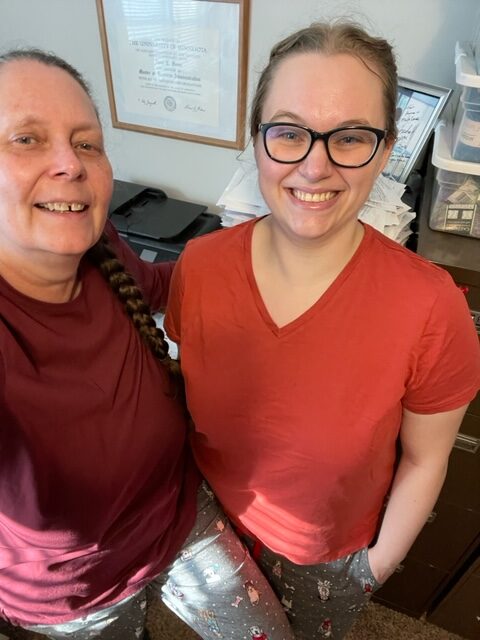 Friday,  I woke early but then dozed for an hour.  I did a bunch of computer stuff and laundry.  The contractors planned to come back 1:30-2pm. They hadn't shown up by 3 so I texted that I would be gone an hour walking Lulu.  It is a beautiful day and I've put her off enough days this week.  So we walked and they didn't come.  My daughter and I watched the Great British Christmas bake-off.  We finally got the tree in and it went into the stand easily, we got the lights on but half of one string is dead.  I stayed up a little late wrapping gifts.  We opened one gift each which was matching dog print pj pants. I put them in the washer right away. It is very hard to take a selfie showing your pj pants.
Saturday,  Merry Christmas!   I didn't get up too early. I got the new pj pants out of the dryer to wear today. I put the packages under the tree.  I used the dustbuster to get up bits of tree needles and dog hair.   It's really nice out around 70 (21C) and supposed to be nice all week.  I'm making a Swedish tea ring which is really a big cinnamon roll in a ring shape.  I use apples, raisins and pecans in addition to the cinnamon sugar in it. Lulu managed to get her treat out of her stocking.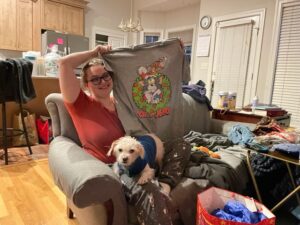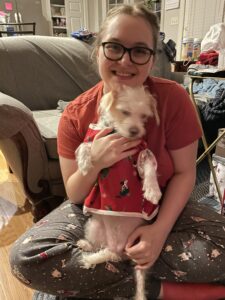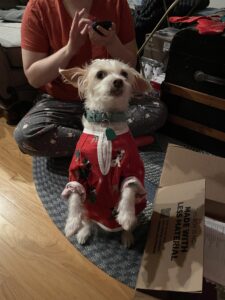 Stacking the Shelves is hosted by Reading Reality.  These are the exciting ARCs I received this week (If you click on the cover, it will take you to the Goodreads entry):
My grateful thanks to Macmillan Audio,  Entangled Publishing,
(If you click on the cover, it will take you to the Goodreads entry)
NOTHING.

Now the really scary one. This is all the Kindle and Audible freebies I grabbed this past week. You can see why I need to do Thrifty Thursday to be sure I read a few at least one each month.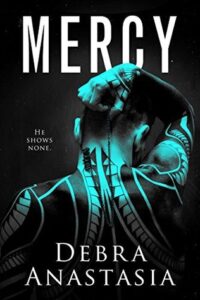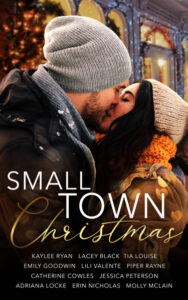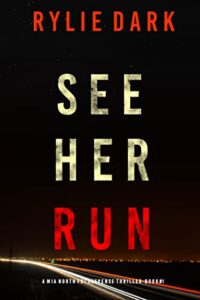 I really meant to cut back on freebies BUT  they are free so I guess that won't be happening.

I'm not including things like reviews posted or upcoming as they are always in the right sidebar. And, my challenge status is also there.
Anne
Latest posts by Anne - Books of My Heart
(see all)