Review copy was received from Publisher. This does not affect my opinion of the book or the content of my review.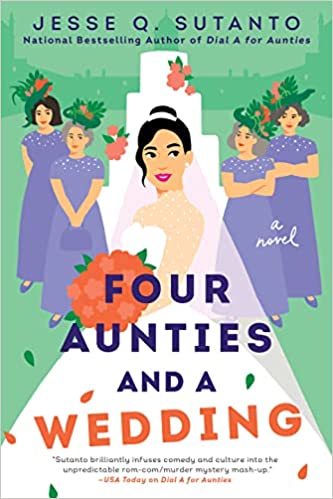 Four Aunties and a Wedding
by
Jesse Q Sutanto
Series:
Aunties #2
Published by
Berkley
on March 29, 2022
Genres:
Mystery
,
Romantic Comedy
Pages:
352
Format:
eARC
Source:
Publisher
Goodreads
Amazon
, 
Audible
, 
Audiobook
, 
Barnes & Noble
, 
Apple




Meddy Chan has been to countless weddings, but she never imagined how her own would turn out. Now the day has arrived, and she can't wait to marry her college sweetheart, Nathan. Instead of having Ma and the aunts cater to her wedding, Meddy wants them to enjoy the day as guests. As a compromise, they find the perfect wedding vendors: a Chinese-Indonesian family-run company just like theirs. Meddy is hesitant at first, but she hits it off right away with the wedding photographer, Staphanie, who reminds Meddy of herself, down to the unfortunately misspelled name.

Meddy realizes that is where their similarities end, however, when she overhears Staphanie talking about taking out a target. It turns out Staphanie and her family are The Family—actual mafia, and they're using Meddy's wedding as a chance to take out a target. Her aunties and mother won't let Meddy's wedding ceremony become a murder scene—over their dead bodies—and will do whatever it takes to save her special day, even if it means taking on the mafia
How do you follow up the mirth and mayhem of a book like Dial A for Aunties?  Return to the magic elixir that was at the center of it all- four Asian Aunties, of course.  Stir in a wedding in England for Meddy and Nathan, and wedding coordinators who may have something to do with the mob to give the aunties a bit of a challenge.  I was primed and ready for this one- or so I thought…
Four Aunties and a Wedding is a follow up story, but there was enough background detail in it that a reader could jump in with this second book and get up to speed just fine.
Meddy and Nathan are to be married in Oxford on his family's home turf and Meddy's Asian family of mother and three Aunties are determined that everything is to be special for Meddy,  right down to their willingness to pick up British slang and accents *snort (yes, it was as hilarious as it sounds).  Meddy and Nathan have already chosen their photographer, Stephanie, who happens to come with a family of various wedding vendors who can cover all their wedding needs.  Perfect.  Wedding sorted, they thought.  Then Meddy overhears Stephanie on the phone and it sounds like there is to be hit on a queen.  No worries, the Aunties got this (yes, you should be very afraid).  And, they do, but will the wedding and guests going to survive their efforts?
Four Aunties and a Wedding is boisterous and over the top.  It sparkles and drives forward at a furious pace and holds loosely to the plot.  It is laugh until you cry funny and the antics never stop.  Meddy spends more time with the Aunties chasing the mafia situation than she does worrying about the wedding or spending time with Nathan.  They are once again shuffling a body around under the wedding guests and Nathan's family noses.  Part of me saw that the crazy situation was predominant over other matters like Nathan's family reaction to Meddy and her background and wanted a bit more balance in this one, but another part of me shrugged and treated it as a full on comedy.  I found this went off the map more than the first book (there might have been Komodo Dragon hats for the bridal party) and I think a reader's enjoyment of this will greatly depend on taste in humor, mood, and expectation of a screwball romantic comedy-style cozy mystery.  The grounding element is family.  Meddy's Aunties and mother drive her near insanity, but there is deep love and acceptance there.  Nathan is charming and rolls with it.  He knows what he's getting into by now.  And, those Aunties are fiercely loyal and loving (they will not only come to help bury the body, but will kidnap and hogtie the guy in the first place- and they do).
So, I was limp from laughter and amusement and satisfied overall with the blend of sweet family fun and madcap comedy.  I see a glimmer of future series installments and hope it happens.  If readers are looking for a sweet romance, a bit of a cozy mystery, and a whole lot of Asian family-centered comedy, give the Aunties series a go.
Related Posts