Review copy was received from Publisher. This does not affect my opinion of the book or the content of my review.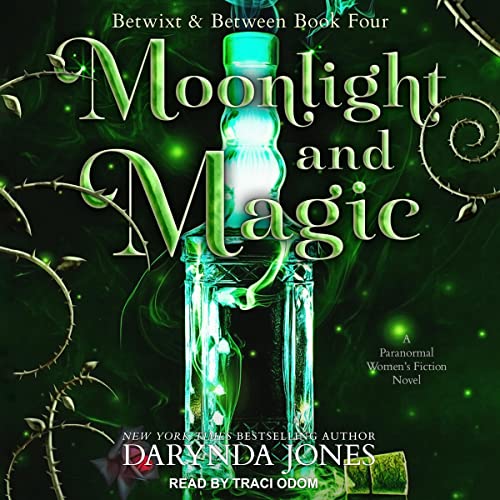 Moonlight and Magic
by
Darynda Jones
Narrator:
Traci Odom
Series:
Betwixt & Between #4
Published by
Tantor Audio
on January 18, 2022
Genres:
Paranormal Romance
Length:
10 hours
Format:
Audiobook
Source:
Publisher
Goodreads
Amazon
, 
Audible
, 
Audiobook





Forty-something Annette Osmund always knew she was psychic. She's not, but that didn't stop her from giving those non-existent abilities her all. What she is, however, is a very powerful witch who has just inherited magics she never dreamed possible.

Starting over in a new town with her BFF has been an adventure. Defiance's status as a powerful type of witch called a charmling has kept Annette busy. But while Deph, a seeker, is still learning to use her magics, to control the power at her fingertips, Annette is overcome with powers of her own. Turns out, her being besties with Deph was not an accident. They were drawn to each other even before their powers emerged, and Annette learns she is also a charmling, a healer, and an alchemist. But what does that even mean?

Fortunately, there's one way to find out. She consults the house they're living in. Or, more to the point, the delicious entity haunting the house. Because, like her, he was once an alchemist. Maybe he will have the answers she so desperately seeks before she kills someone. The fact that he was once a stunning specimen of masculinity has nothing whatsoever to do with her desire to learn from a man who may or may not have been a powerful warlock.
The Betwixt and Between series up to this point has followed Defiance's POV, but in Moonlight and Magic we now get to see the world through Annette's eyes as she goes on an adventure to figure out who her father really is,  after she is found to be one of the charmlings too and had to have a wizard father.  I have had a lot of fun with Defiance and her exploration of both her powers and the handsome guy in a kilt who fixes things around the house, but I was ready to do a side adventure with Annette, the BFF with all kinds of spunk and funny banter.
Annette shows up on her mother's doorstep to a meet a new stepfather and find that her cousin is living with her mom.  There is also a wizard following her around that no one can see.  Annette wants answers but ends up having way more questions about both her mom's current situation, why her cousin is ready to kill her and what the hot Warlock wants from her.
This is a shifted story for sure and I'm still not sure how I feel about the romantic love interest part of it.  I figured out who the warlock was right away but had fun playing along until Annette could figure it out too.  The side story with Annette's mom was interesting and there was a lot of emotional baggage unlocked there.  But I must say that overall the story was not as strong as some of the others in this series and I'm still on the fence about the love interest.
Overall Annette is a fun character and spending time in her head is an adventure in and of itself.  Exploring her powers was a good time and I did like family aspect of it.  A few scenes seemed completely cobbled together and the resolution 'convenient' but other than that a good time overall.  The best parts of any Darynda Jones book is always the intro to each chapter.  They make me laugh or ponder every time.
Narration:
Traci Odom has narrated all four books of the series.  She delivers Darynda Jones' humor well and seems to fit the women's PRN genre well.  She is a solid narrator who does well with the story.  I was able to listen at my usual 1.5x speed.
Listen to the clip:  HERE
Rating Breakdown
Plot
Writing
Characters
Dialogue
Narration (Audio)
Overall:
Related Posts