Review copy was received from Publisher. This does not affect my opinion of the book or the content of my review.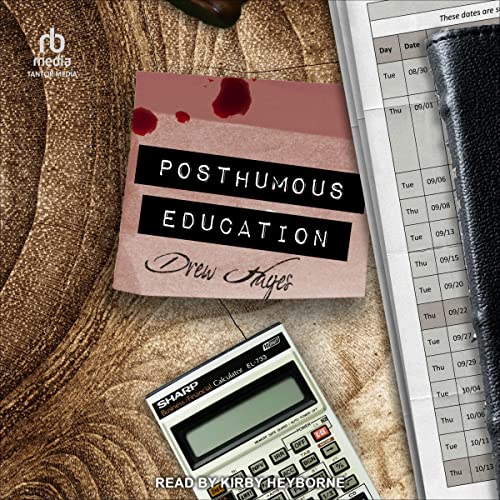 Posthumous Education
by
Drew Hayes
Narrator:
Kirby Heyborne
Series:
Fred The Vampire Accountant #8
Published by
Tantor Audio
on January 17, 2023
Genres:
Urban Fantasy
Length:
10 hours, 23 minutes
Format:
Audiobook
Source:
Publisher
Goodreads
Amazon
, 
Audible
, 
Audiobook
, 
Barnes & Noble






Much like accountants, fey never forget a debt.

Just as Fred is settling down in his new abode, he receives word that a favor is being called in, one he promised to a dangerously powerful member of otherworldly royalty. Bracing danger, adventure, and unknown threats, Fred is instead asked to take on an entirely different role than anticipated.

Acting as interim professor at one of the few universities for supernatural entities, Fred will have to navigate a strange environment, eccentric coworkers, and unenthusiastic students. Yet that alone won't be enough, for this college has more history than the tales in its tomes.

Remnants of the past that could put Fred, and his students, in mortal peril.



It is great to be back in the world of Fred and the gang. I so love this series, with a vampire accountant and all his wide range of supernatural friends (and enemies). In Posthumous Education, Fred is being called upon to return his favor owed to the Winter Fae Queen. It is so easy; it is almost too good to be true. Fred is to fill in as a professor at a supernatural school and teach human finances. There is a member of Fae royalty who wants to learn from the best; and Fred is the best, even if he has no teaching background.
This is a fun addition to the series. It is nice to see all of these supernatural beings in a place where they can be themselves without worrying about the eyes of humans on them. We don't get as much time with the rest of House of Fred members, but there are many new characters and even supernatural beings that we meet in this book.
This book has the many twists and turns that I've come to expect with this series. With sections named An Eventful Guest Lecture and An Impromptu Field Trip, you never know what is going to happen in a Fred book. While Fred is not the most powerful supernatural creature I've ever read about, he is very thoughtful and usually uses his skills of pragmatism to get him and his students out of danger.
If you've never read this series, I highly recommend it. I do recommend starting with book one, The Utterly Uninteresting and Unadventurous Tales of Fred, the Vampire Accountant. There are a large number of characters in this series, and they are introduced in many of the books in the series. You would miss a lot of the backstories of these characters if you start in the middle of the series.
Narration:
This series is the only one I've listened to with narration from Kirby Heyborne. I think he nails Fred's voice perfectly. I also enjoy his voice for the wide array of other characters. There is also a Full Cast production of this series. It started after I was already several books into the series. I've never tried it, because I'm such a huge fan of Hayes/Heyborne combination here. I can't imagine taking in a Fred story any other way.
Listen to a clip:  HERE
Rating Breakdown
Plot
Writing
Characters
Dialogue
Narration (Audio)
Overall:
Related Posts