Review copy was received from NetGalley, Publisher. This does not affect my opinion of the book or the content of my review.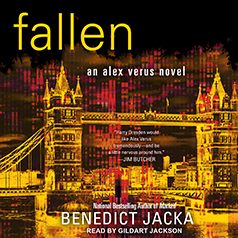 Fallen
by
Benedict Jacka
Narrator:
Gildart Jackson
Series:
Alex Verus #10
Published by
Ace
on September 24, 2019
Genres:
Urban Fantasy
Pages:
336
Length:
11 hours
Format:
Audiobook
,
eARC
Source:
NetGalley, Publisher
Goodreads
Amazon
, 
Audible
, 
Audiobook
, 
Barnes & Noble
, 
Apple






Once Alex Verus was a diviner trying to live quietly under the radar. Now he's a member of the Light Council who's found success, friends...and love. But it's come with a price--the Council is investigating him, and if they find out the truth, he'll lose everything.

Meanwhile, Alex's old master, Richard Drakh, is waging a war against the Council, and he's preparing a move that will bring Alex and the life mage, Anne, under his control. Caught between Richard and the Council, Alex's time is running out. To protect those he cares for, Alex will have to become something different. Something darker...
We have come to the last published book, Fallen, and the end of the Read-along. I can't express enough how glad I am to have chosen this Alex Verus series.  I managed, even with a schedule, to get them all at the library and they were available in ebook and audio.  I feel grateful that members of the team here and many of my blogging friends picked up the series to read with me.
Fallen is not a standalone and you definitely need to read the series in order and not start here.  It is impossible at this point NOT to have spoilers for earlier books in the reviews and discussion points below, so you are warned. A lot happened and story lines for some side characters and many other questions wrapped up here.
Many characters have grown and progressed. I love Luna running Alex's shop. Sonder has moved away from his idealistic start to be more moderate. Vari has a good position with the Keepers and on an excellent team with the stalwart Landis in charge. Caldera is a pain in the ass, stuck on the rules with a righteous attitude. I was shocked when Alex worked with Kyle! There is definitely a sense of humor in these stories and it comes from more than one character.
Wow,  Fallen was action-packed.  Decisions were made, changes took place and many questions were answered which we have had for 4-5 or more books.  I really loved the action in every book but this was outstanding! I like how Alex does not want to hurt or kill anyone unless necessary (he kills many in this book). He is still smart and careful. He has had to be to survive this long with lower power and many enemies.
I have to admit I loved Alex with power. He's definitely darker but he's not out trying to kill everyone or even his enemies. He's trying to protect and save those he loves. I did enjoy his ability to surprise some of those enemies though. There are some of those I am not sorry to see go.
Fallen is one of my favorite books in this series. While it is the end for now, two more books are planned and it is certain I will be reading them!  I imagine, sadly,  they will be in the fall of 2020 and 2021.
Narration:
Gildart Jackson  is wonderful with this series.  I appreciate his voices for all the characters and would listen to all of them on audio if I wasn't trying to take notes.   I loved listening and was comfortable at my normal 1.5x speed.
Listen to a clip:  HERE
---
Anne's  observations from Fallen:
This takes place a year after Marked and I'm surprised the time delay is that long.
There are a LOT of SPOILERS here in my observations as many storylines progress or wrap up.
Alex finally got off the fence (as Robin calls it).  He wanted to be independent. He tried the dark mage life and didn't have enough power to be independent and wasn't willing to do some of the things dark mages did.  He tried being a Keeper and a junior council member and it wasn't any better because they didn't trust him because of his dark mage past and the Light mages were just as power hungry and political as the Dark mages. So Alex finally takes power to be independent. He's never shied away from those who need to be killed but he is against killing when he can avoid it.
Alex is smart as always and chooses his own path even when it is difficult.
I did wonder where the cube for the fateweaver went and apparently Luna has had it all along.
---
Anne's questions from Marked:
What other strategies will Alex develop to protect himself and his friends? Alex learns more of how to use dreamstones and the fateweaver. Will he ever manage independence for himself and others again?  With power, he has a better chance. Will he have to choose a side for overall protection?  He has sort of chosen to be a dark mage since that is how he has been classified by others, but he is still pretty independent.
Will Alex ever be able to do anything about the cruel practices of dark mages?
Will Alex ever be able to contact Starbreeze again, or find her?  He has finally been able to contact her using dreamstones.
Will Alex try to get a junior council position on his own now with Morden gone?  After all, they know him and what to expect, and he does have talents.  Or will the death sentence be back?  Alex is left in the junior council position for about a year until they figure out what happened at the end of Marked. The death sentence seems to always be there in the background.
Will people find out more and blame him for Morden?  Yes but they blame him and more rightly Anne for the deaths when Morden escaped.
Will the Council and Guardians continue to try to use him to get to Richard?  They don't have to use him to get Richard; Alex goes after Richard on his own.
Will Anne be able to keep control of herself now? No because Richard with his team had forced her back to using the djinn.
Will Richard try to force them back to him in exchange for life? He tries.  He captures Anne but Alex is not on board and then Alex breaks Anne free.
Will the djinn rise up and cause problems for the mages and humans now?
(KC)Will vampires be a future subject since it is hard to know if they are really all gone?
(KC) Will humans become a bigger threat, particularly to monsters and dark mages?
 (Robin)Can Alex get better at the long Game?  He's on the path now, with hints from Arachne and the dragon, he has made his choices.
 (Robin)What the heck is Richard's Magic?  Richard is a diviner with dreamstones and a djinn.
 (Robin)Can the Adepts and Sensitives ever get some respect/voice in the magical community and will Alex play a part in that?  I hope so.
---
Anne's questions from Fallen:
How am I going to wait a year to find out what happens next?
What the heck is Alex going to do now?  Will he be able to do something to get the Council off his back and Anne's?
Will Alex ever be able to do anything about the cruel practices of mages?  Will he be able to push for a new type of Council with better conditions for Adepts / Sensitives, too?
Will Alex go after his enemies now?
Will Alex be able to reunite with Anne and save her from the djinn and herself?
What will Richard do now?

(Robin)Will Anne find a way to reconcile herself and accept the light and dark sides of her nature so she isn't so split in two?

(Robin) Will Alex's decision to become 'the powerful force' put a timeclock on him?

(Robin) Will we see Arachne and the Dragon again.?

(Robin) How will the Nymphs emergence change up our sidekick cast?

(KC)Will vampires be a future subject since it is hard to know if they are really all gone?
(KC) Will humans become a bigger threat, particularly to monsters and dark mages?
---
Games:
1. Who said (enter the answer in the Rafflecopter, don't put in the comments)
"No, her plan's dumb as shit. Here's the bad news: you aren't going to change her mind."
2.  Who is the villain in Fallen? (Enter in the rafflecopter)
---
Schedule:   
Miss a post?
Feb 1:    Fated
Mar 1:    Cursed
Apr 5:   Taken
May 3:  Chosen
Jun 7:    Hidden
Jul 5:    Veiled
Aug 2:   Burned
Sep 6:    Bound
Oct 4:    Marked
Nov 1:    Fallen
---
Be sure to enter the giveaway!!!
Read-along Giveaway:
This giveaway is for the entire event, with things to enter each month. Tantor is also supporting me by giving away digital codes for all 10 audiobooks in the series!
Rating Breakdown
Plot
Writing
Characters
Dialogue
Narration (Audio)
Overall:
Latest posts by Anne - Books of My Heart
(see all)
Reading this book contributed to these challenges:
2019 Audiobooks
2019 Releases
Related Posts