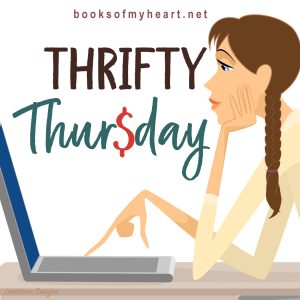 The purpose of Thrifty Thursday is to read a book which was free (at some point).
Kindle freebie on November 8, 2013  (currently free at Amazon and Barnes & Noble as of writing this post)
Overall rating 3.66 with 1,704 ratings and 218 reviews
A Grosvenor Square Christmas
by
Anna Campbell
,
Shana Galen
,
Vanessa Kelly
,
Kate Noble
Series:
The Sons of the Revolution #3.5
on October 10, 2013
Genres:
Historical Romance
Pages:
223
Format:
eBook
Source:
Purchased
Goodreads
Amazon
, 
Barnes & Noble
, 
Apple
Enchantment touches a tall gray house in Grosvenor Square. The legend of Lady Winterson's Christmas ball promises true love and happiness to one lucky couple. Four short tales.

1 1803 - The Seduction of a Duchess by Shana Galen

Rowena Harcourt, Duchess of Valère, never forgot the handsome footman who helped her escape the French Revolution. For fourteen years, Gabriel Lamarque has loved Rowena. Now at Lady Winterson's Christmas ball, has fate finally given him a chance to win her hand?

2 1818 - One Kiss for Christmas by Vanessa Kelly

Nigel Dash is London's most reliable gentleman, a reputation he never minded until he fell in love with beautiful Amelia Easton. Amelia sees Nigel as a dependable friend, not a dashing suitor. At Lady Winterson's Christmas ball, Nigel vows to change Amelia's mind by sweeping her off her feet.

3 1825 - His Christmas Cinderella by Anna Campbell

At the season's most glittering ball, a girl who has never dared to dream of forever after discovers a Christmas miracle.

4 1830 - The Last First Kiss by Kate Noble

Susannah Westforth always loved Sebastian Beckett, but he only sees her as a friend. When Sebastian takes his Grand Tour, Susannah transforms herself into a woman he must notice. Now Sebastian is back, just in time for Lady Winterson's Christmas ball and to see his little Susie, all grown up
Is it magical matchmaking or simply love finding a way at Lady Winterson's annual Winter Ball? Four short stories with five romances from a bevy of historical romance's most engaging writers drew me in for this holiday anthology.
The Seduction of a Duchess by Shana Galen was the one I most anticipated because I had already read and loved her Sons of the Revolution trilogy and I was tickled that finally their mother the duchess was to have her own romance. Her children are all happily settled, but they hover. She is lonely and wistful until a beautiful familiar set of eyes are staring back at her across the ballroom. I wish this had been fleshed out into a novella because I felt it needed a bit more romance development. Still, I rooted for this middle-aged pair.
One Kiss for Christmas by Vanessa Kelly offers up a sweet romance for a side character, Nigel Dash, in her Stanton series. Nigel is one of my favorite and rare beta hero types (aka a really nice guy) and I loved seeing him get his heart's desire and win out over the popular suitor. This one built the romance well and made me love both characters. My favorite story.
His Christmas Cinderella by Anna Campbell  A standalone that starts with a poor relation believing she's an aristocrat's mistress, secretly loving him, but convinced he is having her as a bit of fun on the side and this is to be their last meeting. I have mixed feelings. I bought into the heroine's side of things though pretty dumb to give it up when you're living as a poor relation and you don't plan to become a full-time mistress, but the hero came across as less than honorable and terrible at communicating so that he created much of her misery. Still, I loved the 'mothers' confrontation and I was cheering for the heroine.
The Last First Kiss by Kate Noble offers a fun and flirty 'girl next door' grows up situation when she spends his three years away while on his Grand Tour growing up, but also growing into a graceful, elegant young lady. And, he comes back and gets a shock. Fun and flirty! Loved seeing the hostess and her mysterious butler who are in the background of all the stories get their turn.
All in all, the stories were festive holiday fair and lovely gifts to readers from the authors. A good sampling of the authors' styles and, in some cases, their series. I would recommend to those looking for light, quick historical holiday romances.
---
Kindle freebie on December 13, 2012  (currently $6.99 at Amazon and Barnes & Noble as of writing this post)
Overall rating 4.16 with 17,369 ratings and 953 reviews
The Bite Before Christmas
by
Lynsay Sands
,
Jeaniene Frost
Series:
Argeneau #15.5
,
Night Huntress #8.5
on October 25, 2011
Genres:
Paranormal Romance
Pages:
368
Format:
eBook
Source:
Purchased
Goodreads
Amazon
, 
Audible
, 
Audiobook
, 
Barnes & Noble
, 
Apple
In Lynsay Sands' The Gift, Katricia Argeneau knows grey-eyed cop Teddy Brunswick is her life mate. She just needs to convince him they belong together, and being snowbound in a secluded cabin will make this a Christmas neither will forget.

It's Home for the Holidays in Jeaniene Frost's Night Huntress series. Cat and Bones may long to wrap presents and set up a tree, but this Christmas, an evil vampire and long-buried family secrets will threaten to take a bite out of their holiday cheer.
Because there aren't many paranormal stories set during the Christmas holidays, I couldn't resist picking up this novella duology with standalone stories from two popular series. I have read and enjoyed the Night Huntress world of books, but this was my first encounter with the Argeneau vampire series.
The novellas fall near the middle of their respective series: 6.5 Night Huntress and 15.5 Argeneau.
The Night Huntress series is Urban Fantasy and the Argeneau is Paranormal Romance which makes for a nice nuance of difference in style and tone beyond what the authors bring. I point this out because The Gift is gently paced, sexy and hot, but focused on the quick, fated mates-style romance for an older human and a much older vampire who both think their salad days are gone for good. And, the opposite of this story is Home For the Holidays which turns into quite the action-packed adventure when Cat tries to give Bones a surprise birthday party with his most intimate friends and vampire family around him and one of the guests brings trouble to the party. It is up to Cat, Ian, Denise, Fabian, and a disturbing ally to save the holidays.
Both had great merit, but one does have to switch gears to appreciate them together. I had a fab time enjoying the holidays supernatural-style. I'll have to start at the Argeneau series from the beginning and this has me excited to finish the remaining books I need in the Night Huntress World.
---
These are only Kindle freebies I get, or ones through author newsletters which anyone can sign up and get for free. I don't include things like Kindle Unlimited or Prime Free Reading (I do have it). Both Tantor and Audible have occasional free audios (to anyone) and I do include those.  Since I one-click on 1-2 freebies a day or probably at least 5 a week, I came up with this feature to make sure I start reading them.
---
Related Posts