Review copy was received from Publisher. This does not affect my opinion of the book or the content of my review.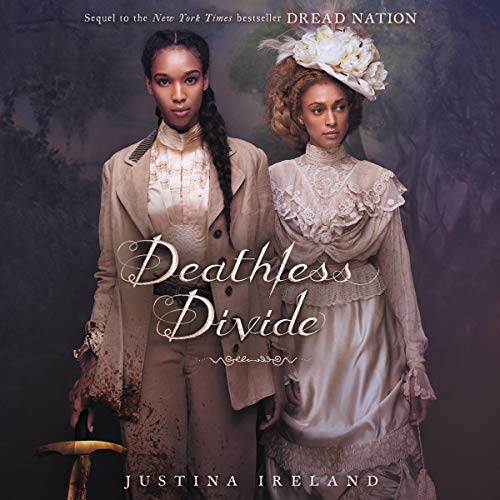 Deathless Divide
by
Justina Ireland
Narrator:
Bahni Turpin
,
Jordon Cobb
Series:
Dread Nation #2
Published by
HarperAudio
on February 4, 2020
Genres:
Historical Fiction
,
Young Adult
Length:
14 hours and 34 minutes
Format:
Audiobook
Source:
Publisher
Goodreads
Amazon
, 
Audible
, 
Audiobook
, 
Barnes & Noble
, 
Apple





The sequel to Dread Nation is a journey of revenge and salvation across a divided America.

After the fall of Summerland, Jane McKeene hoped her life would get simpler: Get out of town, stay alive, and head west to California to find her mother.

But nothing is easy when you're a girl trained in putting down the restless dead, and a devastating loss on the road to a protected village called Nicodermus has Jane questioning everything she thought she knew about surviving in 1880's America.

What's more, this safe haven is not what it appears - as Jane discovers when she sees familiar faces from Summerland amid this new society. Caught between mysteries and lies, the undead, and her own inner demons, Jane soon finds herself on a dark path of blood and violence that threatens to consume her.

But she won't be in it alone.

Katherine Deveraux never expected to be allied with Jane McKeene. But after the hell she has endured, she knows friends are hard to come by - and that Jane needs her, too, whether Jane wants to admit it or not.

Watching Jane's back, however, is more than she bargained for, and when they both reach a breaking point, it's up to Katherine to keep hope alive - even as she begins to fear that there is no happily-ever-after for girls like her.
This is the second book in Justina Ireland's Dread Nation series. This series is an alternative history of the Civil War. The war ends because the dead rise and both sides decide to work somewhat towards survival instead of against each other. The first book follows Jane McKeene as she is taken from her home to train to be an attendant where she will see to all the needs of an affluent white woman, but also protect her charge from the dead. Jane is a kick ass character who is all about taking the lead on making the dead stay dead.
In Deathless Divide, we get the POV of Katherine Deveraux for the first time. Katherine was a frenemy of Jane's. Katherine is a very light skinned black girl who can pass for white if she tries. This comes in handy for the two of them as they try to survive in this world of stupid white people who don't understand the dangers they are facing with the dead.
I don't want to go into too much detail, but this is a story with wonderful characters. I loved Jane from the moment I met her in book one. And while I wasn't a huge fan of Katherine, she really grew on me in this story. There are also other characters who I really liked as well, but as with any zombie story, don't get too attached, because no one lives forever. Lastly, the villain of this story is perfect. I don't want to give away who it is, because it isn't always apparent. Talk about a villain everyone loves to hate.
If you haven't tried this series, I can't recommend it enough. I will tell you that this series would do AWESOME as a TV series. I'm sometimes very leery of making that suggestion, because books rarely turn out the way you want, but these two books and these characters would be perfect for the small screen. I do think that TV would be better than movie in this case, because it needs more than two to three hours to be told. I really do hope that someone picks it up.
Lastly, that cover ya'll. I'm all about the covers in this series. It was the cover of Dread Nation that really caught my eye first, then hearing Turpin was narrating the story. Then I read it and it more than met my expectations.
Narration:
I've been a huge fan of Bahni Turpin for a while. I remember when I saw that she was the narrator for book one and how excited I was. She does the perfect voice for Jane and all the characters. With the introduction of Katherine's POV, the publisher has added Jordon Cobb to read those parts. She is a new-to-me narrator, and I'll admit to being a bit concerned, because I loved Turpin's narration so much, I wasn't sure if I would like her sharing the story. I do have to say though, Jordon Cobb did a fantastic job. She was the perfect voice for Katherine. I will be looking up more stories with her, for sure.
Listen to a clip:
Rating Breakdown
Plot
Writing
Characters
Dialogue
Narration (Audio)
Overall:
Related Posts