Play of Passion
by
Nalini Singh
Narrator:
Angela Dawe
Series:
Psy-Changeling #9
Published by
Tantor Audio
on September 20, 2011
Genres:
Paranormal Romance
Length:
11 hours, 29 minutes
Format:
Audiobook
Source:
Purchased
Goodreads
Amazon
, 
Audible
, 
Libro.fm
, 
Barnes & Noble
, 
Apple





In his position as tracker for the SnowDancer pack, it's up to Drew Kincaid to rein in rogue changelings who have lost control of their animal halves- even if it means killing those who have gone too far. But nothing in his life has prepared him for the battle he must now wage to win the heart of a woman who makes his body ignite... and who threatens to enslave his wolf.

Lieutenant Indigo Riviere doesn't easily allow skin privileges, especially of the sensual kind- and the last person she expects to find herself craving is the most wickedly playful male in the den. Everything she knows tells her to pull back before the flames burn them both to ash... but she hasn't counted on Drew's will.

Now, two of SnowDancer's most stubborn wolves find themselves playing a hot, sexy game even as lethal danger stalks the very place they call home.
This is my second time reading this series and I remember on the first read of Play of Passion, the ninth book in the series, I was in such a hurry to get to the next book finally featuring Hawke and Sienna that I didn't really give Drew and Indigo any patience which is sad since Drew is pretty adorable.
Drew has known for awhile Indigo is the only woman he wants in his bed.  She on the other hand has been reluctant to date him,  seeing Drew as just a younger male looking to tumble the more experienced dominant woman.  Drew will need to be a little bit more cunning and sneaky if he is really going to find a way past all of her shields.  Indigo has seen what can happen when a less dominant man is with a more dominant woman and his ego can't handle her strength.  She doesn't want that for herself, but the wolf who plays more than most and is a bit of a charmer is inching his way into her life in a way she might never let him go.
Indigo and Drew are good together.  Sure Drew mucks it up in a few spaces with his male bravado but Indigo also has some issue to overcome if she is going to open her soul to the man who snuck into her heart.  Drew is the most romantic of all the heroes to date, he really puts all the effort into wooing a woman.
There is some overall plot movement on council and Pure-Psy front.  The Ghost has an agenda of his own and it is unclear what side of the war he will fall on if push comes to shove. Drew has proved invaluable at taking the pulse of the pack and building alliances with members in other factions.  He just might be the force helping to bring a few of the bigger players together as lines are drawn alliances solidified.
Overall, some of the relationship story was a little repetitive but still entertaining.  I liked how Drew was just a little outside the hierarchy of the pack as a tracker and how he was a little less dominant than Indigo but most of the time he worked to back her up.
Narration:
Angela Dawe has been the voice of this series, and at 20 books in it is hard to imagine anyone else being able to bring the series to life.  She is wonderful at capturing the fun side of Drew and the strong side of Indigo.  I love that characters from prior books are clear because of her narration of the audio.  Always a wonderful performance.  I was able to listen to this at my usual 1.5x speed.
Listen to a clip: HERE
---
Games:
Who said (enter the answer in the Rafflecopter, don't put in the comments)
"I have never stayed on a sinking ship in my life. I'm unlikely to start now. "
There are other options in the rafflecopter for you to enter discussion questions and quotes to share.
The quote for Who said ""Ask me sometime about how fucking difficult it is to surprise her with a gift." was Vaughn.
The villain was Pure Psy and Henry Scott.
---
Share your review/ thoughts on Play of Passion:
I thought it might be fun to link up reviews so we can find them all easily.  It can be a link to Goodreads or a blog, or wherever you have a review (short or long).
Mister Linky's Magical Widgets — Easy-Linky widget will appear right here!
This preview will disappear when the widget is displayed on your site.
If this widget does not appear,
click here
to display it.
---
Observations and questions you shared from Bonds of Justice:
(Thank you  so much for sharing!)
Max has a strong shield. Max's brother is missing.  Max has a cat.
Sophia has scars. Sophia wears gloves. Sophia visits a lot of prisons.
 How will the new Psy – Changeling net work out?  How much mental connection will there be with Changelings?
Why does Max have a strong shield?
---
Quotes you readers shared from Bonds of Justice:
(Thank you for sharing!)
"We fit, you and I".
"By the time we're sitting in rockers watching our grandchildren play, you'll know my secrets before I do."
Take care of my heart won't you, Sophie?
"My mate thinks I'm the most gorgeous leopard she ever saw."
"So, tell me all of Max's secrets."
"We don't choose our parents."
---
Here's your to-do list:
Find your copies of these books, borrow them from a friend, get them at the library or buy them.
Read 9.1 Clean and Dirty,  on the author's site.
Read 9.2 Wolf School,  on the author's site
Read 9.5 Declaration of Courtship, in the novella anthology Wild Invitation.
Read 9.6 Home  on the author site.
 Read Book 10, Kiss of Snow, by August 6.
Make a list of a favorite quote or two as you read the book.
If you haven't read the books before, make a list of questions you have for the discussion. If you have read them, please don't spoil new readers.
Link up your review on Goodreads or your site to the post.
Join the COYER book chat on the Sunday following the post.
Enter the giveaways!
---
COYER Challenge is adopting our Read-along.  You can read about COYER and join that challenge or just the Facebook community chat HERE.
Play of Passion chat in a FB room (like we do for COYER book club) is:
July 18 at 12 PT, 2 CT, 3 ET and 9pm Europe, for a one hour chat.
You do not have to join the COYER challenge to participate, only the Facebook group.
---
Schedule:   
We are doing one book every 3-4 weeks, posting on Fridays. We should have a review for most of the books with the team here at Books of My Heart plus some of our friends.
Jul 16:   Play of Passion              – Robin
Aug 6:   Kiss of Snow                   – Jen from Red Hot Books
Aug 27:  Tangle of Need              – Victoria @ First of All
Sep 17:   Heart of Obsidian        – Linda @ Unconventional Bookworms
Oct 15:    Shield of Winter         – Samantha @ The Book Disciple
Nov 5:    Shards of Hope            –  Jen @ That's What I'm Talking About
Dec 3:    Allegiance of Honor   – Anne
Miss a post?
Jan 1:    Slave to Sensation       – Stephanie @ Once Upon a Chapter
Jan 29:   Visions of Heat           – Rachel @ Waves of Fiction
Feb 19:   Caressed by Ice           – Kim @ Caffeinated Reviewer
Mar 19:   Mine to Possess          – KC
Apr 16:   Hostage to Pleasure   – Berls @ Because Reading
May 7:   Branded by Fire             – Kai @ Fiction State of Mind
May 28:  Blaze of Memory          – Sophia
Jun 18:   Bonds of Justice           – Angela @ Angel's Guilty Pleasures 
---
Be sure to enter the giveaways!!!
Giveaway: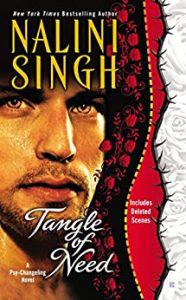 A copy of Tangle of Need, book 11.
Grand-Prize Giveaway: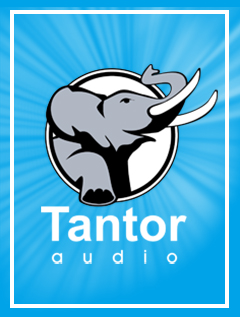 Tantor Audio is generously donating a set of 15 codes for the entire set on audio.  Codes will work US or Intl.
Rating Breakdown
Plot
Writing
Characters
Dialogue
Narration (Audio)
Overall:
Reading this book contributed to these challenges:
Related Posts