Review copy was received from NetGalley. This does not affect my opinion of the book or the content of my review.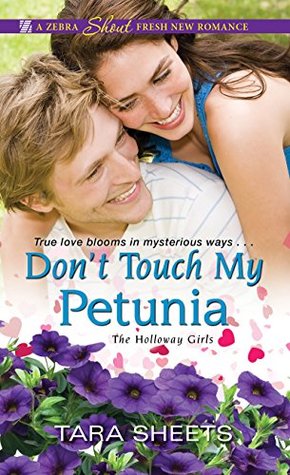 Don't Touch My Petunia
by
Tara Sheets
Series:
The Holloway Girls #2
Published by
Kensington Books
on September 25, 2018
Genres:
Contemporary Romance
Pages:
304
Format:
eARC
Source:
NetGalley
Goodreads
Amazon
, 
Audible
, 
Audiobook
, 
Barnes & Noble




The Holloway women each have a special gift, passed down through generations, each one a little different. Juliette possesses a magical green thumb, which makes her job managing the local florist shop a dream. She may be a bit wild, but she knows what she wants: to save enough money to buy the shop from her boss. Then in marches Logan O'Connor, more annoyingly handsome than ever, turning all her plans upside down.

Logan hasn't been back on Pine Cove Island since he was eighteen and broke Juliette's teenage heart. Now it turns out he's her boss's nephew—and will be spending his days remodeling the shop and barking orders. At her.

For the sake of the business, Juliette will have to ignore their simmering attraction and work with Logan. But that doesn't mean she has to make things easy for him. Because no one knows better than she that one tiny, perfectly planted bit of garden magic could uproot Logan's own plans and keep him out of her way. And nothing would make her happier. At least that's what she thinks . .
I was introduced to the main character Juliette,  in the first book of the The Holloway Girls series    Don't Call Me Cupcake, featuring her cousin, Emma.  The world of this small Pacific Northwest town on the waterfront,  the townspeople and many of the small businesses were developed.  The characters, particularly, Emma's circle of friends felt real to me.
Both cousins have magic, which is my favorite. Juliette is more solitary than Emma, or at least it felt so. Even when she was with the circle of friends, she disconnected and often didn't share the truth or her actual feelings with them.  Juliette is wonderfully talented and capable, but I'm never happy when a character is dishonest with themselves, much less others.
Logan is her childhood crush, come back to town after serving for years in the armed forces. She was much younger and they were neighbors, so it was more like siblings' activities then.  He left to see the world. Now he has seen it and is trying to figure out what to do. He is starting with renovation in the flower shop of his uncle where Juliette is the manager.
Besides the shop construction, there is the preparation for Emma's wedding and some celebrities in town. Honestly, those things all feel like distracting details buzzing around the lies Juliette is trying to tell herself.  I was so relieved when she finally released her actual feelings, although with some new lies,  but then finally started being her true self.  Logan was more straightforward and did well with being patient.
I have to wonder if there is more of this town since both Holloway girls have had their story, but will there be another long-lost cousin? There is another book listed for 2019 –  Don't Give Me Butterflies.
Excerpt:
If a guy was going to fondle her petunias, the least he could do was act like he cared. Pawing at them with a big meaty ham fist while he stared absently out of her shop window was not cool.

Juliette Holloway frowned, swiping a lock of dark hair behind her ear. It was going to be a long day at Romeo's Florist Shop, and she still had two more flower arrangements to put together before the morning rush.

She leaned over the counter and called across the room. "Excuse me."

The guy messing with her petunia plant didn't move or turn around. He had broad shoulders, and his head almost reached the top of the door frame. In jeans, a gray T-shirt, and a baseball cap, he looked like one of those NFL athletes—completely out of place surrounded by the delicate summer blooms and hanging fuchsia baskets.

She called again, louder. "Hello?"

Nothing. He just kept running a giant hand over the fragile purple flowers.

Juliette bristled. The plant was her newest project. Normally, she could make anything grow and thrive. Like all Holloway women before her, she was born with a special gift. Hers was garden magic. A customer had given her the potted petunia after rescuing it from an office cubicle. The poor thing had been halfway to the grave, but she'd nurtured it back to life. And now some linebacker was mauling it.

She marched across the room and tapped the man firmly on his back. It was a rock-hard, muscular back. He was probably one of those gym guys who spent all day pumping iron. "Can you please not touch that?"

He swung around and pulled an earbud out of his ear. Loud, thumping music spewed from his headset. Even with a baseball cap and mirrored sunglasses, he looked vaguely familiar. Strong jaw with a light stubble, high cheekbones, full lips. A tiny prickle of recognition tiptoed down her spine.

She gestured to the pot of flowers. "Please don't touch my plant."

He frowned and pulled the other earbud out. "What's that?"

Juliette sighed. Gym rats. Brains in their biceps. She enunciated each word carefully. "Don't. Touch. My petunia."

His lips twitched. "I . . ."

She closed her eyes, ignoring the flush of embarrassment creeping up her cheeks. Way to set yourself up, genius. Maybe he didn't notice.

"I'm not usually so forward." His deep voice hovered on the edge of laughter.

Okay, so he noticed. Big whoop. Whoever he was, he was immature, and she didn't have time for this. She grabbed the plant and turned away. The hem of her flowy skirt caught on the edge of a low shelf, and she yanked it free before escaping to the back counter.

"Have we met before?" he called.

She threw him a glance.

He gave her a slow smile that sent a jolt of physical awareness from the top of her head to the tips of her blue painted toenails. "I feel like I know you."

For a pickup line, it was pretty bad. But he had a million-dollar smile and knew how to use it. The face. The superhero physique. All he needed was a cape or a giant hammer, or something. He probably didn't have much practice with pickup lines because he didn't need any.

He sauntered toward her.

There was something familiar about the way he walked—like he owned the world—but she couldn't place him. When he reached the counter, she was glad to be on the other side. It wasn't that she felt threatened. At five feet nine inches, she was comfortable with tall people. But this guy towered over her, and when he looked at her like that, it was . . . unsettling.

He took off the baseball cap and mussed his tawny hair.

Juliette sucked in a breath.

Then he removed the sunglasses and fixed her with a gaze as deep and dark as the earth after a rainstorm.

Something inside her cracked open, and a trickle of long-forgotten feelings threatened to bubble to the surface.

Logan.

She took an involuntary step back, trying to hide her surprise by leaning casually against the wall. Supercool. She was an iceberg of cool. Except she misjudged the distance to the wall and stumbled.

"That bad, huh?" His mouth kicked up at one corner.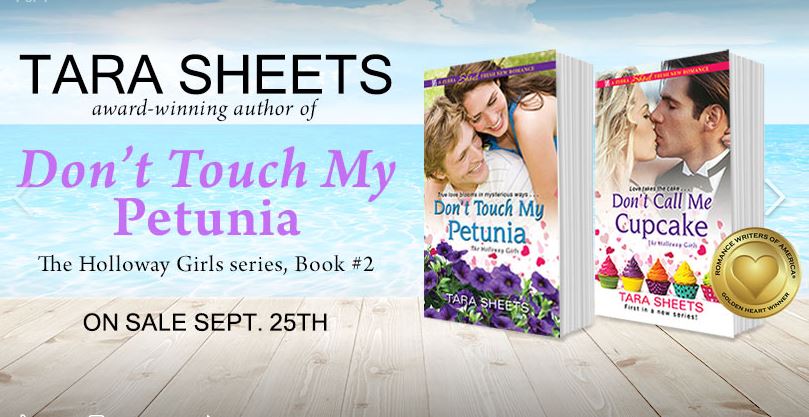 Rafflecopter for Don't Touch My Petunia Blog Tour Giveaway:
Latest posts by Anne - Books of My Heart
(see all)
Reading this book contributed to these challenges:
2018 New Release Challenge
Related Posts