Review copy was received from Edelweiss. This does not affect my opinion of the book or the content of my review.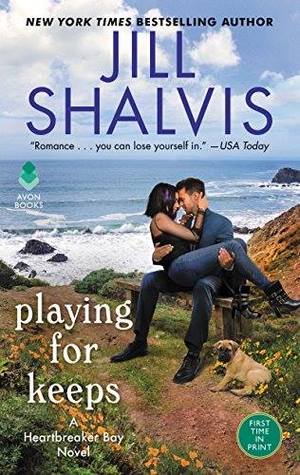 Playing For Keeps
by
Jill Shalvis
Series:
Heartbreaker Bay #7
Published by
Avon
on January 22, 2019
Genres:
Contemporary Romance
Pages:
384
Format:
eARC
Source:
Edelweiss
Goodreads
Amazon
, 
Audible
, 
Audiobook
, 
Barnes & Noble
, 
Apple





If you're planning on falling in love…

When it comes to the confident, charismatic Caleb Parker, Sadie Lane feels the spark—the kind that comes from rubbing each other the wrong way. She's a tattoo artist, he's a straight-laced mogul. But after they accidentally co-rescue an abandoned dog from a storm, Sadie sees a vulnerable side to the seemingly invincible hottie.

you'd better be sure…

Caleb doesn't do emotions. Growing up the underdog, he's learned the hard way to build up an impenetrable wall. Perfect for business. Disastrous for relationships. He's never worried about it before—not until he finally gets behind Sadie's armor and begins to fall.

… someone is there to catch you.

Both guarded and vulnerable, Sadie and Caleb are complete opposites. Or are they? Shocked at their undeniable connection, can they ever admit to wanting more? That all depends on what they're each willing to risk.
Everything Jill Shalvis writes is my favorite.  This couple is a special one. They both have past hurts and aren't really interested in giving their hearts again.  They're competent and used to being independent. But Caleb has a close and loving family. Sadie avoids her family, particularly her mother.
I love the connection and circle of friends in this excellent  Heartbreaker Bay series. We don't see much of familiar characters other than brief moments with Finn, Willa, Molly, Spence and Eddie. A main character is Lollipop, the rescue dog, and this author is amazing at including pet characters.
In addition to characters, Jill Shalvis is also a master of dialogue and humor. There are so many funny quotes in this one! I had to include a couple.
"Because you don't like me, right?"

"Oh good, you know. That makes it way less awkward."
He had no idea what kind of conversation required a change of clothing, but he'd grown up with four sisters. He wasn't stupid. He just nodded and she vanished into the back. But five minutes, his ass. He'd never met a woman who could get ready to go out the door in less than an hour.
I felt so much for this couple. Sadie has money and family challenges, so I wish she was in a stronger place to start a relationship. Caleb is a billionaire which is always a bit harder for me. I prefer mostly ordinary folks with more level starting power.  He was so great with Sadie, though, and his mess-ups weren't really his. This entire series is amazing and I highly recommend each and every book.
Excerpt:
"Sadie."
She shook her head.
"Look at me. Please?"
It was the damn please that had her opening her eyes. He'd closed the gap so that if she so much as took a breath, they'd be touching.
So she did just that. She took a deep breath, and then their bodies were up against each other, his warm and hard. Everywhere. "What's happening?" she whispered.
"I believe you're deciding between kicking me in the nuts and kissing me." One side of his mouth curved very slightly as he lifted their still joined hands above her head, against the wall.
"But that last part might just be in my dreams."
"Yes," she whispered.
"Yes, it's just in my dreams?"
She meant to say yes again, she really did.
She even opened her mouth to say it, because this was insane, this incredible . . . craving she had for him. It made no sense. Less than no sense, and yet . . .
She went up on tiptoe and touched her mouth to his.
Latest posts by Anne - Books of My Heart
(see all)
Reading this book contributed to these challenges:
2019 Releases
COYER WINTER
Related Posts