Review copy was received from Publisher. This does not affect my opinion of the book or the content of my review.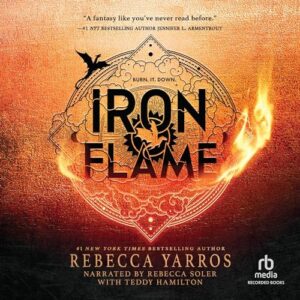 Iron Flame
by
Rebecca Yarros
Narrator:
Rebecca Soler
,
Teddy Hamilton
Series:
The Empyrean #2
Published by
Recorded Books
on November 7, 2023
Genres:
Fantasy Romance
Length:
28 hours, 16 minutes
Format:
Audiobook
Source:
Publisher
Goodreads
Amazon
, 
Audible
, 
Libro.fm
, 
Barnes & Noble
, 
Apple






Everyone expected Violet Sorrengail to die during her first year at Basgiath War College—Violet included. But Threshing was only the first impossible test meant to weed out the weak-willed, the unworthy, and the unlucky.

Now the real training begins, and Violet's already wondering how she'll get through. It's not just that it's grueling and maliciously brutal, or even that it's designed to stretch the riders' capacity for pain beyond endurance. It's the new vice commandant, who's made it his personal mission to teach Violet exactly how powerless she is–unless she betrays the man she loves.

Although Violet's body might be weaker and frailer than everyone else's, she still has her wits—and a will of iron. And leadership is forgetting the most important lesson Basgiath has taught her: Dragon riders make their own rules.

But a determination to survive won't be enough this year.

Because Violet knows the real secret hidden for centuries at Basgiath War College—and nothing, not even dragon fire, may be enough to save them in the end.
After Fourth Wing it was a necessity to read Iron Flame. Both books are long but fly by when reading.  There are bound to be some spoilers for the first book here.
After two book, I still want to know more.  I don't know nearly enough about dragons, griffins or wyverns.  I don't know enough about the different kingdoms and their politics.  I don't know hardly anything about the venin or dark weilders.  The magic and how people get it, the types and how they use it also – I need to know more.
In Fourth Wing, we do get some world building and learn about Violet, her family and friends.  Violet is our main character and 95% of our point of view.  She comes to the dragon riders after expecting she would be a scribe.  She is well studied and has a solid understanding of the world, politics, and languages. But at the end, she learns her learning and assumptions about some things were all wrong.
In Iron Flame, Violet is trying to figure out who and what she can trust.  That includes Xaden, who is the most secretive guy ever.  He has reasons and some secrets are not his own.  He wants her to just trust him because she loves him.  So he works to secure her love.  Violet works to learn more and feel like she can trust him.
The professors, classmates and her family, Violet doesn't feel she can trust any of them. She actively avoids Dain because of his memory stealing ability.  She does have her dragons but Adarna is busy sleeping after the battle at Resson.  Violet does come to trust a few but finds out horribly how untrustworthy many others are.
Violet is also working hard to learn about wards and using her signet power.  She works with her scribe friend and also with Dain.  It's a struggle to find information from hundreds of years ago when the wards were created,  and then translate it from a variety of languages,  and interpret it to create wards to keep people safe.  We do learn more of the history and politics of the kingdoms and even more about dragons as she studies the history.
At the end, of course, there is a huge battle. Throughout the book, more people die in this brutal world. The ending leaves me with some huge questions and excited about the next book.  The Empyrean series has wonderful characters, fast paced but brutal action, and burning desire and romance.
I read an interview with the author and it seems we will finally learn more in the third book ( and no doubt be left with more questions). The series is planned to have 5 books. The books will sadly be more like a year apart instead of the two books we got this year.
Narration:
The narrators, Teddy Hamilton and Rebecca Soler, were the same. I didn't realize until now the narration is almost all Soler because nearly everything is from Violet's point of view.  I will say Hamilton's voice for Violet was strange because 95% of the audiobook is Soler's voice for her.   I really enjoyed the audio performances including the emotional tone in the tense battle scenes.   I listened at my usual 1.5x speed.
Listen to a clip:  HERE 
Rating Breakdown
Plot
Writing
Characters
Narration (Audio)
Overall:
Latest posts by Anne - Books of My Heart
(see all)
Reading this book contributed to these challenges:
Related Posts