The Sunday Post is a weekly meme hosted by Kimberly  @ Caffeinated Reviewer. It's a chance to share news~ A post to recap the past week on your blog and showcase books and things we have received.

Stacking The Shelves

is also a weekly meme hosted by 

Tynga's Reviews

and Marlene from

Reading Reality.  

It's all about sharing the books you are adding to your shelves, may it be physical or virtual. This means you can include books you buy in physical store or online, books you borrow from friends or the library, review books, gifts and of course ebooks!
---
Well, it's been a week with all kinds of ups and downs.  I've been working various projects around the house, and trying to read the last few books this year. I was also trying to figure out stuff about my Audible membership and Audible Escape which worked out very well.  I was able to sign up for both again with deals.
The weather has been fantastic and I still needed to get my Harley inspected for the new registration.  I tried to do that on the 24th but I'd let it go too long and it wouldn't start even with a jump.  I ordered a $20 trickle charger which arrived Friday.  I plugged it in, charged it up in about 4 hours and it started. I should have bought one years ago. So Saturday morning I went and got the inspection.  It was 70 and such a beautiful day.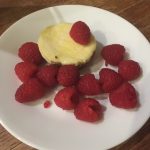 Christmas was relaxed. We didn't even get up until noon. My daughter didn't finish decorating the tree until that day, didn't open her presents until about 4 in the afternoon.  I made mini cheesecakes the day before and we've been having tasty eats all week.
Thursday was a long day of moving things out of the kitchen and tearing up the linoleum.  It went easily enough since it was not installed well.  Although there were quite a few staples to remove and some glue messes to clean up.  But things were ready for the new kitchen flooring. It's luxury vinyl instead of linoleum.
Friday was a pile of people not doing what they promised.  The installers were supposed to come between 9-11. That way they would be done probably mid-afternoon and I could clean up and get things back in place.  Instead they didn't arrive until 3:30pm after I made 8 calls.  They did arrive and do good work but the schedulers sucked.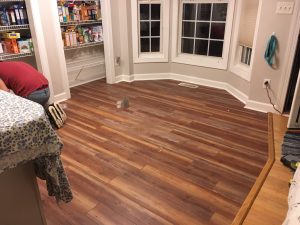 As long as I was on the phone warpath,  I returned a call from the 529 plan I have.  I had tried to request a withdrawal earlier in the month when I paid my daughter's tuition for spring session.  The administrator changed in October.  They had messed things up putting in the address from when I created the account in 1996 and a bank account I didn't recognize.  Anyway, even though it was supposed to be done mid-month, they told me on Friday, it would have to wait 30 days since the bank account changed. I said no, transfer me to a manager.  When I talked to her, I pointed out the bank account was the same as the one I had in 1996 and I did not change it, their fucked up conversion had.  She looked up my original application and saw it was the same.  So she is going to try to fix it this next week.
Then I had a call with AT&T about my Internet service.  I transferred my service when I moved in July. It was supposed to be one rate until September when my deal ended, and then it would be $50 for 12 months, and then it would go up to$100 a month but I could call and get some other deal. But it went to $50, then the next month $60.  I called in November with all the people's names and confirmation numbers and they told me it was fixed.  So now it went to $60 again this month.  I called and again have a name and confirmation number, and the $50 a month is now supposed to last until 12/27/20.  We will see.
I am incredibly happy these things are done and this next week we can enjoy our new flooring, and work a few more projects, and have a couple medical appointments.  I still have much I want to do but things are getting finished.  I worked on my linen closet and got about halfway finished.  The shelf in the cleaning closet is up, the hooks for laundry baskets in the laundry room, the fire extinguishers are hung, the paper towel holder in the kitchen, and the mirror hung over my daughter's dresser.
Sunday (today when you are reading), it is going to rain, so I hope to get some pictures hung finally.  But I'd also like time to just read and relax finally. There is the fun, but very time-consuming flannel project to continue, also. I have blog posts to work on for next week like all the year end challenge posts.  I'll do my December reading wrapup next week.  Happy New Year!
---
Thank you so much to everyone who participated in Top 10 posts this week!
It was so much fun to see everyone's lists, such great choices.  I will definitely do it again for 2020 with a new graphic and minor changes, so keep it in mind.
---

Stacking the Shelves is hosted by Tynga's Reviews and Reading Reality.  These are the exciting ARCs I received this week (If you click on the cover, it will take you to the Goodreads entry):
NOTHING.
(If you click on the cover, it will take you to the Goodreads entry)
I had digital credits from no rush shipping at Amazon so last week I bought Bone Crossed and this week I bought River Marked and now I own all the ebooks for the Mercy Thompson series. I read them years ago in paperback at the library and have gradually been buying them as they are on sale or I have gift cards or coupons or something.   The 3 books in the All Souls trilogy were on sale as a bundle for $1.99.
I want to read everything Loreth Ann White but I like the audio versions. Since the books are on KU,  I can check out the Kindle version and get the audios for $1.99 each.
Next I used my last 4 Audible credits so I could cancel my Audible membership and then re-signup with a deal.
Then I decided I needed the Vesik series box set which I could get 3 books for one Audible credit.

Now the really scary one. This is all the Kindle and Audible freebies I grabbed this past week. You can see why I need to do Thrifty Thursday to be sure I read a few at least one each month.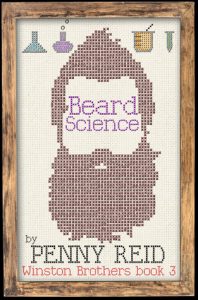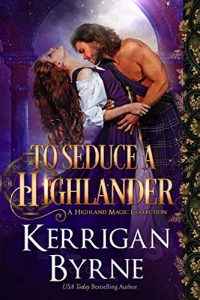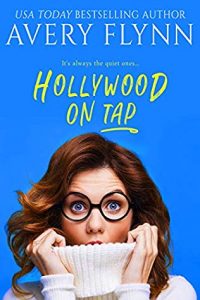 I had Beard Science on audio and the eARC but didn't have the kindle version, so it was exciting to get it for free.  It's CLETUS who is my favorite.  Run, don't walk and get this book!
I really meant to cut back on freebies BUT  they are free so I guess that won't be happening.

I'm not including things like reviews posted or upcoming as they are always in the right sidebar. And, my challenge status is also there.
If you like this and want to see me do the Sunday post, as often as I can manage, leave me a comment and let me know.
Anne
Latest posts by Anne - Books of My Heart
(see all)