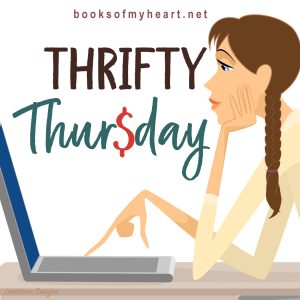 The purpose of Thrifty Thursday is to read a book which was free (at some point).
Kindle freebie on June 28, 2022  (currently $4.99 and in Kindle Unlimited as of writing this post)
Overall rating 3.98 with 4,259 ratings and 376 reviews
One, Two.. He is Coming For You
by
Willow Rose
Narrator:
Rebecca Cade
Series:
Rebekka Franck #1
on December 17, 2013
Genres:
Mystery
Pages:
206
Format:
Audiobook
,
eBook
Source:
Library
,
Purchased
Goodreads
Amazon





Set in the Danish coastal town of Karrebaeksminde, journalist Rebekka Franck returns to her hometown with her six year old daughter. She is trying to escape her ex-husband and starting a new life for her and her daughter, when the small sleepy town experiences a murder. One of the kingdom's wealthiest men is brutally murdered in his summer residence in Karrebaeksminde.

While Rebekka Franck and her punk photographer Sune try to cover the story for the local newspaper another murder happens on a high society rich man. Now Rebekka Franck realizes that the drowsy little kingdom of Denmark has gotten its first serial killer and soon a series of dark secrets - long buried but not forgotten – will see the day of light.
Interesting premise to start to a story. A somewhat famous journalist from Denmark, Rebekka has left her abusive husband from their life in Italy. She and her daughter have moved in with her father. She is working a small local paper and ends up investigating a murder case in her first week.
Rebekka's older sister dated the first victim and gives her some information to learn more about them.  Early on, she finds out about a group of boys at a boarding school and suspects that one of them is a serial killer as boys from the group continue to die.  I thought this was well done and she is a reasonably good journalist, although she does have a TSTL moment going to see one alone.
Her personal life is kind of a mess and she doesn't really handle it very well.  I didn't enjoy that part of the story, as she starts dating even though she has barely left her husband.  I did like the way she gets to know and enjoy her co-workers and works well with the editor of the paper.
I read this as a read listen with the ebook as a freebie I purchased, and the audio from the library.
---
Kindle freebie on June 28, 2022  (currently $4.99 and in Kindle Unlimited as of writing this post)
Overall rating 4.10 with 2,623 ratings and 210 reviews
Three, Four ... Better Lock Your Door
by
Willow Rose
Narrator:
Rebecca Cade
Series:
Rebekka Franck #2
on October 28, 2012
Genres:
Mystery
Pages:
244
Length:
6 hours, 43 minutes
Format:
Audiobook
,
eBook
Source:
Library
,
Purchased
Goodreads
Amazon
, 
Audible
, 
Audiobook





It was supposed to be a night of fun, pleasure, lust and pain for Susanne Larsen when she agreed to meet with a stranger from a S&M chatroom. She met him for dinner that later led to casual, anonymous sex at the hotel-room at the local inn.

But someone else showed up in the room and suddenly it was no longer a game.

Zeeland Times star-reporter Rebekka Franck and her photographer Sune are covering the case for the news-paper and soon they find themselves deeply involved in a story of terrifying horror and ugly secrets.
As the series continues, it is about 2 years later.  A new murder happens and as there are more murders, Rebekka is smart to connect the method of killing to feel certain it is a serial killer. Then she starts trying to find a connection between the victims as to why they are selected.  She starts to get some ideas on the right track. I find the investigative skills are pretty good.
On the personal side, I am not enjoying these aspects.  Her daughter doesn't act like a real child for her age and she's kind of a brat.  Rebekka's co-worker wants a relationship with her and she doesn't handle it that well.  Since their children are best friends things go poorly.  She decides to date a new reporter who has also been following the investigation.   Her daughter is threatened because someone doesn't want her on the case.  The whole personal side seems unrealistic and Rebekka is not careful.  So as with the first book, I enjoyed the mystery and journalist work but not the personal aspects of Rebekka's life.
I read this as a read listen with the ebook as a freebie I purchased, and the audio from the library.
---
Kindle freebie on January 26, 2023  (currently free at Amazon and Barnes & Noble as of writing this post)
Overall rating 4.02 with 3,386 ratings and 295 reviews
Diamonds & Cole
by
Micheal Maxwell
Series:
A Cole Sage Mystery #1
Published by
Self-Published
on September 5, 2013
Genres:
Mystery
Pages:
316
Format:
eBook
Source:
Purchased
Goodreads
Amazon
, 
Audible
, 
Barnes & Noble
, 
Apple



Cole Sage, a once brilliant journalist, has just about reached rock bottom. Haunted by the longing for the woman he lost, Cole is jarred to a crossroads when an elderly woman shoots and kills a hostage negotiator in front of him.

A while later, Cole is stunned to receive a one line cry for help from his one great love. He is face to face with his past and an uncertain future as he tries to find her estranged daughter. The path to keeping his word is blocked at every turn by the husband who has abandoned her, his shady real estate deals, violent con men, street thugs and the lure of a fortune in diamonds that bring them all together.

The anger, sorrow, and crippling guilt of twenty years fires Cole's drive to keep a promise, that in the end, will heal and return the soul to the great journalist. Beaten, bloody but determined, Cole Sage conquers greed and hatred with a strength that only love and a will as hard as diamond can achieve.
I had high hopes for Diamonds & Cole. The main plot about Ellie, and what happened to her, was fine. There are some flashbacks to when she and Cole were young and involved, which were fine. I felt like Cole was a bit of the TSTL with the danger of all the bad guys associated with Ellie's husband. I couldn't believe he didn't get a lawyer involved to protect her more.
There were just a lot of sections about current thoughts or past thoughts which went on with details and I didn't care. The order Cole researched and tried to find out things didn't seem logical either. I think maybe the pacing just dragged for me with too many extraneous details. If it focused more on the main plot and character development, it could still be the same length, but a better story for me.
---
Kindle freebie on January 1, 2020  (currently free at Amazon and Barnes & Noble as of writing this post)
Overall rating 4.03 with 660 ratings and 67 reviews
Colony One
by
Tarah Benner
Series:
The Elderon Chronicles #1
on April 22, 2018
Genres:
Science Fiction
Pages:
334
Format:
eBook
Source:
Purchased
Goodreads
Amazon
, 
Audible
, 
Barnes & Noble
, 
Apple




Maggie Barnes is at the end of her rope. She's young and broke living in New York, and her newspaper job has been taken by robots. When she's offered a job aboard the first civilian space colony, Maggie thinks it's her lucky break.

For Jonah Wyatt, the Space Force is his last shot at a military career. After years of tracking down the members of a deadly cyberterrorism ring, he was discharged from the army and stuck toning the asses of LA's elite. Now this disgraced combat specialist is headed to space.

At first glance, Elderon seems to be a futuristic utopia: Bots do the laundry, meat comes from a lab, and the latest technology expands the scope of human capability. But as Maggie digs deeper, she realizes that Elderon is not at all what it seems. When she receives a tip from an unknown source, she'll go undercover to learn the truth and place herself in the crosshairs of an all-out war.
Colony One is a different choice since most of the journalist books are mysteries and it is also, but it is in a scifi setting.  The characters are a little odd and not quite realistic for me.  By that I mean their emotions don't quite fit sometimes.
Maggie and Jonah are the main points of view for us.  Maggie is a reporter looking to make a name for herself with real news, not just fluff pieces.  Jonah is a guy who left the military but isn't integrating well as a civilian.  So getting chosen to go to the new Colony One is an opportunity for them.
Maggie is deceptive and digs to find information.  She is concerned that one-third of the people for the colony are military.  Why is that?  Jonah is leading a team and most of them are incapable of getting in to the shape needed for hand-to-hand combat, and aren't good choices for the military so why are they here?
Maggie and Jonah both end up finding answers but answers are dangerous.  The AI called "bots" who do the menial labor turn out not to be what they seem and things go sideways.
Mostly I liked the characters other than the believability aspects.  The plot is interesting and makes sense so far. The ending is a cliffhanger, which I don't prefer.  Overall,  I liked it but it's not very engaging emotionally.
---
Kindle freebie on March 7, 2021  (currently free at Amazon and in Kindle Unlimited as of writing this post)
Overall rating 4.21 with 405 ratings and 41 reviews
The Cure
by
KJ Kalis
on January 4, 2020
Genres:
Mystery
,
Thriller
Pages:
410
Format:
eBook
Source:
Purchased
Goodreads
Amazon


Would you commit treason to save a loved one?

A former embedded journalist posted in Afghanistan, Kat Beckman came back with stories and scars she carries every day of her life.

After a routine checkup, her mother-in-law is diagnosed with cancer. Months of appointments and treatments are brutalizing Kat's family and her son, Jack. One day at the hospital, Kat is told that there is a cure for the devastating disease that is killing her mother-in-law, but it will cost.

Is Kat willing to pay the price? Kat's decision drags her into a dark maze of blackmail, murder and violence that forces her to choose between her family and her country.
I really wanted to like The Cure and certainly there are people who enjoyed it more than me.  There is so much potential here. The plot was interesting.  However, it took me months to finally get it read. I maybe should have chose to DNF.  But I wanted to know things.
Kat is the main character and a journalist.  Does she ever actually write any stories which are published?  She is investigating this one. Are all her stories big, long term pieces that take 2-4 weeks to produce? I didn't like how her editor pushed her to do illegal things to get the cure "to help others."
Here's my problem.  It's like the blurb on Goodreads for the book – it says the same thing over and over.  The book could have used some serious editing to improve the pacing.  Details like making coffee or how can she decide or whatever are repeated which add nothing.  There were a lot of characters and we get several points of view which didn't always help with the character development.
Whether it is Kat or the barely defined characters, a variety of plot threads are left hanging without closure.  View Spoiler »Does Kat get any blowback for taking the classified info? What happens to her husband Steve? Why was Hannah even in this book? Did the cure and the two other drugs for ruining health and killing ever get studied or taken to help others?  « Hide Spoiler   I did try to see if these issues are part of the ongoing story for the series but from other reader's reviews, it looks like that is a not the case.  So I can't really recommend The Cure.
---
These are only Kindle freebies I get, or ones through author newsletters which anyone can sign up and get for free. I don't include things like Kindle Unlimited or Prime Free Reading (I do have it). Both Tantor and Audible have occasional free audios (to anyone) and I do include those.  Since I one-click on 1-2 freebies a day or probably at least 5 a week, I came up with this feature to make sure I start reading them.
FYI – My Thrifty Thursday post with my reviews and the linkups and giveaway will normally post on the 3rd Thursday of the month. Sometimes though, due to blog tours, mood reading, and other personal problems, it will be moved around. There WILL be one each month on some Thursday.  You can post your reviews any Thursday though.  The linkup will be open until the next month's post is published. You can easily find all the Thrifty Thursday posts under the Features tab on my top menu.
(Reminder – If I get more than 10 linkups in a month, I will randomly pick one to select a prize from a list I send them which may include gift cards or giveaway books I have. (Open International))
---
Add your review link here: 
Mister Linky's Magical Widgets — Thumb-Linky widget will appear right here!
This preview will disappear when the widget is displayed on your site.
If this widget does not appear,
click here
to display it.
---
Giveaway:
The prize will be an Amazon Gift card of $25 or $25 worth of Books on Book Depository.  Open International.  Runs January 1, 2023 to January 7, 2024.
You can sign up for the 2023 Thrifty Thursday Challenge HERE
Latest posts by Anne - Books of My Heart
(see all)
Related Posts